Inside Dog The Bounty Hunter's Arrest Record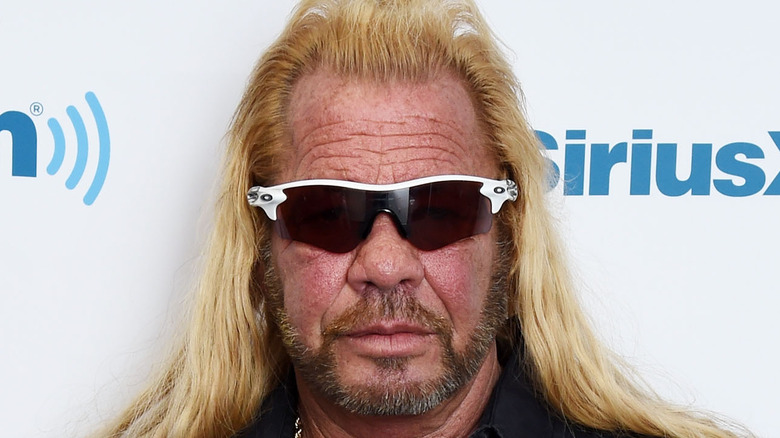 Ilya S. Savenok/Getty Images
Reality star Dog the Bounty Hunter is a self-described bounty hunter whose attention-grabbing look and penchant for telling it like it is have made him a household name ... even to those with no interest in what Dog actually does! The TV personality, whose real name is Duane Chapman, once bragged to the New York Times in a 2020 profile that he has apprehended 10,000 fugitives over the course of his career. Notably, though, Dog is driven by fame above all else. 
"I need the attention. I wake up every day and say, 'Mirror, mirror on the wall, who's the baddest bounty hunter of them all,'" he admitted to the New York Times. "I need love." Evidently, Dog's desire to be known solely by his chosen moniker has paid off. Per IMDb, he has fronted three reality shows over the past few decades, including the original "Dog the Bounty Hunter," "Dog and Beth: On the Hunt" — which featured his late wife Beth Chapman — and "Dog's Most Wanted." After a brief break from the spotlight, the bounty hunter was said to be ending his TV hiatus with "Dog Unleashed," though the show was unexpectedly canceled, according to Taste of Country. Either way, it's clear there's a voracious appetite for Dog-based content. Because of his commitment to catching criminals on the run, fans might be surprised to learn that Dog was once arrested himself.
Dog the Bounty Hunter served time as a young man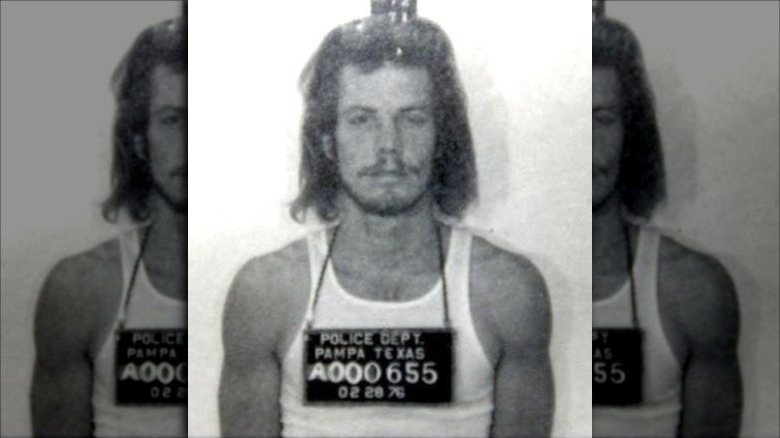 Kypros/Getty Images
Per The Sun, Dog the Bounty Hunter first got into trouble with the law as a member of a biker gang. While Dog was waiting in a car, his friend accidentally shot and killed a 69-year-old alleged pimp and drug dealer named Jerry Oliver, according to the Sun. As the outlet notes, Dog wasn't directly involved in the drug-related altercation, but he was tried in Texas under a law that held that anyone indirectly involved in a murder could still be held responsible for it. In 1976, the Sun reports that Dog was found guilty of first-degree murder, and sentenced to five years in Texas State Penitentiary.
As a result of his conviction, Dog is prohibited from owning a gun, hence why he uses tasers when apprehending criminals. Luckily, the TV personality only served 18 months of his sentence, and even prevented a prison breakout, saving a fellow prisoner from being shot by the guards in the process. In his autobiography "You Can Run but You Can't Hide" (via The Sun), Dog argues, "I have been misjudged, misinterpreted, and misunderstood for most of my life. I have spent the last twenty-seven years trying to be one of the good guys. In spite of those efforts to be seen as a moral man of virtue, I am still viewed as an ex-con, a criminal, a killer. I am many things ... Put [them] all together and you will see: I am Dog."
Dog the Bounty Hunter was arrested again in 2003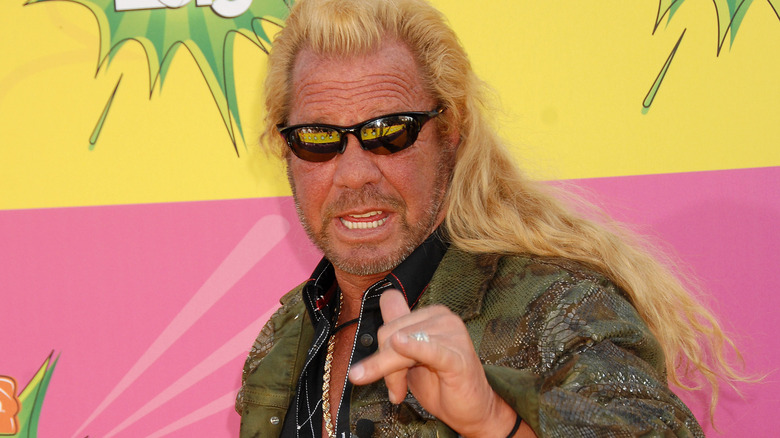 Ga Fullner/Shutterstock
In 2003, Dog the Bounty Hunter was arrested while hunting Max Factor heir Andrew Luster in Mexico, according to The Sun. The criminal was wanted for multiple sexual assaults involving the use of date-rape drug GHB. While Dog did manage to nab Luster, he was stopped at the Mexico/U.S. border, as bounty hunting is illegal in Mexico. Per the Sun, Dog paid the bail to get himself and his production crew out of prison, and the group escaped home. Because of his own arrest record, Dog is actually unable to arrest fugitives if he catches them. As Mike Harrison, vice president of the Florida Bail Bondsmen Association, explained to the Daily Mail, "That would be kidnapping or false imprisonment." 
At the time, Harrison was referring to Dog's (unsuccessful) hunt for fugitive Brian Laundrie in September 2021. The reality star's search was "legally dicey," as Dog cannot obtain the required licensing for writing bail bonds and is not permitted to carry a firearm, as previously noted. Harrison noted that the state of Florida removed the term "bounty hunter" from their laws back in 2007, to "prevent guys like Dog from coming here from out of state to track down people they have no business tracking," per the Daily Mail.