Meghan Markle's Childhood Hairdo Was Inspired By This Classic Film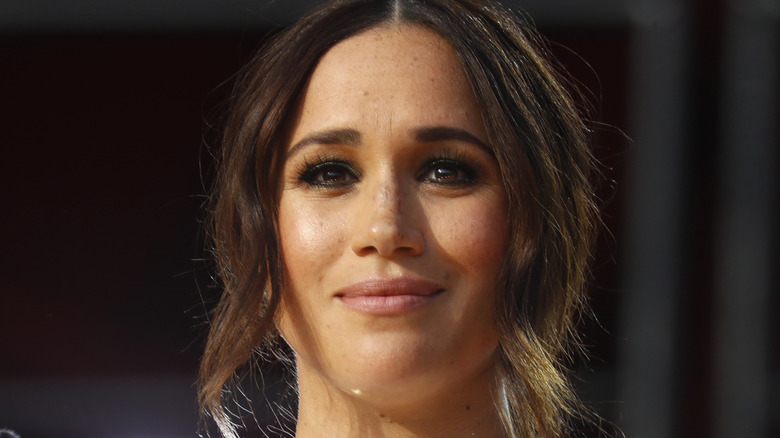 John Lamparski/Getty Images
Growing up, a lot of things influence your sense of style. In particular, finding the perfect hairstyle is a magical moment — especially if it's inspired by one of your favorite celebrities. (Personally, we often gravitated towards Baby Spice's signature pigtails and bangs.) But for Meghan Markle, her hair inspo came from someone outside the realm of pop royalty.
During her recent appearance on "The Ellen DeGeneres Show," per People, the Duchess of Sussex shared a self-portrait she drew when she was around 10 or 11. In fact, Meghan drew herself with a particular curly haircut — one that she had gotten after seeing a movie star in one of her favorite films. 
Unfortunately, the cut didn't exactly work out for the future royal. "It was as though everyone forgot to tell me, 'You have ethnic hair,'" Meghan laughed, which she explained meant that she wasn't going to look like the actress she so wanted to emulate. "I'd go to school, and they said I looked like Krusty the Clown from 'The Simpsons,'" she explained. "It was a real bummer."
Meghan Markle wanted to look like Andie MacDowell in Four Weddings and a Funeral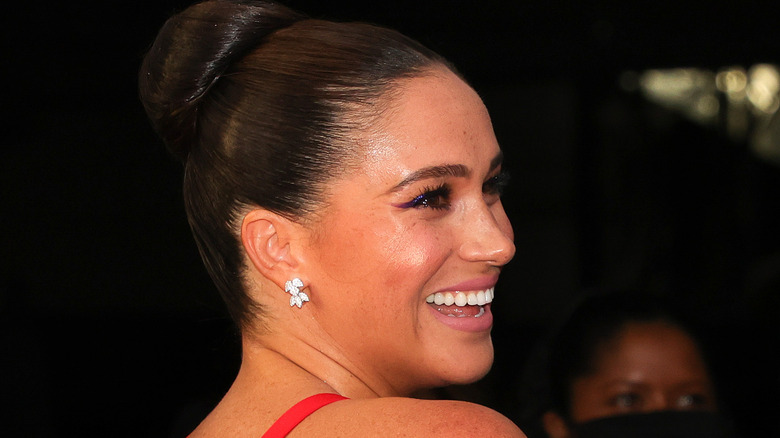 Dia Dipasupil/Getty Images
As Meghan Markle revealed to Ellen DeGeneres, "The reason my hair looked like that then was because I was obsessed with Andie MacDowell in 'Four Weddings and a Funeral.'" Markle explained (via People). "All I wanted was that perfect, little curly haircut."
So, she eventually asked her mom to take her the hairdressers and get the dream cut. "I was like, 'This is amazing. I look like Andie MacDowell in 'Four Weddings and a Funeral'!" she exclaimed, before realizing that her hair wasn't going to style the same way. And despite classmates' taunts, Meghan soon got her peers back on her side thanks to a little side hustle.
A year before she decided to go full MacDowell, Meghan decided to start a business making scrunchies and selling them at her elementary school for five bucks. "I'd ask my mom to take me down to downtown L.A. where all the fabric stores are, and you could buy the remnants of fabric really cheaply," she explained on "Ellen," adding that she'd buy the fabric, the elastic, and make them with a "little sewing machine" she had at home.
When asked by DeGeneres if scrunchies were just the start of her business empire, Meghan noted that they were a fad at the time. But since they're now back in style — with Ellen replying that her wife Portia de Rossi wears them a lot — Meghan joked that she "should bring some over and see if she wants to buy them."