Emma Stone's Strawberry Blonde Look That Fans Envy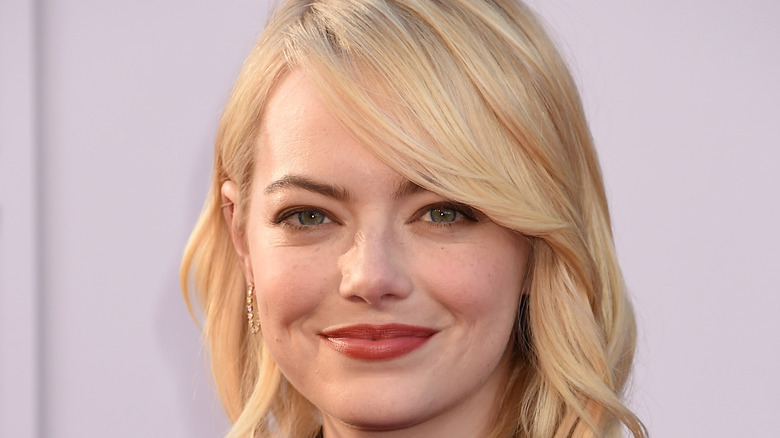 Featureflash Photo Agency/Shutterstock
Emma Stone is known for her signature red hair, but did you know that she's actually a natural blonde? The Arizona native has embraced her lighter locks for several movie roles, including "The Amazing Spider-Man," and "The Amazing Spider-Man 2," but she usually transitions back to her preferred auburn hue once filming wraps. We think Stone looks gorgeous no matter what, and we're envious of her ability to pull off pretty much every hair color she tries. Whether she's platinum blonde, bright red, dark espresso, or some variation in between, Stone always looks great (via The Hairstyler).
The "Cruella" star admittedly struggles with her hair, as she revealed during a candid interview with Glamour in 2012. "I don't really have a hair 'thing,'" Stone said. She added, "My hair is a battle. It's an uphill, fine, baby-haired battle." Mara Roszak, Stone's hairstylist, begs to differ. Speaking with Refinery29, Roszak said, "Emma has really great hair — she has a natural wave in her hair that can be either easily smoothed out because it's not super-frizzy, or easily enhanced. It's kind of the perfect hair." We're going to go with Roszak on this one, especially after seeing pictures of Stone's strawberry blonde hair (via Byrdie).
Stone's strawberry blonde look that fans envy is the perfect blend between a rich flaxen tone and a rosy red, making it the perfect option if you want to lighten your hair to try something new.
Emma Stone's strawberry blonde look is close to her natural color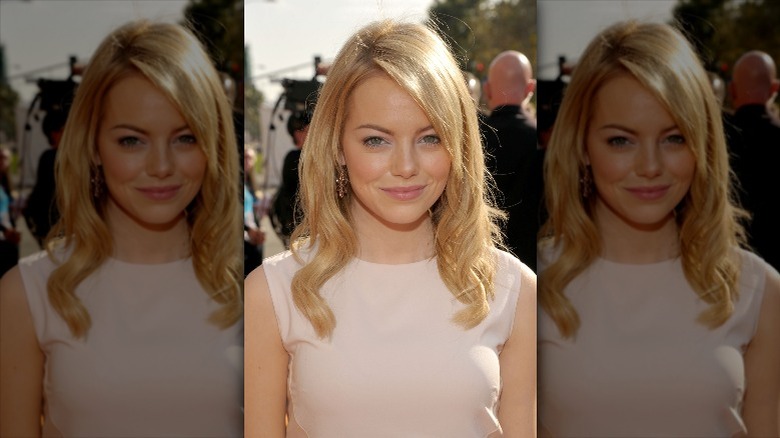 John Shearer/Getty Images
Celebrities have tried out the strawberry blonde look for years, with notable contributions from actresses like Blake Lively, Nicole Kidman, Christina Hendricks, and Amy Adams (via Good Housekeeping). Lively, Kidman, Hendricks, and Adams went for deeper red tones than Emma Stone, who rocked strawberry blonde locks for a brief period in 2012 (via Byrdie). Stone's color erred more on the natural side as it was closer to the blonde tone she was born with than it was to some of her redder hues.
Stone's strawberry blonde was a combination of a warm blonde color and a very light shade of red. Since she only sported the look for a few appearances before transitioning back to a lighter blonde for "The Amazing Spider-Man" press events, perhaps it was just a temporary break from bleaching (via Today). If you want to follow a similar pattern for your own hair, remember that maintenance is essential to protect the health of your tresses.
Stone's hair colorist, Tracey Cunningham, recommends using Olaplex products to hydrate your hair, particularly between trips to the salon (via Refinery29). Cunningham suggests using the Olaplex No. 3 pre-treatment before you have your hair dyed. For day-to-day care, use the Olaplex No. 4 and No. 5 shampoo and conditioner whenever you wash your hair, as this preserves the color and protects against damage. Plus, Stone uses the products herself, so you know they're worth the investment.