How Nicole Richie Used Blue In Her Hair To Achieve The Perfect Look
DFree/Shutterstock
There are times when it feels like a celebrity's hairstyle is almost as famous as the celebrity themselves. Case in point? Anna Wintour's statement blunt bangs. Farrah Fawcett's lighter-than-air feathery layers. And Jennifer Aniston's iconic "Rachel" chop. (Well, really any hairstyle of Aniston's.) And what goes perfectly with a memorable style? The color, of course. Take Nicole Richie for example. 
We have seen "The Simple Life" star sport nearly every hair color on the color wheel. She's done the classic shades of blond and brunette. And she's been a poster girl for the more off-beat colors, as the House of Harlow designer once revealed that she likes to pick a new hue based on her emotions. When describing the time she dyed her hair a light purple, Richie told InStyle, "I actually saw all the colors and I decided to go lavender. Because color is emotional, and I was here and I was like, 'You know what, lavender was the first color that I had when I started coloring my hair. It's cooling and soothing, and it just felt like where I wanted to go today." 
But what about the time she rocked those unforgettable blue locks?
Nicole Richie's blue hue has us turning green with envy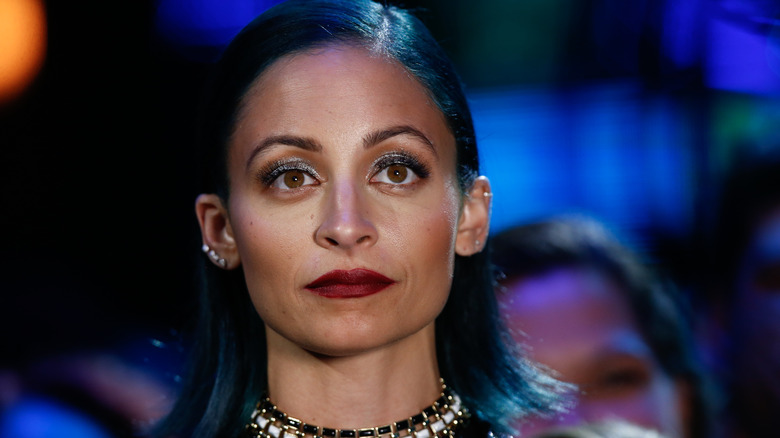 Debby Wong/Shutterstock
Nicole Richie certainly has the guts and skin tone to pull off many shades — but the one of the front runners, in our opinion, is her midnight blue hue. The star's Smurf-inspired shade has us insanely jealous, whether she's pairing it with a matching blue eyeshadow or she has it effortlessly swept off her face and chooses to rock understated makeup.
If the "Making the Cut" guest judge has inspired you to go a shade of blue, there are a few key tips to remember. "The thing to keep in mind is whatever color your hair is before applying the violet or blue will determine how vibrant the resulting color will be," celebrity colorist Kyle White told Cosmopolitan. White goes on to share that it is essential to bleach your hair before applying the blue dye to your strands.
Most recently, Richie's tresses have made headlines because she accidentally burned them off while blowing out birthday candles for her 40th birthday. Blond, brunette, lavender, blue, even singed — no matter the color (or texture), Nicole Richie can pull it off.