Kate Middleton Accidentally Broke The Queen's Golden Rule. Here's How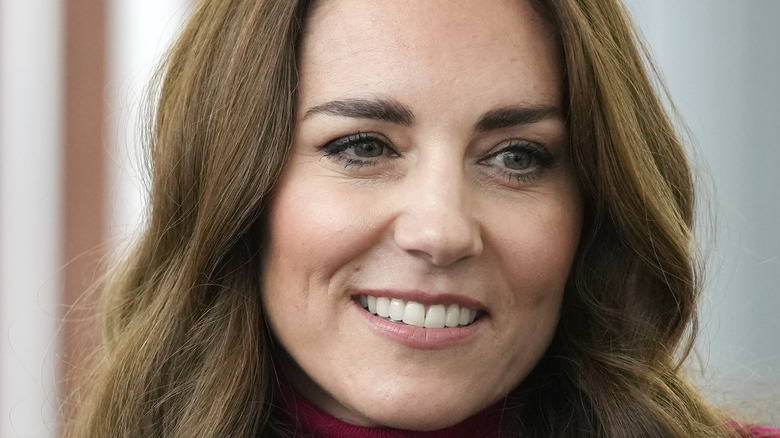 Wpa Pool/Getty Images
As if the life of a royal wasn't already hard enough, former Buckingham Palace chef Darren McGrady told The Telegraph that carbohydrates are essentially off-limits to the royal family. For starters, the royal family is not permitted to eat potatoes, rice, or pasta for dinner, according to McGrady, who says that the queen is not a fan of eating carbs at the meal. "When she dines on her own she's very disciplined," McGrady said. "No starch is the rule ... Just usually something like grilled sole with vegetables and salad." 
In public, the royal family is not permitted to eat anything that might provide a rather awkward photo opportunity, like shellfish. Yahoo! Sports reported that Prince Charles is believed to be the one who banned the consumption of foie gras because of animal welfare concerns. Garlic is also off-limits, as Camilla Parker-Bowles said during an appearance on "MasterChef Australia."
While Queen Elizabeth might indeed be a carbohydrate-free royal on most days, McGrady reports that her favorite food is far from proper. According to McGrady, Queen Elizabeth's favorite food is an American hamburger, sans bun, eaten with a knife and fork and served with a side of cranberries instead of ketchup, per People. Queen Elizabeth is also a chocoholic. "The chocolate biscuit cake is the only cake that goes up to the royal table every day until it has all gone — sometimes this means it following her to Windsor Castle for the weekend," McGrady told Hello!.
Kate Middleton accidentally revealed Princess Charlotte's favorite food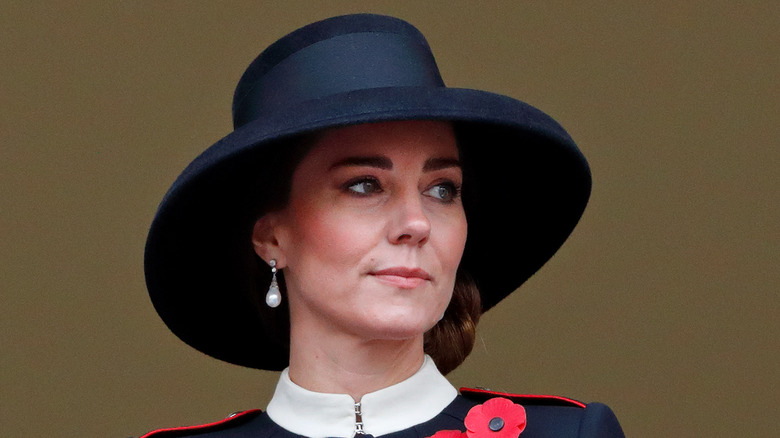 Max Mumby/indigo/Getty Images
Aside from avoiding carbohydrates at dinner and shellfish during public gatherings, Queen Elizabeth and other members of the royal family are typically tight-lipped about their favorite foods — and for good reason, according to Gordon Rayner, a former royal correspondent for The Telegraph. "As one of her staff told me, 'If she said she had a favorite meal she would never get served anything else," Raynor told Hello!. 
While Queen Elizabeth never openly discusses her favorite meals, Kate Middleton has, on occasion, revealed the meals in which her family loves the most. Back in 2018, during a visit to Great Ormond Street Hospital, Kate revealed that she used to love eating olives while chatting with four-year-old Rafael Chana. When Chana revealed that he also enjoyed eating pasta, Kate told him that her daughter, Princess Charlotte, also liked pasta. While Kate's reveal was counter to the queen's golden rule, it's hard to say no to an inquisitive four-year-old.
In 2019, while attending an outing at the Aga Khan Centre in London to celebrate Pakistani culture, Kate also revealed that her family liked eating curry at various spice levels. "It's so hard cooking curry with the family though," Kate said during the event, per People. "The children have a portion with no spice, yours is medium," Kate said to William. "And I quite like it hot." Prince George also has quite a distinguished palette for a child, with celebrity chef Aldo Zilli telling the Daily Mail in 2020 that his favorite dish is spaghetti carbonara.
What do members of the royal family typically eat in a day?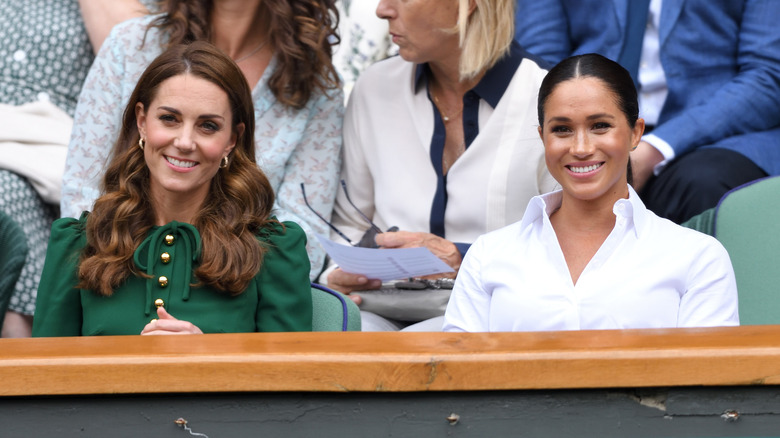 Karwai Tang/Getty Images
As one might imagine, certain members of the royal family, like Kate Middleton and Meghan Markle, have watched their diets closely since being thrust into the public eye. According to Delish, both the women eat diets high in protein and vegetables and nearly devoid of carbohydrates in order to maintain their svelte figures. However, both women are also happy to indulge in their favorite unhealthy foods on occasion. "I'm always hoping I'm having lunch with people, so we can share fries. It's its own food group for me," Meghan said. Meanwhile, according to Delish, Kate is a more adventurous eater, indulging in rare staples like geoduck.
Queen Elizabeth is perhaps a bit more forgiving when it comes to consuming her favorite desserts, though, according to former royal chef Darren McGrady, she has always had a firm grasp on what she consumes every day. The Queen has a team of top chefs at both Buckingham Palace and Windsor Castle who prepare her personal meals and banquets she hosts for various occasions. "We prepared the menus three days ahead so we could get the food in," McGrady told Hello!. "The chefs would pick the menus and she would put a line through the ones she didn't want. Sometimes she'd put a line through it all and put something different — like if she was having dinner with Prince Andrew, his favorite was Crème Brulee with Sandringham oranges."