Donald Trump May Have Had COVID-19 Earlier Than We All Thought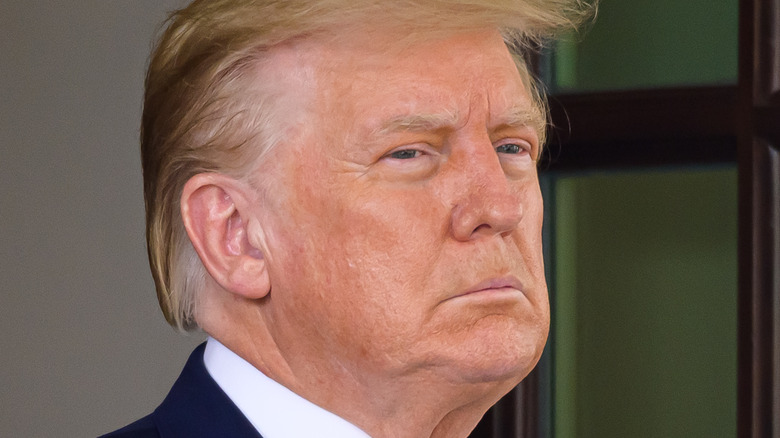 noamgalai/Shutterstock
When a tweet let the world know that Donald Trump had tested positive for COVID-19, it was early on a Friday morning, October 2, 2020 (via CNN), just three days after the first presidential debate where Trump sparred with Joe Biden for hours in a small room where the candidates were not masked.
The public was surprised at how fast the virus escalated as Trump had to be airlifted out of the White House and taken by helicopter to Walter Reed Medical Center in Bethesda, Maryland. Nobody even knew how very sick was at the time, but in the months after his presidency ended, Americans learned that his blood oxygen levels were so dangerously low in the 80s that doctors feared they would have to put him on a ventilator, according to The New York Times. His symptoms also presented as an acute case of COVID-19. As of this writing, the world is learning something new about that time in Trump's presidency and life.
Donald Trump tested positive for COVID-19 before the presidential debate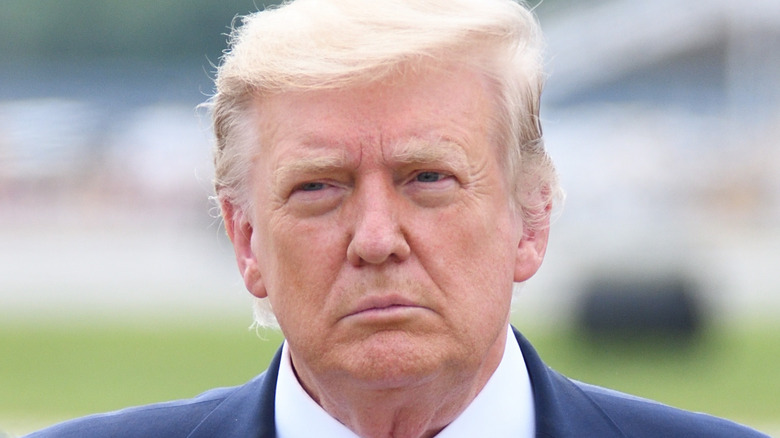 Evan El-Amin/Shutterstock
Another former member of the Trump administration has a book coming out and this time it's Mark Meadows, Donald Trump's former chief of staff. In the book "The Chief's Chief," Meadows claims that Trump tested positive for COVID-19 three days before the first presidential debate in which the 74-year-old president was standing at a podium not far from where a 77-year-old presidential candidate was standing at his own podium, according to The Guardian. Both men were high risk of COVID complications just from their age alone.
Mark Meadows explained that both candidates needed to test negative 72 hours before the debate and that "Nothing was going to stop [Trump] from going out there."
While Trump did test again before the debate and the test turned out to be negative, the campaign did not inform the Biden camp or the Commission of Presidential debates.
Trump attended a rally after receiving a positive test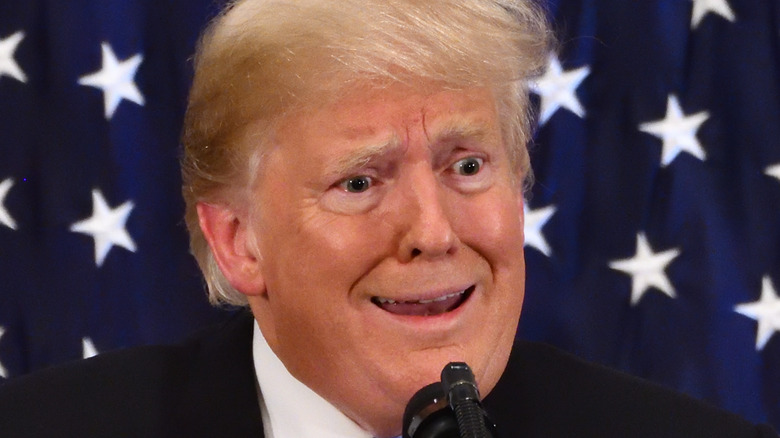 Evan El-Amin/Shutterstock
The story gets more disturbing from there as Mark Meadows recalled Donald Trump looking tired and sick, but still insisting on attending a rally in Middletown, Pennsylvania, a state Trump needed to win but ultimately didn't. As the president was boarding Marine One, the doctor called with positive results and Meadows managed to reach the president and inform him. When another test soon came back negative, Trump decided to forge on with his plans and not mention the positive test.
That's when Meadows explained in his new book that he instructed the traveling staff to treat this like a positive test. "I didn't want to take any unnecessary risks," Meadows wrote (via The Guardian) "But I also didn't want to alarm the public if there was nothing to worry about — which according to the new, much more accurate test, there was not."
Trump released a statement when this news broke on December 1, 2021. "The story of me having COVID prior to, or during, the first debate is Fake News," the statement read (via Twitter). "In fact, a test revealed that I did not have COVID prior to the debate."