General Hospital's Kirsten Storms Shares What It's Like To Work With Emme Rylan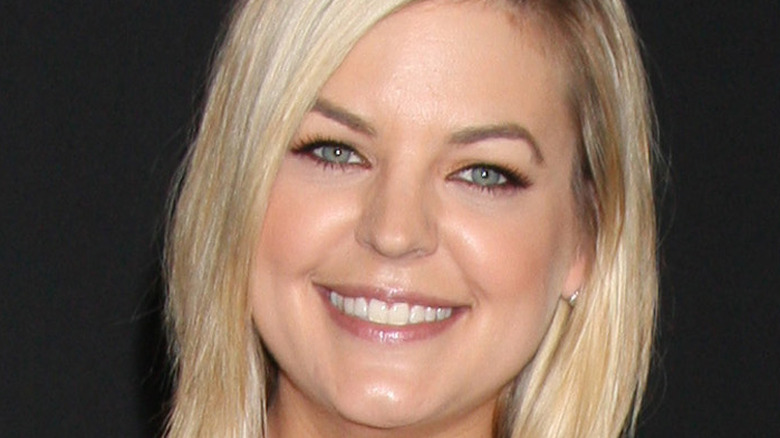 Kathy Hutchins/Shutterstock
There was a time when "General Hospital"'s Maxie and Lulu went together like hand in glove. As high school frenemies turned adult BFFs, Maxie Jones (played by Kirsten Storms) and Lulu Falconeri (played by Emme Rylan) got into all sorts of antics in the fictional town of Port Charles and were always there for one another. In the fall of 2020, poor Lulu fell into a coma and she has yet to come out of it. When Maxie gave birth to her latest child over the summer, she even named her Louise, after her best friend Lulu.
In real life, actresses Kirsten Storms and Emme Rylan are also BFFs and have chronicled their friendship together on social media. Storms has posted on Instagram videos of driving Rylan to her doctor appointments when she was pregnant with her daughter, Dakota, while Rylan has shared knitting secrets in Instagram posts about their greatest crafting passion. Sadly, Rylan was written off the show a year ago when Lulu went into her coma, but that doesn't mean the off-screen friendship is over. In fact, as recently as September, Storms posted a selfie of herself and Rylan together with no words, just smiles and silly faces (via Instagram). However, there was a time when Storms never thought this friendship would happen.
Kirsten Storms never wanted to like Emme Rylan
Before Emme Rylan played Lulu, actress Julie Marie Berman brought her to life. Rylan assumed the role in 2013 (via IMDb). When Kirsten Storms looked back at her 15 years on "General Hospital" in 2020, she described what it was like when a new Lulu came along — and how it changed her life forever.
"When Julie left, I was determined to hate her replacement — and then that replacement ended up being the best friend I've ever had in my life," Storms told Soap Opera Digest. "She knows everything there is to know about me; we have that sort of relationship with each other."
Storms also explained how her off-screen rapport with Rylan led to such an amazing time in front of the cameras and improved their overall work. "Feeling that comfortable with a person you're in a scene with is so amazing because you feel free to try new things and take risks," Storms continued. "We'll read scenes separately at home when we're prepping and both come in the next day being like, 'Oh, man, I don't know how we're going to do this.' And then we read them with each other and it clicks, and then we'll go upstairs and they'll be the best scenes we've ever had."