These Are The Best Lip Scrubs Of 2021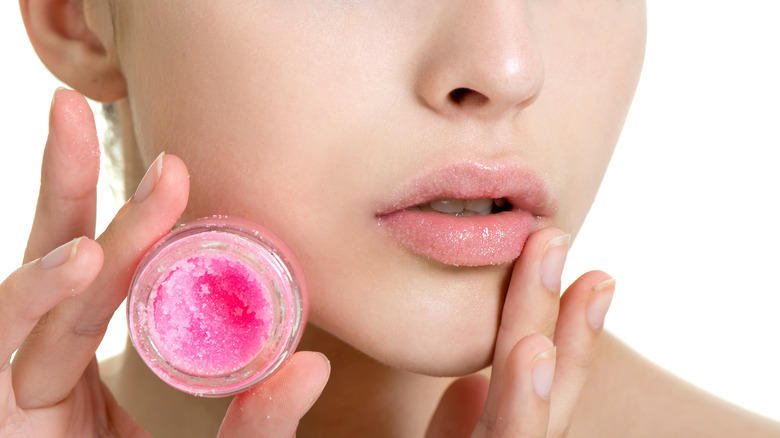 Juta/Shutterstock
In our quest for a gorgeous glow, exfoliation is one of your skin's best friends. It gently sloughs off the dry outermost skin cells to reveal the smoother skin underneath, per the American Academy of Dermatology Association. We've been using exfoliating scrubs and masks on our faces and bodies for a heck of a long time — but should we exfoliate our lips? Yup, absolutely! If you're not using a lip scrub yet, let's walk through the basics and celebrate the best lip scrubs of 2021.
Chapped lips. It happens to even the most dedicated self-care maven. Cold weather and dry climates can contribute to chapped lips. Clinical dermatologist Akanksha Shah Sanghvi, MD shared, "It is common to experience dryness and cracking on your lips, especially in the cold winter months. This is because the skin of the lips is very thin and has fewer oil glands than other parts of the body, making it more susceptible to dehydration" (via eMediHealth).
According to the long-time lip gurus at ChapStick, using a lip scrub allows lip moisturizers to penetrate deeper. That makes sense — scrub off the chapped skin, and your favorite lip products will work even better. Seems silly to waste lip butter on chapped skin, right? Moreover, your lipstick and gloss will look approximately one-zillion times better. Lip scrubs often combined a coarse ingredient like salt or sugar, with moisturizers. The result? No more caking, cracking, and gooping up. 
Lip scrubs are easy to use. In a circular motion, just rub gently over your lips and wipe or rinse with warm water. A little goes a long way, as Healthline reminds us. Once or twice a week is perfect.
Try these lip scrubs with natural ingredients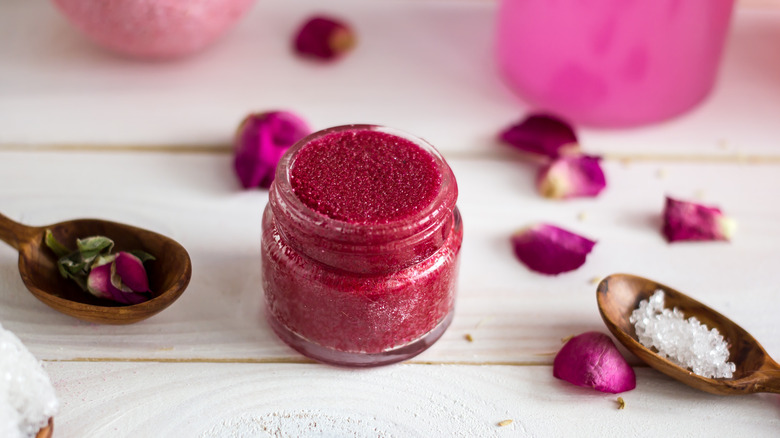 FotoFreshka/Shutterstock
If Mother Nature were a real person, she'd be the Martha Stewart of beauty products. So if you're looking to perfect your pucker, lip scrubs with natural ingredients can help big-time. The Wild Honey Lip Scrub from Dalvey & Co. harnesses the sweet, sweet power of pure honey. The exfoliating action of sugar, combined with honey, beeswax, vitamin E, and coconut oil leaves lips as smooth as a butterfly's wing. The Journal of Cosmetic Dermatology reports that the use of honey in skincare has been recorded throughout history. They explain that honey is soothing and moisturizing and it "keeps the skin juvenile and retards wrinkle formation."
Neem oil is another powerful natural lip scrub ingredient known for healing dry skin, acne benefits, and it's associated with improved collagen (as per Byrdie and Healthline). Truly Gloat's Sexy Soft Lip Scrub combines neem with refreshing peppermint to prep your pout and help banish flaky lips. Look to the garden as well for ingredients that are as powerful as they are beautiful. Physicians Formula's Organic Wear Lip Polish relies on rosehip oil to gently nourish your lips while the sugar exfoliates.
Hold up. Roses have hips? In this case, roses' hips don't refer to the silhouette of Rose Byrnes. Instead, rosehips are just the little pods that hold the seeds of the rose flower plant, as per Gardens Illustrated. But that little powerhouse can undoubtedly put a soft smile on your face and help you channel your own confidence.
Lavender, jojoba, and papaya are all ingredients to use if you want smoother lips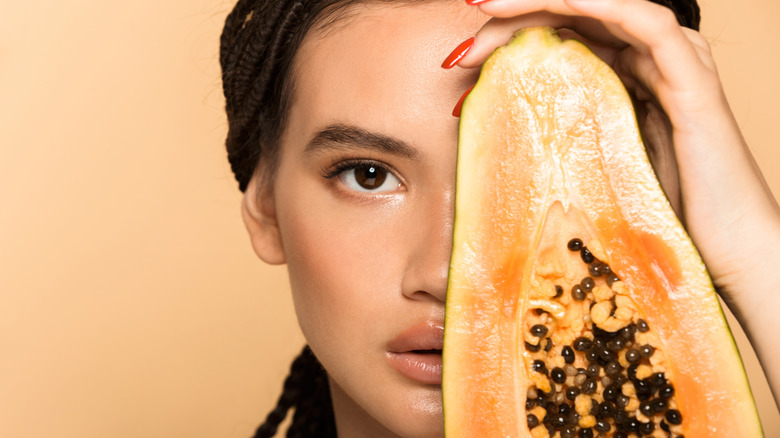 Dean Drobot/Shutterstock
Roses aren't the only flower with power. According to Healthline, lavender has healing properties that are great for dry, irritated skin. Henné combines peppermint and lavender together in its Lavender Mint Lip Exfoliator. It's got that cooling sensation of mint, plus it is certified organic and cruelty-free. The luxe black packaging and under $25 pricing make it a perfect little beauty splurge.
Another transformative seed comes from the jojoba bush, a shrub found in many North American deserts per Britannica. So if your lips look like the landscape of a dry, cracked desert, then a jojoba lip scrub is an excellent remedy. New Jersey-based dermatologist Zain Husain, M.D. explains that, "Jojoba oil has a similar molecular structure and composition to sebum, which the skin naturally produces for moisturization" (via Prevention). So if you're looking to harness the power of the desert, Kylie Skin's Sugar Lip Scrub is jojoba-fave for 2021.
Bite Beauty's Agave+ Weekly Vegan Lip Scrub rounds out the list of best lip scrubs of 2021. With its fair-trade golden sugar and papaya punch, it's a health and beauty superstar. Papayas offer an enzyme called papain. It's rich in vitamin A and is a protein-dissolving ingredient that helps exfoliate (via Healthline). Rave reviews on Sephora and online love from Vogue make this lip scrub a must-have. If you have dry, chapped lips, you'll need to re-apply lipstick and gloss more often. Instead, get smooth lips — from rose hips or desert shrubs and beyond. Harness the lip-smoothing power of these favorites instead.