Kayleigh McEnany Says This Is Proof She Never Lied In The Briefing Room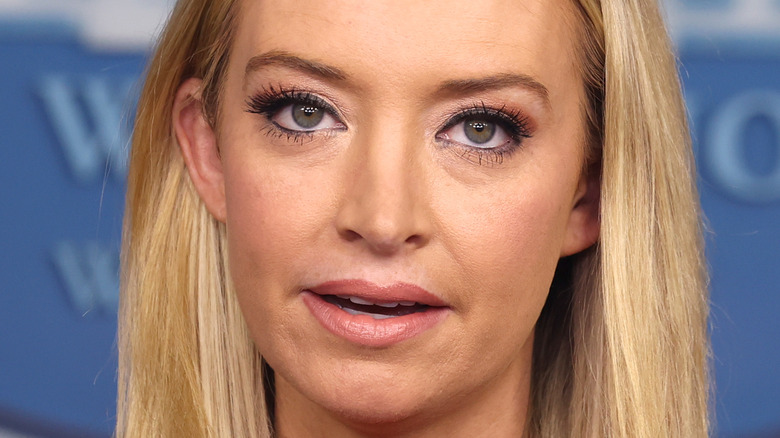 Tasos Katopodis/Getty Images
Kayleigh McEnany, who served as former President Donald Trump's fourth press secretary and is now a Fox News on-air commentator, recently presented some rather unexpected proof that she never lied in the White House press briefing room (via Insider). 
The details about why she didn't lie while disseminating information for Trump and answering reporter's questions came from her new memoir, "For Such a Time As This: My Faith Journey Through The White House And Beyond."
In her book, McEnany offered what she called proof that she would never lie (via Insider): "Of course, I would never lie. How do you get through Oxford, Harvard, and Georgetown without sourcing? Without truthful, well-sourced, well-researched information? More importantly, as a woman of faith, a Christian, and a new mother, telling the truth was in my nature and central to my family life and faith walk."
Presumably, the former press secretary addressed lying because she often faced accusations of doing so for the former president, despite making a promise not to lie when she took the position in the Trump Administration. "I will never lie to you. You have my word on that," she said at the beginning of her tenure (via Vox). 
However, she went on to tell several verifiable lies as part of the former president's team. For instance, Vox reported that McEnany lied when she insisted in September 2020 that the former president had a health care plan that would come out in two weeks. Such a plan never materialized.
Here's why Kayleigh McEnany's proof she didn't lie doesn't hold up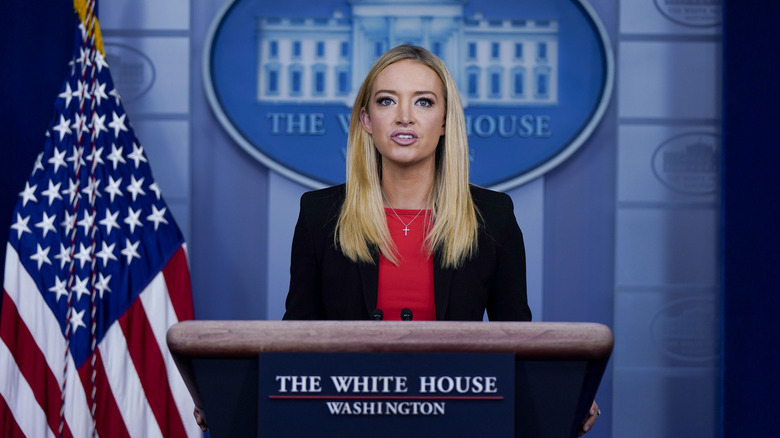 Bloomberg/Getty Images
After the details emerged of Kayleigh McEnany's "proof" that she never lied as Donald Trump's fourth White House press secretary, Twitter erupted with plenty of pushback. Some users felt that the Fox News commentator didn't actually prove she never lied.
One user tweeted: "#KayleighMcEnany says she didn't lie in the White House briefing room because she went to Oxford, Harvard, & Georgetown and is a Christian? Your education and religious preference doesn't disprove the lying-liar-hole in your face Kayleigh. Liar!"
Insider revealed multiple occasions when McEnany lied, including when she asserted that Trump never downplayed COVID-19, even though he's on tape telling journalist Bob Woodward that he downplayed the virus. Also, she contended that Trump won the 2020 presidential election, which is a lie because President Joe Biden won that election by more than 7 million votes and 74 electoral college votes. 
In fact, McEnany told so many lies during her tenure with the Trump administration, from April 2020 through January 2021, that PolitiFact created a page for her. It lists a scorecard showing her partial truths, falsehoods, and outright lies.