The Truth About Jodie Sweetin's Marriages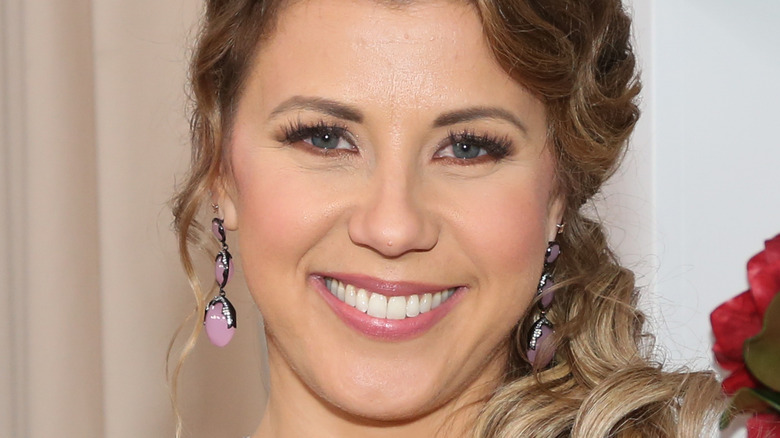 Paul Archuleta/Getty Images
Jodie Sweetin is best known for playing the role of Stephanie Tanner on the hit sitcom "Full House." Sweetin portrayed the lovable and sassy middle child in the Tanner family and was often at the center of many of the show's laughs. Fans watched the actress grow up before their eyes on the show, but when the series was canceled in 1995 things didn't come easily for Sweetin, per E! Online. Sweetin reportedly had trouble readjusting to life as a normal teenager, and although she graduated from high school and college, she admits that she began drinking at an early age. The actress developed a substance abuse problem and was in a revolving door of 12-step programs and rehabs through her late teens and 20s as she battled alcohol and drug abuse.
"My brain was already so warped by alcoholism that what I told myself was, 'Great, now I can drink and party Monday through Thursday, and I can go home Friday, Saturday and Sunday, relax a little bit, sleep and come back and do it again. I somehow failed to remember that I was supposed to be going to classes amongst all of this," Sweetin said of that dark time in her life. It was around this time that Sweetin met her first husband.
If you or anyone you know is struggling with addiction issues, help is available. Visit the Substance Abuse and Mental Health Services Administration website or contact SAMHSA's National Helpline at 1-800-662-HELP (4357).
Jodie Sweetin married Shaun Holguin in 2002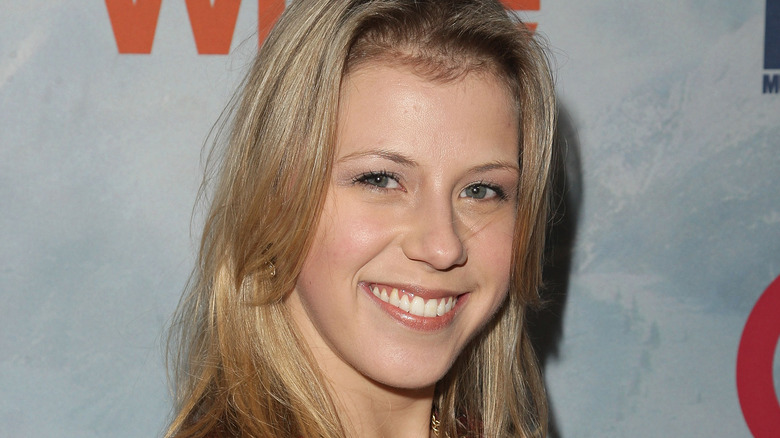 Noel Vasquez/Getty Images
While in college, Jodie Sweetin admitted to having an alcohol and substance abuse problem. During this time, the "Full House" alum met police officer Shaun Holguin. The pair began dating and eventually tied the knot in July 2002 when the actress was just 20 years old (via E! Online). "I don't have any desire to ever act again full time," she reportedly said after marrying Holguin. "I don't mind doing occasional guest appearances on shows, but I have other things I'd like to do in my life now. I would like to get into teaching actors and starting a family with Shaun." Within a couple of years of her first marriage, Sweetin began using crystal meth, which eventually led to a serious addiction to the drug.
In 2005 Sweetin was taken to the hospital after a night of partying, which led her to admit her addiction issues to her family. The actress went to rehab for six weeks and then moved into a sober-living house. It was then that Sweetin and Holguin decided to split. The pair finalized their divorce in early 2006. "He and I are going through a divorce, but we're still really good friends. It's not ugly," Sweetin said of their split. The following year, Sweetin met her second husband (per Amo Mama).
Jodie went through two more divorces after her first marriage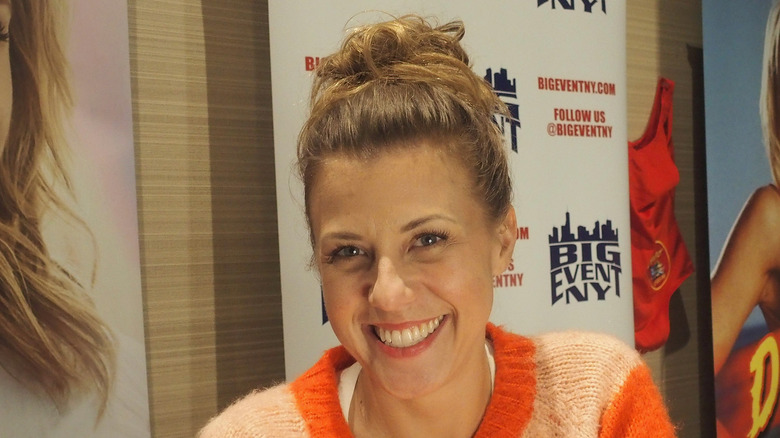 Bobby Bank/Getty Images
Jodie Sweetin focused on her recovery, and then stepped back into the spotlight to host "Pants-off Dance-Off " on Fuse. It was around this time that she met Cody Herpin, who worked as a transportation coordinator on film sets (via E! Online). Sweetin and Herpin hit it off and walked down the aisle together in July 2007 during a ceremony in Vegas (via Amo Mama). The following year, the actress welcomed her first child, a daughter they named Zoie. Sadly, the relationship with Herpin took a quick turn and Sweetin filed for separation in November 2008. Sweetin and Herpin engaged in a custody battle over their daughter, which led to a drug relapse for the actress. Sweetin later admitted that she got sober for good in December 2008 after an emergency custody investigation due to her substance abuse.
Two years later, Sweetin welcomed her second daughter, Beatrix, with her boyfriend, Morty Coyle. The pair later became engaged and tied the knot in March 2012. The following year, Sweetin filed for separation from Coyle and filed for divorce in 2015. The two now share custody of their daughter and have an agreement that either can request an emergency drug test if there's suspicion of driving under the influence with Beatrix in the vehicle.
Today, Sweetin is happily sober and has moved on from her divorces (per Fox News), and co-hosts a podcast, "Never Thought I'd Say This," on Audioboom.