Bob Dole's Net Worth At The Time Of His Death Might Surprise You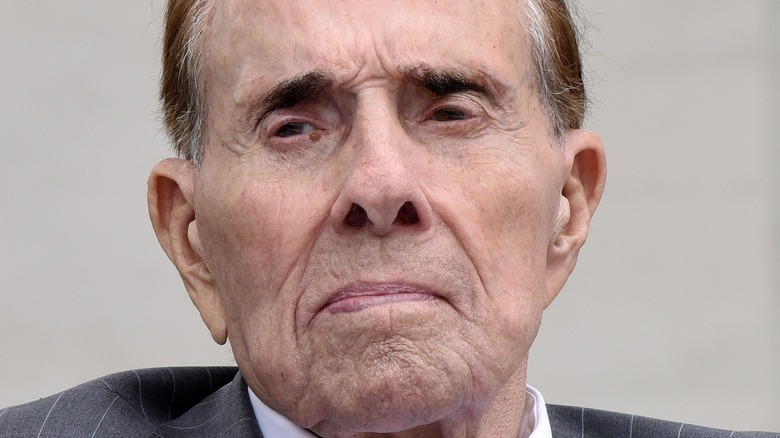 Pool/Getty Images
In shocking news, the Elizabeth Dole Foundation announced the death of former Senate majority leader Bob Dole at age 98 on Sunday. After enduring both the Dust Bowl and World War II, Dole went on to build quite the life for himself with strong political influence and quite the financial gains. In fact, Bob Dole's net worth at the time of his death may shock you. 
Dole's death was announced on Sunday, per CNN. "Senator Robert Joseph Dole died early this morning in his sleep. At his death, at age 98, he had served the United States of America faithfully for 79 years," the statement from the family read. Back in February, Dole announced he had Stage IV lung cancer and would be undergoing treatment. 
Dole's political career spanned decades with 25 years in the Senate, a 1976 vice presidential nomination, and a presidential nomination 20 years later, per The New York Times. His impact cannot be understated, a fact that is exemplified by President Joe Biden's message following his death. He described the senator as "an American statesman like few in our history. A war hero and among the greatest of the Greatest Generation," per The Hill. Additionally, Biden stated, "To me, he was also a friend whom I could look to for trusted guidance, or a humorous line at just the right moment to settle frayed nerves."
Through it all, Dole rose from modest means to an impressive financial standing. 
Bob Dole's impressive net worth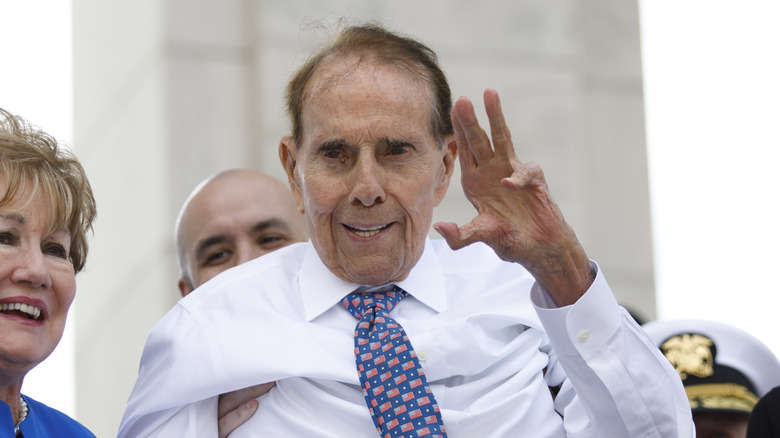 Tom Brenner/Getty Images
At the time of his death, Bob Dole had a combined net worth with his wife Elizabeth Dole of $40 million, per Celebrity Net Worth. The number steadily rose throughout the years with spikes at milestones in his career. Over the last 20 years, the Doles moved from living in a $13,000 Kansas home to a multi-million dollar apartment in Washington's Watergate neighborhood, per the Los Angeles Times. At the time of his presidential campaign, released financial reports stated that he had an annual income of more than $250,000. 
Along with earnings from both his and his wife's careers, the LA Times reported that much of the family's success is the result of Elizabeth Hanford Dole's investment savvy. Real estate dealings and other holdings made the family more than comfortable. In the course of three years, her blind trust nearly doubled in value. 
However, more than his financial successes, Dole's lasting legacy is a testament to the impact of the life he led in his near century on this earth. Across party lines, political leaders have expressed their sadness at his passing and respect for the role that he played in American politics. He will surely be missed by many.