Expert Reveals How The Cambridges And Sussexes Will Handle Christmas After Their Falling Out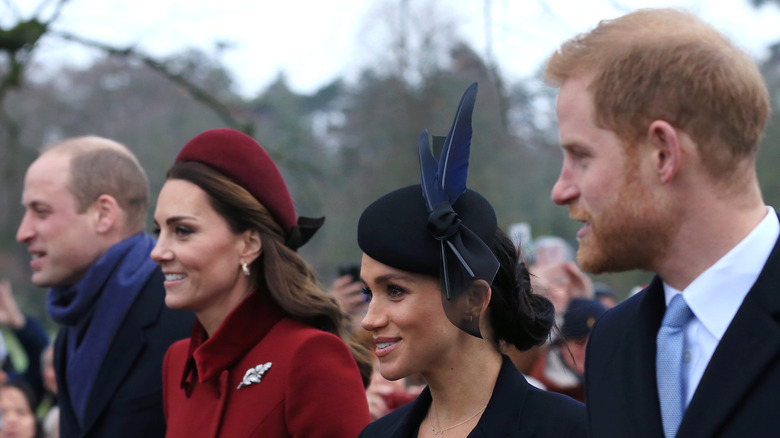 Stephen Pond/Getty Images
It's been almost two years since Prince Harry and his wife, Meghan Markle, left the United Kingdom and their royal family duties behind for life in Southern California. The couple bought a Montecito home, had a second child, and began business ventures in the United States to separate themselves from Harry's family back across the pond. 
They have been quite vocal about why they left, citing mental health issues that led to the couple feeling "trapped" in their royal roles and also led Meghan to have suicidal thoughts (via CNN).
Back in the U.K., Prince William and his wife, Kate Middleton, remained loyal to the royal family, performing their duties and remaining popular with British citizens as William prepares to one day be king. 
Although a rift developed between Princess Diana's two sons when Harry left, the brothers did see each other again and seemed amicable in photos when Harry traveled home for his grandfather, Prince Philip's, funeral in April 2021 and for the unveiling of their mother's statue in July to honor what would have been her 60th birthday (via Harper's Bazaar).
Can the Cambridges and Sussexes have an amicable Christmas?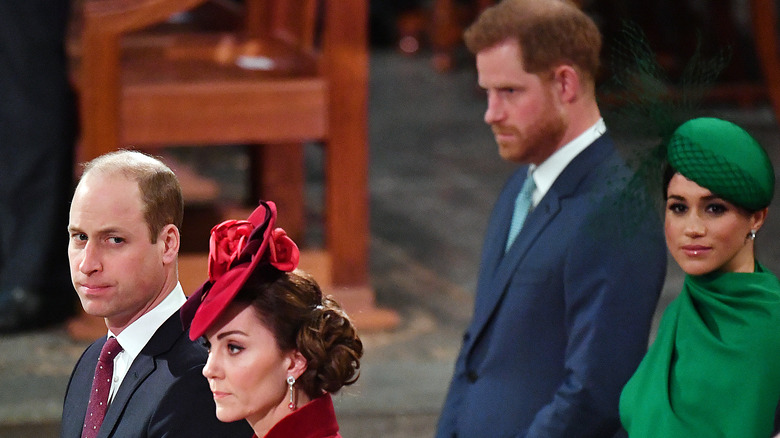 Wpa Pool/Getty Images
Now that the Christmas season is upon us, many have wondered how the Duke and Duchess of Cambridge and the Duke and Duchess of Sussex will handle the holidays, and one royal expert reveals how she expects things to play out.
Although Page Six reports that Prince Harry and Meghan Markle will not travel to the U.K. with their children, Archie and Lilibet, for Christmas, royal expert and author Katie Nicholl, who penned the tome "Harry and Meghan: Life, Loss, and Love," believes that Harry and Meghan won't be left out of all family celebrations despite not being there in person.
"Yes, of course [they will send presents]," Nicholl told OK! of Prince William and Kate Middleton (via Daily Mail). "They give gifts to the whole family and that includes all of their nieces and nephews." That will include William's brother and sister-in-law as well as Archie and Lilibet.
Why aren't Prince Harry and Meghan Markle headed to the U.K. for Christmas?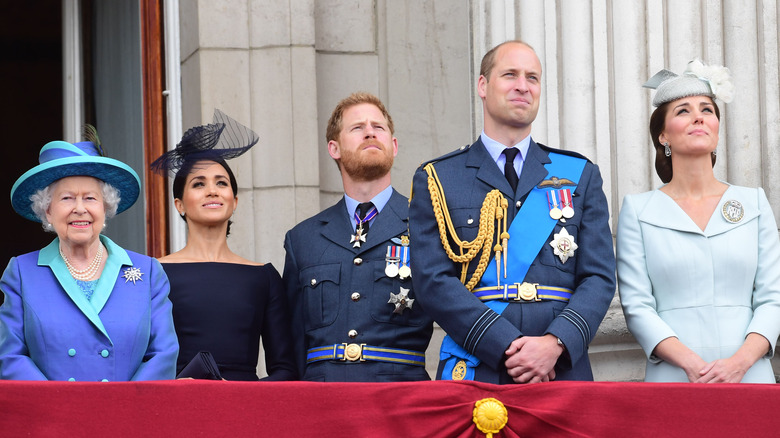 Wpa Pool/Getty Images
While the Sussexes chose not to travel to Great Britain for the holidays despite Harry's grandmother, Queen Elizabeth II, being in ill health of late, they were invited. According to Page Six, the couple didn't want to be subjected to a media frenzy upon their return.
"There's a lot that goes into the logistics and the planning of the family Christmas, so of course, staff know that Harry and Meghan are not coming," a royal source told Page Six. "If they were, they would have communicated it to their family by now. But this is Her Majesty's first Christmas without her husband, so one would have hoped they would want to be with her."
The queen typically spends Christmas with her family at her home in Sandringham, but experts believe she will remain at Windsor Castle for this year's holiday season as she recovers from health issues.