How Donald Trump Went Against Doctor's Orders While Being Treated For COVID-19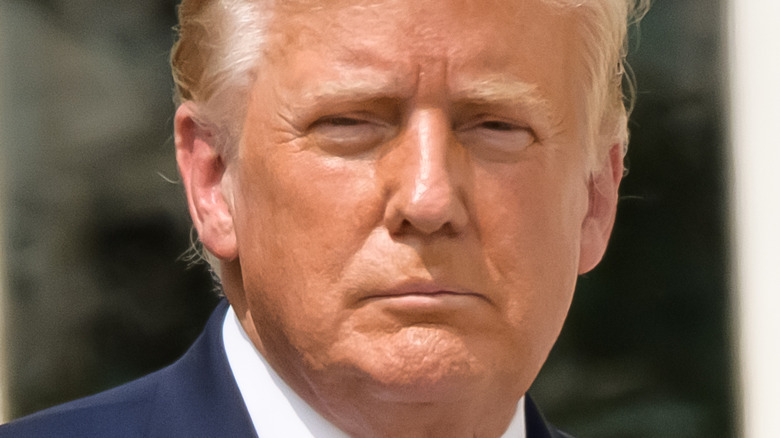 noamgalai/Shutterstock
In October 2020, then-President Donald Trump tested positive for COVID-19. The Guardian recently reported that Mark Meadows revealed in his new book, "The Chief's Chief," that the former president tested positive and then negative for the virus three days before the first presidential debate against Joe Biden. After it made headlines, Trump called this information "fake news." However, on October 2, Trump tested positive again, and he went to Walter Reed Hospital for treatment. Once there, the former president received treatment with Regeneron's then-experimental monoclonal antibodies, and he rapidly recovered from his illness (via CNBC). 
In his book, Trump's former chief of staff, Meadows, revealed other startling facts about the former president during his hospitalization fighting the coronavirus. In addition to not disclosing his COVID-19 positive status to the debate, Trump also failed to follow one of his doctor's suggestions during his stay at Walter Reed, according to DemotiX report.
Here's what Donald Trump ordered while at Walter Reed fighting COVID-19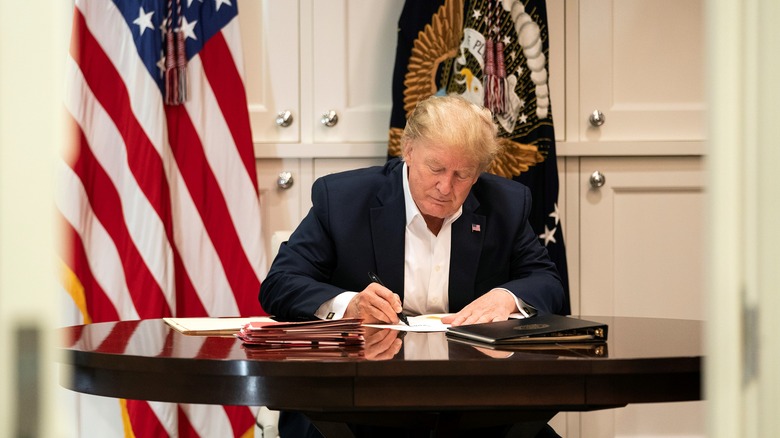 The White House/Getty Images
While former President Donald Trump stayed at Walter Reed Hospital fighting COVID-19, he ordered his favorite fast food meal from McDonald's despite what his doctor recommended (via DemotiX). The meal that the president most regularly eats from McDonald's tops 2,500 calories, which is a day's worth of calories for a man his age. It consists of two Big Macs, two Filet-O-Fish, and a chocolate malt. However, given the outcome of his coronavirus treatment, it appears as if the calorie-laden meal did not end up interfering with Trump's Regeneron treatment or any other treatments he received at the hospital.
According to a Business Insider report, one reason Trump eats fast food is his fear of poisoning. The former president also felt that McDonald's is cleaner than many other restaurants. He regularly had McDonald's meals throughout his time as president. Before leaving office, Donald Trump took the COVID-19 vaccine despite his previous infection.