Are Things Really This Bad Between Prince Harry And Prince Charles?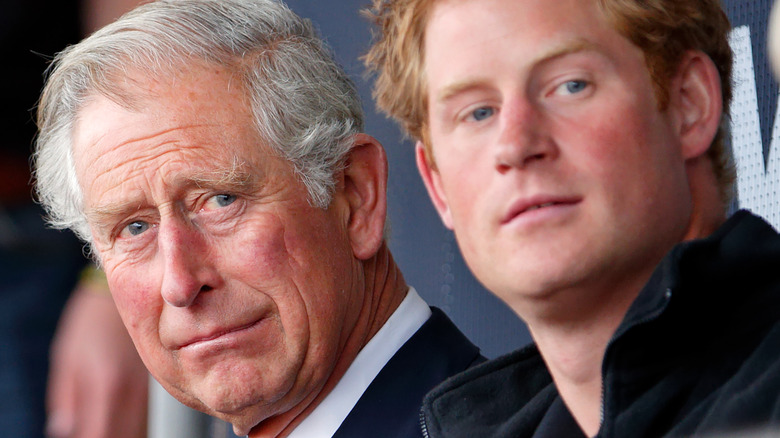 Max Mumby/indigo/Getty Images
Prince Harry's relationship with the royal family is said to be at an all-time low, especially when it comes to his older brother, Prince William, and his father, Prince Charles. Harry, who opted to exit the firm with his wife, Meghan Markle, in early 2020, reportedly has very little contact with his family (via Fox News). 
Author Christopher Andersen, who wrote the book "Brothers and Wives: Inside the Private Lives of William, Kate, Harry, and Meghan," says that things have gotten so bad in the family that William isn't even returning his brother's phone calls.
"There's a lot of bad blood between them now," Andersen told the outlet. "It's really Charles and William versus Harry and Meghan. William is fiercely loyal to his father. He thinks his father is a great historical figure who has been underestimated. And he feels for his dad."
He noted that, while the whole family loves the queen, it's a difficult position for Charles to be in, poised and waiting to be king when he's almost 80 years old. "So William has been by his father's side," Andersen explained, adding that Charles and Harry "have not spoken at all."
Although Page Six claims that Harry and Charles have recently gotten back in contact with each other, sources tell The Sun that things are not well between the father and son.
Sources claim that Prince Harry and Prince Charles are barely speaking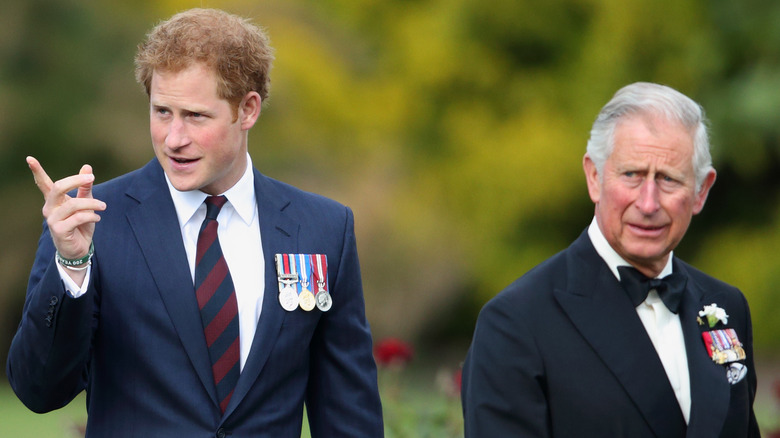 Max Mumby/indigo/Getty Images
According to The Sun, Prince Charles is "deeply hurt and shocked" by Prince Harry's personal attacks against him following his exit from the royal family. The father and son last spoke face-to-face at the funeral of Prince Philip in April 2021. 
However, their relationship has reportedly not gotten better since that time. Insiders claim that, following Philip's funeral, Harry and Charles have only had a few "fraught" conversations on the phone. 
Harry returned to the U.K. in July to reunite with Prince William and unveil a statue in honor of their late mother, Princess Diana. However, Charles reportedly didn't meet with his younger son during that time. In addition, the heir to the throne has yet to meet Harry's 6-month-old daughter, Lilibet.
To make the situation worse, Harry recently shared "concerns" about Saudi tycoon Mahfouz Marei Mubarak bin Mahfouz, who is at the center of an investigation regarding donations to Charles' charity. "There are fears that this episode with Mahfouz could even be a chapter in Harry's autobiography," a source said. "This attack was more damaging than the swipe at Charles's parenting skills because this was a challenge to the way he conducts his business which is far more damaging to the future King.
Meanwhile, Charles is allegedly trying to keep a "dignified silence" about the tension with Harry as he reportedly fears that a public rift with his son would hurt his future reign.