Here's Who Donald Trump Lashed Out At In His Latest Speech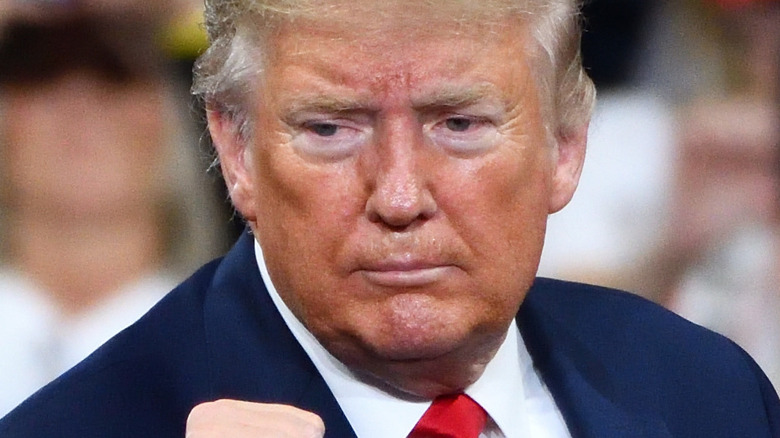 Evan El-Amin/Shutterstock
Despite not being president for nearly a year, Donald Trump always has something to say and has been giving speeches on a regular basis since he left office. Most former presidents disappear for a bit in the first year of a new presidency to let the new presidency succeed without them, but Trump always craved the spotlight before he was president — and nothing has changed, per the New York Times.
Trump's latest speech was for the right-wing conservative group Turning Point USA, given right at his Florida golf course resort, Mar-a-Lago, where the former president now lives. He let loose, used foul language, and didn't censor his thoughts about certain opponents. In particular, he lashed out at a person who was by his side as president, as well as a group he disparaged the entire for years he lived in the White House and beyond, according to The Guardian.
Donald Trump blasts Mark Milley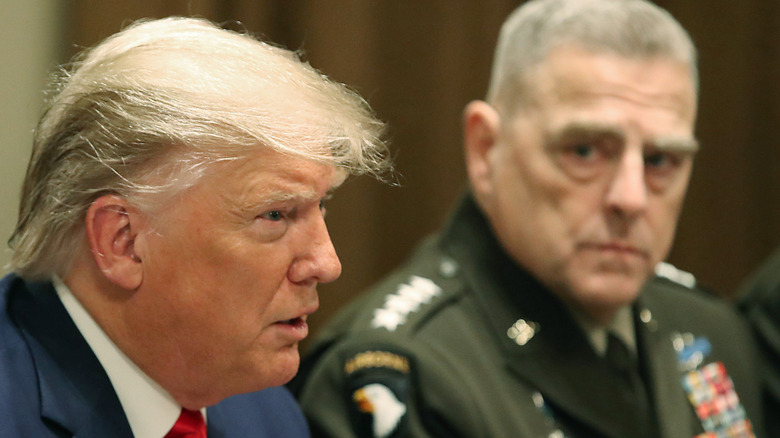 Mark Wilson/Getty Images
Mark Milley, the decorated military general who was Donald Trump's chairman of the Joint Chiefs of Staff and still serves in that capacity for President Joe Biden, has earned Trump's ire by speaking out against him and his alleged plot to overturn the 2020 election that led to the January 6 riot at the Capitol. According to the book "I Alone Can Fix It" by Carol Leonnig and Philip Rucker, Milley feared Trump would attempt a coup and did his best to stop it (via CNN).
In Trump's speech to young conservatives at Mar-a-Lago, he complained about Milley and Biden's handling of Afghanistan, disparaging advice Milley had given him when he was president. "I'll never forget Milley saying to me, 'Sir, sir. It's cheaper to leave the equipment than to bring it.'" Trump said, adding his own response, "You think it's cheaper to leave it there so they can have it than it is to fill it up with a half tank of gas and fly it into Pakistan or fly it back to our country?" (via The Guardian).
Trump also takes aim at the media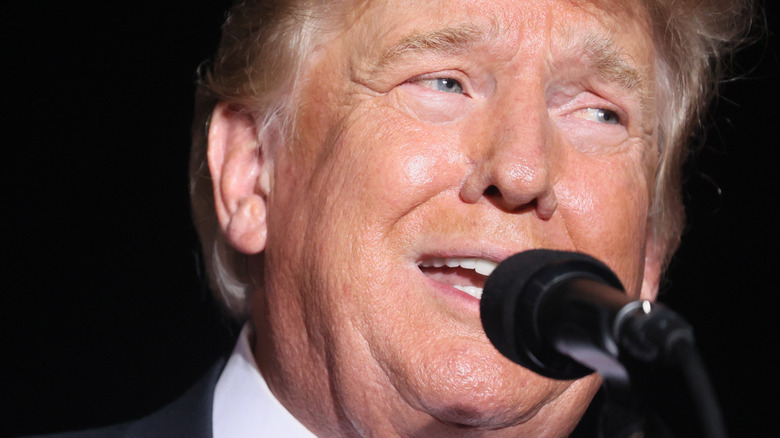 Scott Olson/Getty Images
Throughout Donald Trump's presidency, if there was news he didn't like that was printed about him, he'd often declare that it was "fake news," per the BBC. At one time he even called the American press "the enemy of the American people," according to The New York Times.
Trump also got CNN reporter Jim Acosta suspended from White House reporting in 2018, and Acosta had to go to court to get his press credential back (via The New York Times).
During his latest Mar-a-Lago speech, Trump did not hold back. "We have no press. The press is so corrupt," Trump said (via The Guardian). "We don't have a press. If there is a good story about us, a good story about any of the people that are Republicans, conservatives, they make it a bad story. And if it's a bad story they make it the worst story in history. It is the most dishonest group of people."