This Is How Sick Donald Trump Really Was When He Had COVID-19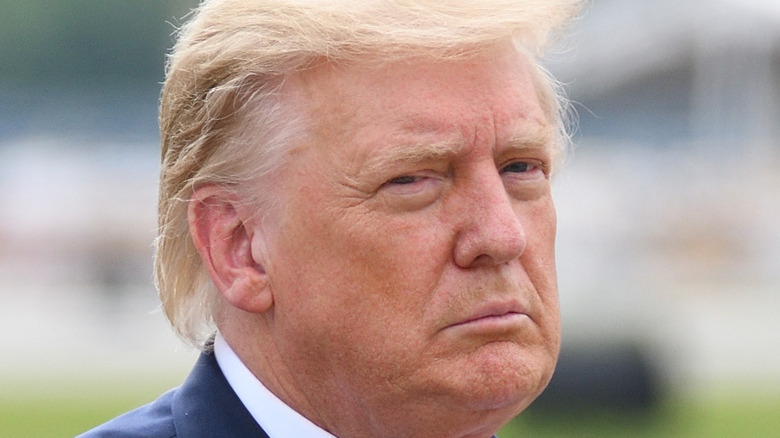 Evan El-Amin/Shutterstock
When Donald Trump announced by tweet on Oct. 2, 2020, that he had tested positive for COVID-19 — just days after the presidential debate in which he appeared on stage maskless next to his opponent, Joe Biden — it was clear how sick he was by the end of the day. He was suddenly airlifted on Marine One to Walter Reed Medical Center in Bethesda, Maryland (via CNN).
His illness seemed to progress quickly, but the world recently learned that Trump knew he had the virus days earlier and even before that fateful debate night, according to "The Chief's Chief," a new book by Trump's former chief-of-staff Mark Meadows (via NBC News). When doctors gave vague answers about the president's status during his several-day stay at Walter Reed, social media and the press wondered if there were things his doctors weren't telling the public. 
More than a year later, we have finally learned just how sick the former president was. "The Chief's Chief" reveals more about that perilous time when many feared the president of the United States could die when he contracted COVID-19 and then went on with life as usual — maskless — without telling anyone about the diagnosis for days.
Donald Trump had to be convinced to be hospitalized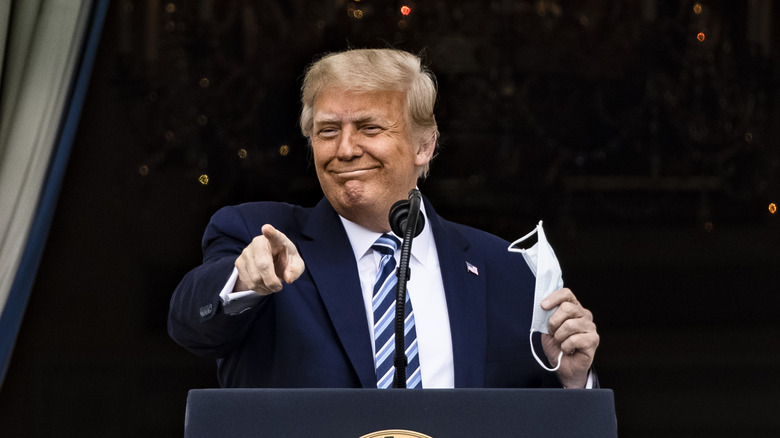 Samuel Corum/Getty Images
According to Donald Trump's former chief-of-staff Mark Meadows, just hours after the tweet that let the world know Trump had COVID-19, his blood oxygen levels dipped dangerously low to 86% — when normal blood oxygen levels are usually between 95% and 98%, according to The New York Times. Members of the White House medical staff soon began fearing that he would need hospital treatment, with Dr. Sean Conely telling Meadows that they didn't have the right resources to treat him onsite.
"That morning, Dr. Conley pulled me aside and delivered some bad news," Meadows wrote (via The New York Times). "Although the president's condition had improved slightly overnight, his oxygen levels had now dipped down to about 86 percent and could be trending lower, a dangerously low level for someone his age."
Meadows also said that the president looked sickly and wasn't taking care of his appearance while he received Regeneron treatments while still at the White House. But he also knew how hard it would be to persuade Trump to be hospitalized, considering his penchant for maintaining an illusion of strength for the public.
The chief of staff convinced Trump to go to the hospital that day because he could still walk on his own two feet at that point — versus potentially needing to be carried out on a gurney if he waited another few days, which would've been an optical nightmare for the POTUS.