Try These Body Oils To Boost Circulation
Pixel-Shot/Shutterstock
We may receive a commission on purchases made from links.
A healthy body has good blood circulation because it helps oxygen and nutrients to nourish the organs and tissues. Many factors can affect our health, leading to poor circulation, such as genetics, age, and diet. Humans have been using essential body oils for centuries to increase blood flow and reduce stress.
According to WebMD, getting a massage has many health benefits such as stress relief, healing injuries, boosting circulation, and improving wellness. Who doesn't love a good massage with body oils and aromatherapy? Winter can make your skin dry and dull but not to worry because there are some fantastic body oils out there that can soften your skin while boosting circulation. We live in challenging times, and it is essential to take the time to take care of yourself. If there was ever a time to prioritize our wellbeing, it is now.
Applying these essential body oils can provide short and long-term relief to circulatory issues (via Bel Marra Health), reduce stress, and moisturize your skin to give it a natural shine. We have compiled the best body oils to boost circulation for you to choose from based on their multiple health benefits.
Circulation boosting body oils can help reduce stress
According to WebMD, one of the most widely used oils used in aromatherapy is lavender because it relieves pain and inflammation. Lavender is known for its relaxing properties and can also reduce anxiety. In addition, it can also help with better blood circulation. Who What Wear included Naturopathica Lavender Blossom Bath & Body Oil as among the best body oils because it relaxes your mind and muscles.
In addition to helping with circulation, vanilla oil also has antibacterial and antidepressant benefits to heal the mind and the body (via Natural Living Family). NDTV Shopping recommends Plum Body Lovin' Body Oil in Vanilla Vibes because it is detoxifying and works for all skin types. It's especially good for animal lovers as it is vegan and cruelty-free. For those who are not a fan of lavender, vanilla is a great alternative.
Sage oil is top-rated because it can help reduce stress, and it is a natural antidepressant. It can also help with menstrual cramps while improving circulation, making it a win-win (via Healthline). Byrdie recommends Maple Holistics Dream Essential Oil Blend with sage to promote relaxation and sleep.
Circulation boosting body oils can help relieve pain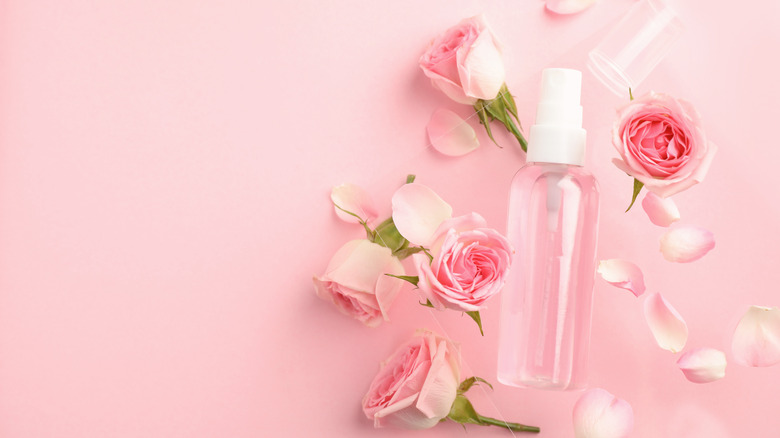 New Africa/Shutterstock
A 2009 study published in Phytomedicine (via Science Direct) suggested that rosemary essential oil can improve blood circulation and help relieve pain. It can also enhance memory and concentration while improving digestion (via Healthline). Byrdie recommends Now Essential Oils Rosemary Oil because of its anti-inflammatory effects and ability to dilate blood vessels to boost circulation.
According to WebMD, lemongrass oil has antibacterial, antifungal, and anti-inflammatory properties that can help relieve joint pain. Due to its health benefits, it is one of the best choices to improve circulation. WOW Skin Science Thai Body Massage Oil is a blend of six oils, including lemongrass, that can make you feel rested and rejuvenated, and it comes highly recommended by NDTV Shopping.
A 2015 study published in the Iranian Journal of Nursing and Midwifery Research (via the National Center for Biotechnology Information) showed that people who inhaled rose oil reported decreased pain. It has a relaxing effect that can help reduce anxiety and stress and is definitely an add-on to improving your circulation. Essence-Lux Rose Essential Oil scored 9.7 out of 10 on Best Review Report because the company is always searching and partnering with ethical sourcing. The rose oil comes packaged in a dark glass bottle to prevent UV damage and has the most beautiful smell.