Chris Christie Is Absolutely Fuming Over Donald Trump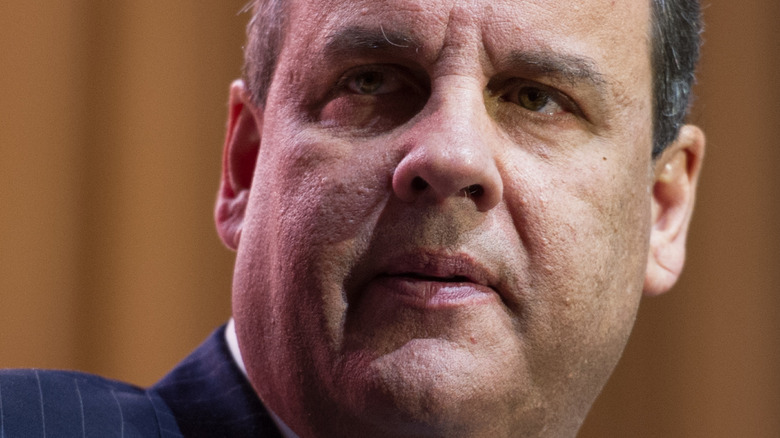 Christopher Halloran/Shutterstock
When you think of on-again, off-again relationships, some sort of celebrity couple probably pops into your mind. Maybe it's Khloé Kardashian and Tristan Thompson or Cardi B and Offset (via Us Weekly). Sure, those relationships are rocky, but they can't compare to the on-again, off-again relationship shared by Chris Christie and Donald Trump.
In case you forgot, when Christie and Trump were both running for the Republican nominee for president, they had a feud (per the Washington Post). Christie called Trump a "carnival baker" and an entertainer, only to promptly flip and become the first establishment Republican to support Donald Trump for president.
Now, Christie has hit the talk show circuit and took off on speaking tours where he is once again anti-Trump (via Politico). "He's traveling the country, saying what he learned and saying he's not afraid of Donald Trump. That sets him out in a different lane from anyone else who might run for president in the party," shared Republican strategist Scott Reed. "Christie is a guy who knows how to create a narrative. He can throw a punch and he can take a punch."
However, it seems that Christie has a good reason to be publicly bad-mouthing Trump.
Christie claims Trump gave him Covid-19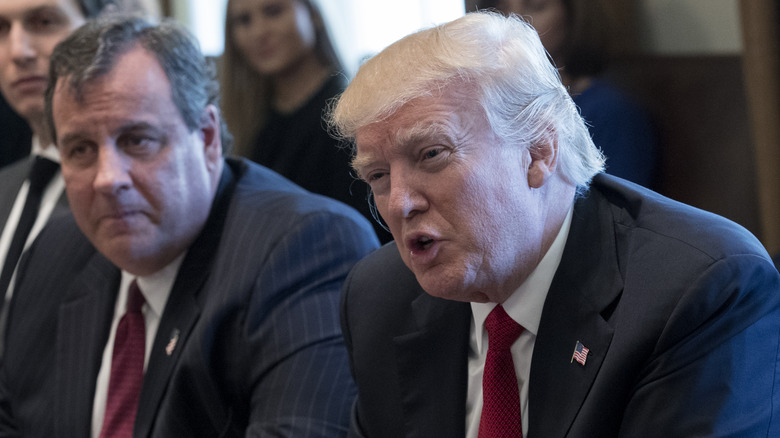 Pool/Getty Images
Recently, Christie joked about Trump giving him Covid-19 after a revelation in Mark Meadows' book shared that the former President had the virus, and knew he did, before debating with Joe Biden (via Daily Mail).
Christie was doing a comedy speech at the Gridiron Club when he shared, "I joke about Donald. But, I'm still really proud to have provided some help to his administration," he continued, "I mean, I gave Donald Trump my undying loyalty, and as we learned this week, he definitely gave me Covid" (per Politico).
This isn't the first time we've heard about the possibility that Trump gave Christie Covid-19. According to Insider, the former President called Christie from the hospital to make sure he didn't have any plans of revealing he possibly got the virus from him. Christie recalled Trump saying, "Are you going to say you got it from me?"
Both Trump and Christie would spend time in the hospital due to Covid-19, with Christie ending up in the ICU. Both men recovered from the virus, but it seems there is still some animosity between them.