Chanel Is Under Fire For This Advent Calendar Controversy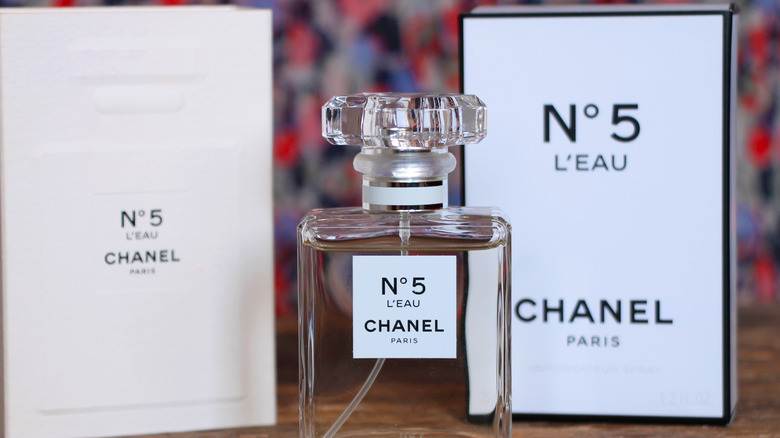 Ellica/Shutterstock
The tradition of counting down the weeks to Christmas dates back some 700 years. Folks used to mark the days by lighting candles or making a tally with chalk on their doors, but for a little over a century, the Advent calendar has become the traditional method of tracking the holiday season (via Mental Floss). A typical calendar is divided into 24 sections, with flaps that reveal a picture. Children get a kick out of opening the "doors" every day and figuring out how long it will be before Santa makes his yearly delivery. More elaborate versions include actual treats inside the compartments: chocolates, beauty products, jam samples, small toys, mini bottles of wine, and even containers of slime (via Today).
Many luxury brands have gotten into the spirit by offering high-end Advent calendars of their own. This year, Chanel got into the act by creating a limited-edition version to mark the 100th anniversary of the creation of their signature Chanel No. 5 perfume brand. The bottle-shaped calendar, which sells for $825, includes items like jewelry, a key ring, lipstick, nail polish, and — naturally — a small bottle of the classic scent. "Count down to the holidays with this collector's item featuring 27 boxes numbered from 5 to 31, filled with mysterious delights and surprises," the Chanel website urges. "A piece to treasure for years to come." 
The Advent calendar has already sold out online, and many buyers are glad they indulged. Others, however, say the pricey calendar is anything but a keepsake.
The $825 calendar has 'gumball machine' treats as well as perfume
TikTok user Elisa Harmon has gotten nearly 550,000 views of a post she made of herself unpacking the upscale Chanel Advent calendar. Some of the items in the boxes are impressive: On opening a bottle of No. 5 eau de parfum, she exclaims, "Ohhh! Merry Christmas!" Others are much less so. A mini plastic Chanel-themed snow globe, Harmon says, "looks like it came out of a gumball machine." By the time she gets to a bottle-shaped sticker — yep, the kind a doctor might give to a child after a checkup — she's had it: "I'm done," Harmon announces.
In a subsequent video, Harmon explained that although the Chanel website does include photos of all the calendar items, she bought hers at a store, so she wasn't able to see what she was getting for her money.
She's not alone. Reviews on the Chanel site include: "Just wish there was more like actual products instead of stickers or mini bracelets" and "While I was so excited to receive this, [I] was very disappointed in the value. Some of the items were great, but for the overall cost it did not meet expectations."
The response apparently took the luxury brand by surprise. Chanel issued a statement (via WWD) saying, in part, "We ... are sorry that this calendar may have disappointed some people," but that the uniqueness of the holiday special "makes it a true collector's item whose value cannot be summed up by the products it contains alone." 
The president of Chanel SAS also told WWD exclusively, "Evidently, we see that you have to be careful and therefore, in future, we will certainly be much more cautious."