Experts Recommend This Pregnancy-Safe Skincare Routine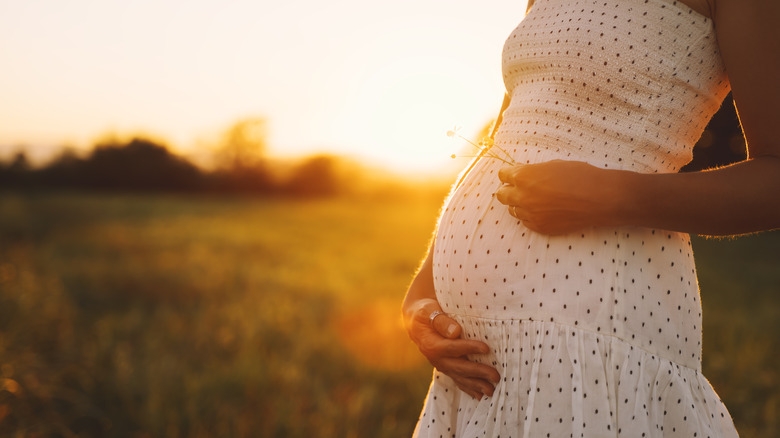 Natalia Deriabina/Shutterstock
Pregnancy comes with a lot of changes. Your eating habits and lifestyle shift as you commit to making healthy choices. But your diet isn't the only change going on. Pregnancy can bring on an onslaught of skin issues that you weren't prepared for. The Bump lists sensitive skin, dark patches, and persistent acne as a few issues you may be dealing with.  
Harper's Bazaar warns that some luxury beauty products contain ingredients that probably aren't pregnancy-approved. But don't trash your entire bathroom cabinet and give up on your routine just yet. Separate the products with harmful ingredients from the ones that are beneficial. As you upgrade your skincare routine, the outlet recommends avoiding products with alpha or beta hydroxy acids, retinols, and certain antibiotics. According to Healthline, chemical sunscreens with oxybenzone can interfere with your hormones and affect milk production.
According to experts, here's how you can pregnancy-proof your skincare routine.
Give your skin extra love with plant-based and antioxidant-rich ingredients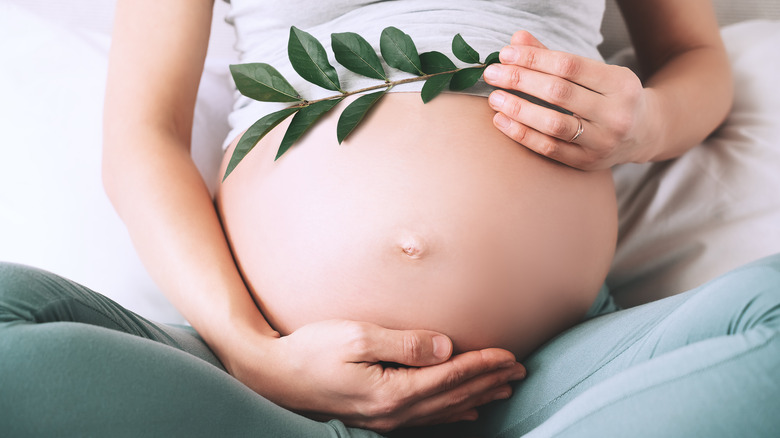 Natalia Deriabina/Shutterstock
Eileen Feighny, an esthetician, aromatherapist, and founder of New York City-based Tulura told Byrdie that when you're pregnant, you should center your skincare routine around products that are gentle on your skin. While there's no cure-all for the skin issues that come with every pregnancy, using plant-based ingredients can help curb negative reactions. "My favorite ingredients are ones that are plant-based and rich in antioxidants like vitamin C, as well as those with natural healing properties like Moringa oil and tamanu oil," she explained. "I recommend this to most clients (pregnant ones included!) during this time of year, as it's one that nurtures and hydrates skin."  You can also use a few drops on your body to help prevent stretch marks.
Speaking with Byrdie, Kerry Benjamin, esthetician and creator of LA-based StackedSkincare, championed her beauty brand's Hydrating Gel Facial Cleanser and its healing properties. "Allantoin is a compound derived from the comfrey plant that soothes, hydrates, and heals skin," said Benjamin. "And panthenol is a form of vitamin B5 that hydrates, calms, and protects skin from irritation." For more plant-based and cruelty-free beauty brands, The Good Trade recommends cocokind, 100% Pure, and Amareta.