Here's Why Chrissy Teigen Is Throwing Major Shade At John Legend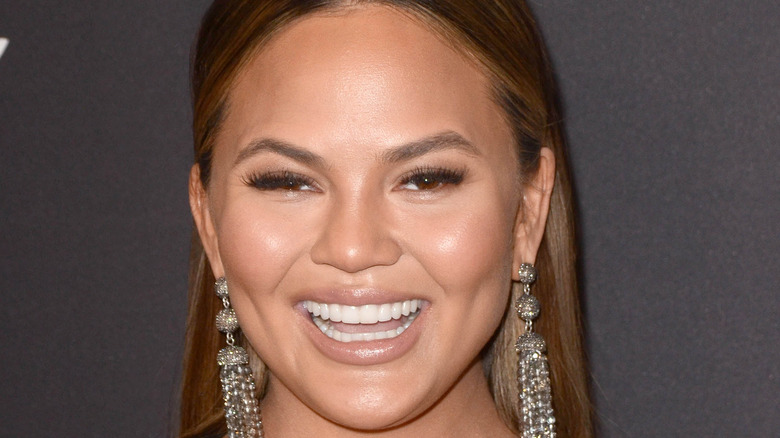 Kathy Hutchins/Shutterstock
While on "The Ellen DeGeneres Show," Chrissy Teigen shared how her husband, John Legend, recently went back on his word.
The model was on Tuesday's episode, and she discussed a new piece of artwork on her body: a butterfly tattoo drawn by her five-year-old daughter, Luna. When Teigen posted a photo of the permanent ink on Instagram, she described it as "a little imperfect, a little messy, but ... here to stay."
"But I love it, Luna — so much," she said on "The Ellen DeGeneres Show." She also shared that the tattoo, which is on her inner forearm, coincided with Luna's graduation from preschool, making it extra special.
What does all of this have to do with Teigen being mad at Legend, though? Well, it turns out that the  singer was supposed to get new ink, as well, which was also supposed to be based on one of his daughter's drawings.
Chrissy Teigen and John Legend were to both get tattoos, yet he seems to have backed out
Yes, Chrissy Teigen has a new tattoo, and John Legend said he was going to get one, too, yet didn't follow through with it!
Their daughter, Luna, was doodling on them — a butterfly for mom, as seen on Instagram, and a bouquet of flowers for dad — when Legend said, "I'll tattoo mine, if you tattoo yours."
On "The Ellen DeGeneres Show," Teigen then threw a bit of shade at her husband, as she revealed what happened next. "I went and got mine done, and he never went and got his done!" In response, DeGeneres urged the singer to do so. "John, you need to get yours done!"
In addition to sharing a five-year-old daughter, Teigen and Legend, who tied the knot in 2013 (via Cosmopolitan), also have a son: 3-year-old Miles (via People). On November 30, Teigen's 36th birthday, she uploaded a family picture on Instagram, writing, "Thank you to my beautiful family and ... wonderful husband and beyond remarkable friends who held me up this year."