What We Know About Donald Trump's Mystery List Of Investors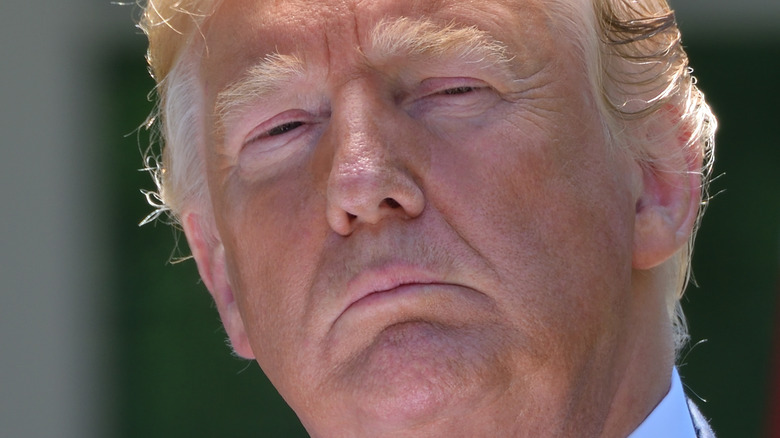 Evan El-Amin/Shutterstock
Before Donald Trump was the President of the United States, he was most known for his business ventures. While most are familiar with his hotels and many golf courses, you might not know just how many businesses have the Trump name attached to them. According to Quartz, Trump is linked to over 500 businesses, with 52% of them, referencing his name clearly in the title.
While it is customary for presidents to forgo their business ventures once they are in the White House, Trump continued to rake in cash during his term in the Oval Office (via Forbes). The former president's businesses brought in roughly $1.9 billion in revenue between 2017 and 2019. His profits came from real estate, golf courses, licensing, and hotel businesses. His businesses stretch from the United States into Europe.
It's no surprise that since he lost his last presidential bid, Trump is looking to start up another business. This time, he has some mysterious investors involved.
Trump is launching a social media site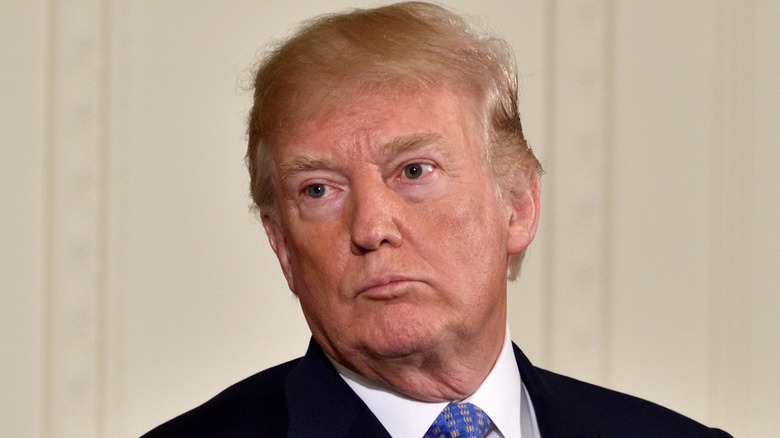 Evan El-Amin/Shutterstock
After failing to be elected to a second term as president, Trump is seeking investors to jump headfirst into his new business plans. If you read his Tweets before he was removed from the Twitter platform, it's not shocking to hear Trump is hoping to start his own social media empire (via the BBC).
The company is called The Trump Media & Technology Group and the goal is to launch their own social media platform, Truth Social, come early 2022. On the topic, Trump shared, "As our balance sheet expands, Trump Media & Technology Group will be in a stronger position to fight back against the tyranny of Big Tech." Trump has been banned from platforms like Twitter and Facebook since the insurrection that took place in Washington DC in early January.
To start such a company, Trump needed investors, and it looks like he found them (via Voz Wire). Somehow, he raised over $1 billion in funding from a group he describes as "a diverse group of institutional investors," though he wouldn't name who this group was.
It is believed the group of investors include hedge funds, those who are looking to support Trump's potential presidential run in 2024, and those who have money and believe Trump is being unfairly banned from social media, but nothing has been confirmed just yet.