The Truth About The Bachelorette's Nayte Olukoya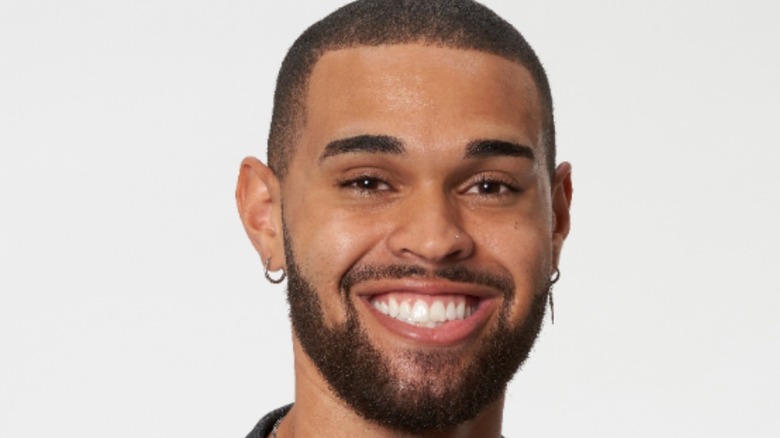 ABC/Craig Sjodin
Fans know Nayte Olukoya as one of the men who captured Michelle Young's heart during Season 18 of "The Bachelorette." Nayte was a standout to Michelle from the very beginning, but not all of the cast members believed he was the right man for the leading lady (via Us Weekly). "Nayte is a player," one contestant said in a clip from the show. Future "Bachelor" star Clayton Echard also approached Nayte during the season, and didn't have the kindest words for the frontrunner. "You're an actor and you've come on a reality TV show," Clayton said. "What are you talking about?" Nayte simply replied.
In Nayte's official ABC bio, he reveals that he's "hard not to notice" due to his 6'8" stature. Nayte claims that he wants a woman who is "outgoing, spontaneous and has enough swagger of her own to keep up with him," and that he came to "The Bachelorette" in hopes of finding someone who would be his "teammate for life." The bio also reads, "He's looking for a connection filled with heat and for someone who will be just as passionate about him as he is about her. [He's] confident that Michelle may just be the one he's been waiting for."
Although fans have been watching Michelle's romance with Nayte play out on television, viewers don't know much about the reality star.
Nayte has shared his interests on social media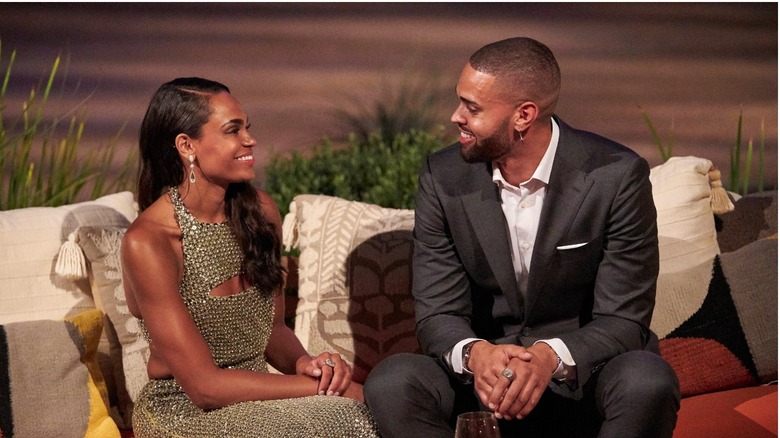 ABC/Craig Sjodin
According to The U.S. Sun, Nayte Olukoya is the 27-year-old frontrunner who has caught the eye of Michelle Young on "The Bachelorette." Nayte currently resides in Austin, Texas. However, he hails from Winnipeg, Manitoba in Canada (via Us Weekly). Fans have watched Nayte show off his swagger on television, but he's more than just a handsome face. In 2019, Nayte graduated from Eastern Washington University with a Bachelor's degree in Business Management and a minor in African Studies. It seems that his college education is now paying off. According to his LinkedIn profile, Nayte currently works as an account executive for both Indeed.com and DISCO. However, before landing the corporate job, he worked as a bartender in Spokane, Washington.
Thanks to his Instagram profile, it's easy to see that he has a love for reading, and loves to share his book recommendations with his followers. He also doesn't mind showing off his fit physique and the Greek mythology-themed tattoos that he's inked with. Nayte's tattoos include depictions of Perseus, Medusa, and the Parthenon. Meanwhile, Nayte is also the owner of an adorable black cocker spaniel named Percy, whom he proudly poses with for sweet social media photos.
It seems that Nayte leads a very full life, although it's unclear whether he will prove to be Michelle's perfect match and if the two would be able to combine their lifestyles. However, "Bachelorette" fans can't wait to find out what's in store for the couple.