Royal Fans Noticed This Adorable Detail In Queen Elizabeth's Office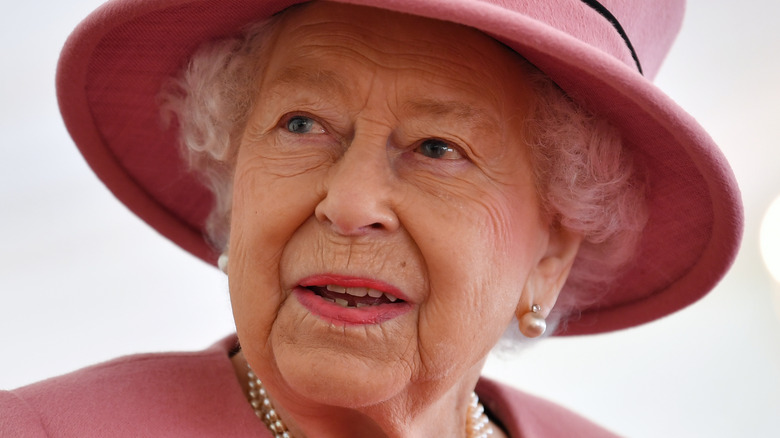 Wpa Pool/Getty Images
Queen Elizabeth is one of the most iconic rulers of all time. The 95-year-old monarch is coming up on her 70th anniversary holding the throne. That honor makes her the longest reigning royal not just of Great Britain, but of the entire world (via Reuters). Times have changed dramatically since she took on the title in February 1952. However, her presence in the public eye has been reliably consistent.
While the queen is an ode to living history, by no stretch of the imagination has she remained the same. Elizabeth was already married to the late Prince Philip when she ascended the throne. They celebrated their 73rd anniversary together in 2020 (via BBC). She also had given birth to her heir apparent Prince Charles and her daughter Princess Anne. Two more children joined the family after she became queen. Over the years, her children grew, wed, and lived their own lives.
Of course, the queen's life changed even more drastically and in very exciting ways when she became a grandmother and great grandmother. Her family has grown quite large over the years. One of the best things about that is the opportunity the rest of the world has to watch her adorable clan grow up via videos and photographs. For instance, we all just got to see a new photo of her posing with some of her adorable great grandbabies.
Queen Elizabeth has a photo posing with her great grandchildren on display at Windsor Castle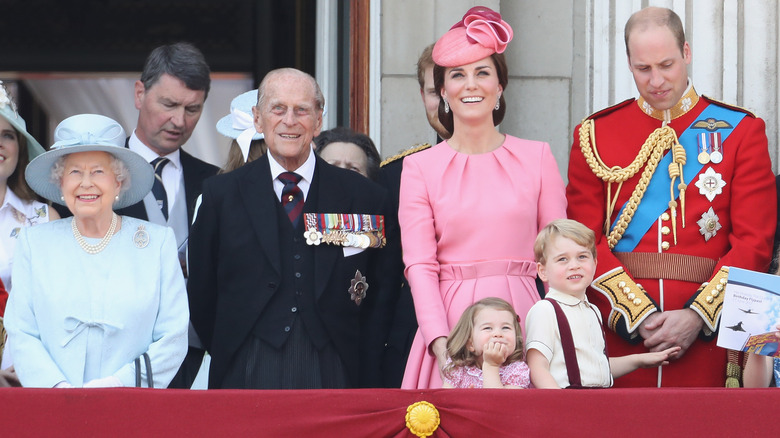 Chris Jackson/Getty Images
Queen Elizabeth is just that ... a queen. However, it appears that she's no different from many other grandmas and great grandmas across the world. By that we mean that she loves to show pictures of her family for others to appreciate — think of it as bragging rights, if you will. This week, royal watchers spotted a previously unseen photo of the royal children on display at an event in Windsor Castle (via People).
Eagle-eyed fans zoomed in the new picture in the background of a photo. After looking more closely, they saw that it is of the queen holding her great granddaughter Princess Charlotte on her lap. That's not all, either. Prince Philip, Prince George (Charlotte's older brother), and several other great grandchildren are posing alongside the queen. People estimated that the photo was taken sometime around the end of 2016 based on how old everyone in front of the camera appeared to be.
This isn't the only time royal watchers have had the opportunity to pour over new photos of the expanding royal family. The royal family shared a much higher definition, 2018 photo of Queen Elizabeth and Prince Philip surrounded by their youngest family members on Instagram back in April. Kate Middleton shared another photo of the queen posing with her eldest children on Instagram around the time. Hopefully even more sweet pics are on the way!