What Is The Modern French Manicure?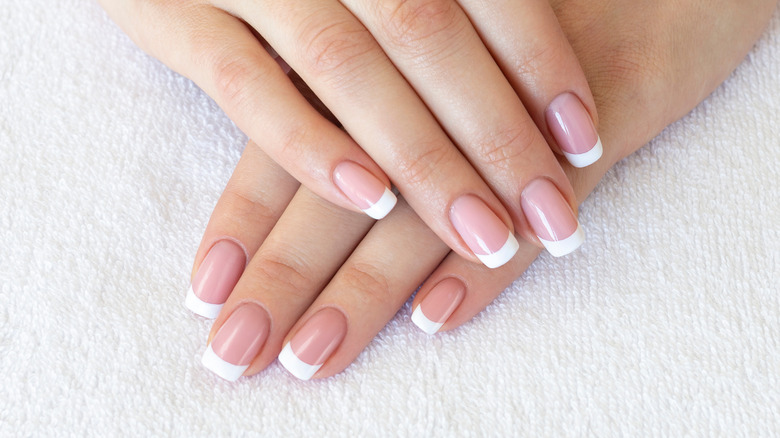 n.k.junky/Shutterstock
With every storefront donning low-waist denim and Y2K fits reminiscent of the golden Britney Spears era, other 2000s trends have made a comeback, too. We're seeing glossier lips, cutesy decor and electric colors — Gen Z has romanticized the year 2000 the way it deserves to be. So, as if on cue, beauty trends like the French manicure are also taking a prime seat at the table.
Traditionally, a "French manicure is a manicure that has a sheer pink or beige tone with a white polish tip on each nail," Vivian Cardenas, of Vanity Projects nail salon, explained to Elle. According to Google Trends searches, the manicure was particularly popular from 2013-2016, and then went on a decline until it peaked a few months ago. But this time, the French tips look a little different — they're not as white and the style has a few iterations. 
Here's how to wear the newest version of an old classic.
You can get creative with your French manicure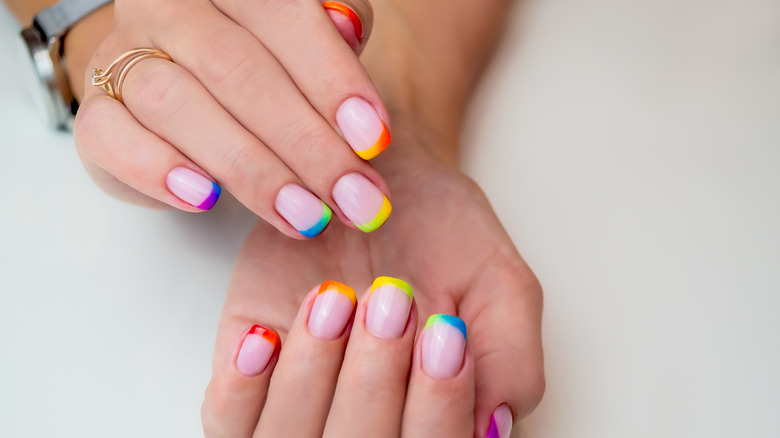 Yuliya Ufimtseva/Shutterstock
Influencers cannot be underestimated; Bella Hadid, Megan Fox, and Megan Thee Stallion all wore their takes on the French manicure this year and clearly, we've been influenced. Hadid added a white swirl to hers, Fox replaced the classic white tips with rainbow colors, and Megan Thee Stallion bedazzled her tips and followers with a colorful remake. Kylie Jenner has also been ahead of the curve, donning soft colored ombre tips back in 2019. 
The 2021 version of French manicure can be anything you want it to be — but adding colors and playing around with the shape of the tips seems to be the easiest way to participate. According to nail salon founder Nadine Abramcyk, "People are now making [the French manicure] their own. A classic red tip with a neutral, almost sheer, base is a style we've seen often this year, paired with a more almond-shaped nail," she told The New York Times.
You could also experiment with negative space; some manicurists are creating outlines for tips or lining them with dots. Calling it the "American manicure," manicurist Tom Bachik told Allure, "People can personalize this look with their favorite colors — whether all the tips are one color or every fingertip a different color." 
There are no rules — experimentation is the new French (and American) manicure.