The Most Hated Y2K Fashion Trend Is Back And It's Not What You Think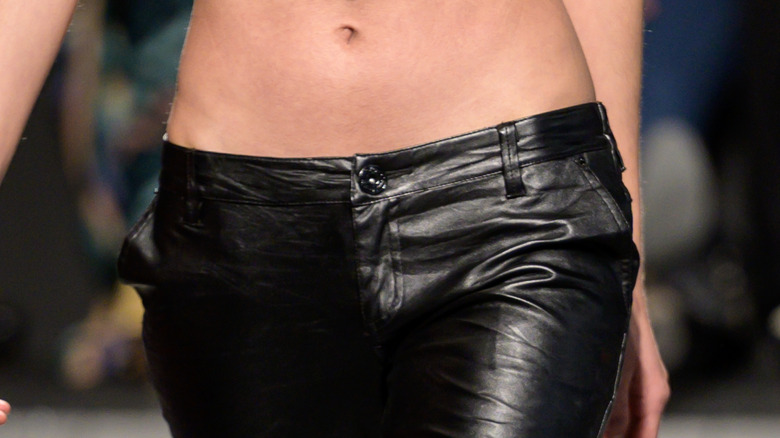 Pedro Gomes/Getty Images
Following the low-rise laden days of the late '90s and early 2000s, many people were relieved to see the days of jeans that fall far below the belly button end. This paved the way for high-rise denim options to take center stage, seemingly sparking a new era completely devoid of the iconic peekaboo thong look, also known as a whale's tail. High-rise jeans felt new and refined. They had a certain maturity to them, as well as a sense of security that allowed women everywhere to tuck away their love handles and stop risking the exposure of their lace-trimmed panties. They flattered the hips and the butt, and we, as a society, thought that the torturous days of the infamous low-rise silhouette were over. Why would society go back to a form of torture when they don't have to, right? Wrong.
Lately, the fashion world has seen a major resurgence of Y2K inspired trends, and those with major influence over style have deemed low-rise jeans superior once again. Rumblings of the return began when models like Bella Hadid were spotted in the hip-bone bearing denim. The revival of low-rise jeans comes just three years after fashion journalist Sarah Spelling predicted their not-so-triumphant return, according to Vox, inspiring a headline from The Cut that read, "The Countdown To Low Rise Jeans Has Begun," and inciting a certain panic among those who don't remember the Y2K staple fondly.
But are low-rise jeans as low as they once were? Have they changed? Keep scrolling to find out.
The low-rise trends sees a modern update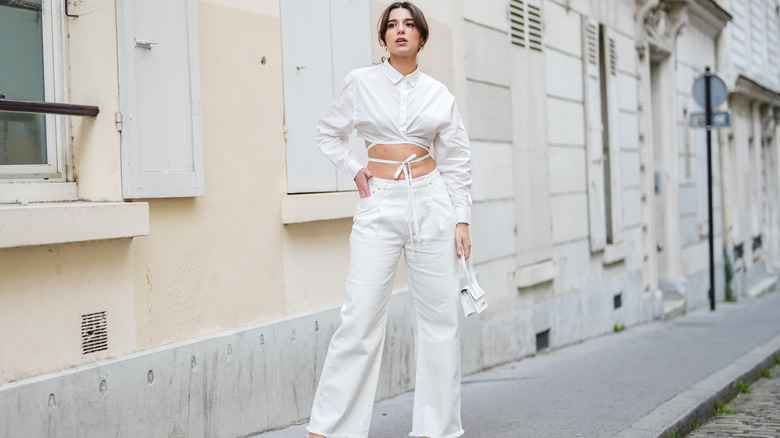 Edward Berthelot/Getty Images
Considering how hated low-rise jeans were among anybody wearing larger than a size 2 in the early aughts, it shouldn't be a surprise that the trend has been met with less-than-ecstatic reactions from women who can still recall the early iterations of the trend during the time of N*SYNC and platform sneakers. Pauline Montupet, a 39-year-old boutique owner in San Francisco, recalled her discomfort with the trend to Refinery29. "There was a constant feeling of being too big for low-rise pants," she said. 
However, 22-year-old vintage purveyor Siena Fillipi of Boston noted that the return of low-rise jeans doesn't mean the return of the ultra-cropped tops that were once expected to accompany the trend, per Vox. Once reserved for only the thinnest of Y2K-era fashion queens, the low-rise silhouette is seeing a more accessible aesthetic. In a TikTok video Fillipi shared in February, she said, "The key is to wear something long enough that it meets the low waistline. It's honestly all about creating a uniform figure and not chopping your stomach at weird parts."
If you're feeling confident this season, don't be afraid to pull a pair of low-rise jeans out your mom's attic and take them for a spin around the mall. Wear a longer shirt, and don't forget to stop in to Bath & Body Works for some body glitter to truly achieve the 2000s aesthetic of your dreams.