Meet Sean Michael Flynn, Jane Seymour's Son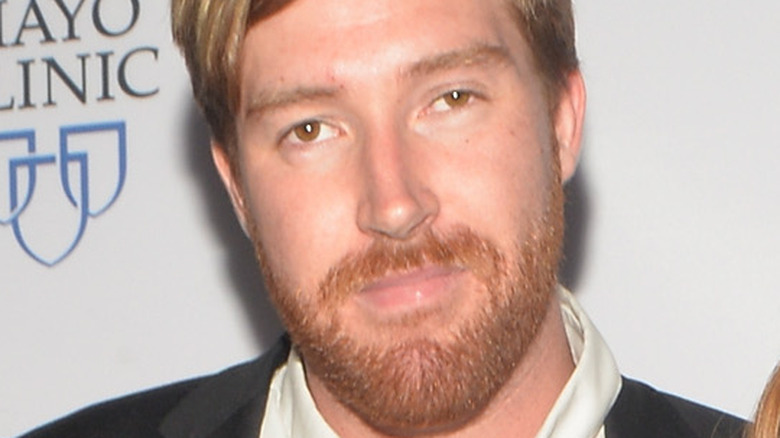 Michael Tullberg/Getty Images
Jane Seymour has had a flourishing career as an actress, artist, and designer. However, there is another role that the "Dr. Quinn: Medicine Woman" star shines in: motherhood.
The founder of the Open Hearts Foundation is a mom to four children and a stepmom to two, Jenni Flynn and Kalen Keach. She shares Katherine Flynn and Sean Michael Flynn with ex-husband David Flynn and twin boys John Keach and Kristopher Keach with ex-husband James Keach (via Hello!).
In her role as grandmother and a mom, Seymour continues to support her adult children in their careers and aspirations. And she continues to focus on family. "The kids know I would choose family over any role and over anything in my life. I don't know if I'm a great mum. I'm the best mum I know how to be. I think it's all about listening to your children, communicating, and caring enough to be involved in their life," she told The Guardian.
And it seems several of her children are following in their mom's footsteps, including Sean Michael Flynn.
Sean Michael Flynn is a director
Born on July 31, 1985, Sean Michael Flynn is the second of Jane Seymour's children with ex-husband David Flynn (via Closer Weekly). Much like his older sister, Katherine Flynn, Sean Michael Flynn appeared on screen with his mom on the CBS series "Dr. Quinn Medicine Woman," according to IMDb. However, his first role (also alongside his sister and Seymour) occurred in 1989's "The French Revolution" where he played Le Dauphin. He later appeared in "Destination Anywhere" before venturing into a role behind the camera.
But the aspiring filmmaker and producer experienced some inappropriate behavior by a producer early in his career. Flynn was allegedly drugged and sexually harassed by the unidentified person before being removed from the situation by a sober friend, according to Seymour, who recounted the incident on behalf of Flynn on "Today" (via the Toronto Sun).
Despite this encounter, Flynn continues to pursue a career directing, writing, and producing. Per IMDb, he directed, wrote, and produced the short film "Numb" in 2007. And while the actor appears to stay out of the public eye as much as possible, he appears on Seymour's Instagram from time to time.
In an Instagram shoutout to her second child, Seymour writes, "Happy birthday Sean! Your creativity is unstoppable, and your laughter [is] infectious. I love working with you. You'll always make momma smile proudly! Love you."