Why Tayshia Adams Still Isn't Ready To Talk About Her Breakup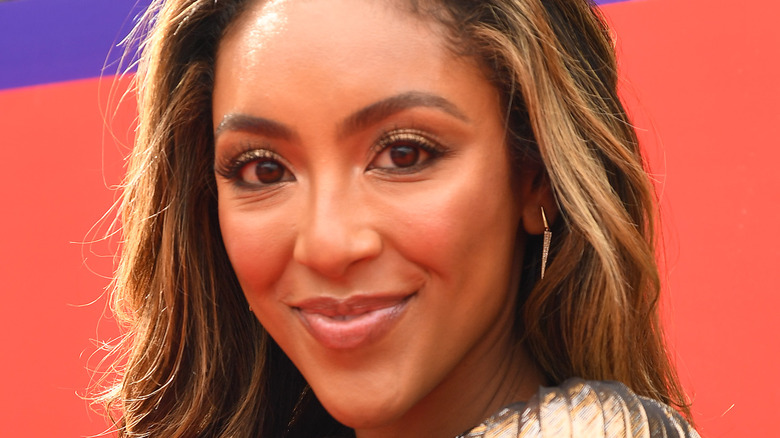 Kevin Mazur/2021 Mtv Movie And Tv Awards/Getty Images
"Bachelorette" fans were thrilled when they watched Tayshia Adams fall in love with Zac Clark and accept his proposal during Season 16 of the reality dating series. The couple looked to be happily in love as they celebrated their relationship status, and fans were hopeful that they would go the distance. However, in November 2021 the couple confirmed that they had ended their engagement. "Tayshia Adams and Zac Clark are no longer a couple," a rep for Adams told Page Six. "They both felt the pressure of navigating a public relationship, but in different ways. It really started to wear on them each as individuals," an insider told the outlet. "They started drifting apart in recent months and ultimately came to realize that they don't work as a couple."
A few weeks later, Adams appeared to host "The Men Tell All" special for Michelle Young's season of "The Bachelorette." During the show, her co-host, Kaitlyn Bristowe asked her about her missing engagement ring, and the reality star made a brief and emotional statement, per Us Weekly. "All I have to say is that I'm heartbroken," Adams stated. "But we tried really hard and I still love him very much and I'm not sure what the future holds. You know how it is, it's really tough." Later, Adams was so overcome with emotion that she was forced to leave the stage.
Now, Adams is speaking out about the breakup again.
Tayshia opens up about her split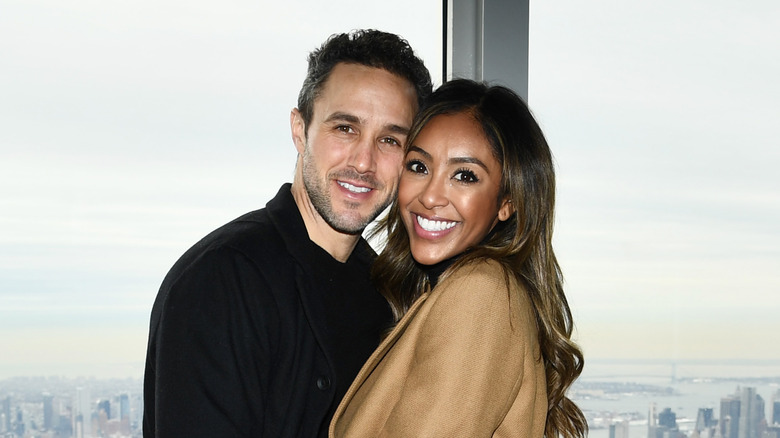 Dimitrios Kambouris/Getty Images
Cosmopolitan reports that Tayshia Adams recently opened up about her split from Zac Clark on the "Bachelor Happy Hour" podcast. Adams told co-host Becca Kufrin that it's been a difficult time for her, but that she's "definitely hanging in there" after ending her engagement. The former "Bachelorette" went on to explain that the situation was made more complicated by the fact that the news of the split hit just as she was set to film the "Men Tell All" special. "It was just very heavy, but I had a job to do at the same time," she said. "And so I'm really happy I was able to be surrounded by all of you guys and be supported by that. But it doesn't make any of that easier."
Meanwhile, fans who are looking for Adams to give details about her split may be disappointed. The reality star seemed to shut down any further conversations about her breakup. Although, she did admit that she may opt to talk about the situation in the future when it's not so raw. "I really said all I had to say on that stage. I don't really have anything to add to it just because I'm still going through it all. And yeah, I spoke my piece. And one day, when I feel like I have more to say, I'm sure we can talk about it all," Adams told Kufrin.
It appears that Adams is taking the time to work through her split before going public with the details.