Melania Trump Could Be In Big Trouble Over This Donald Trump Scandal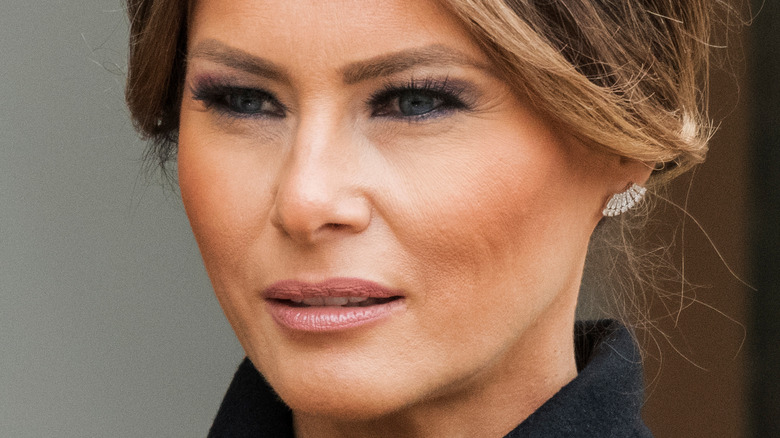 Frederic Legrand - COMEO/Shutterstock
Being the wife of former president Donald Trump can't be easy and many believed that Melania Trump was unhappy during her time in the White House (per the New York Post). Donald recently went on "Fox and Friends," where he was asked the question, "Is it true that the former first lady, Melania Trump, has told you 'I'm not going back if you run again'?"
The former president's answer was not surprising. He quipped, "No, that's not true. That's an interesting one. More fake news," adding, "No, that's not true." He wasn't done praising his wife. He continued, "She was a great first lady, she did a great job. She loves the people, they love her, I see how they love her."
While the former president is confident in his wife's role as the first lady, new claims coming out may throw a wrench in how the public will perceive her if the Trump family makes another bid for the Oval Office.
Melania was allegedly involved in her husband's attempt to hide his COVID-19 diagnosis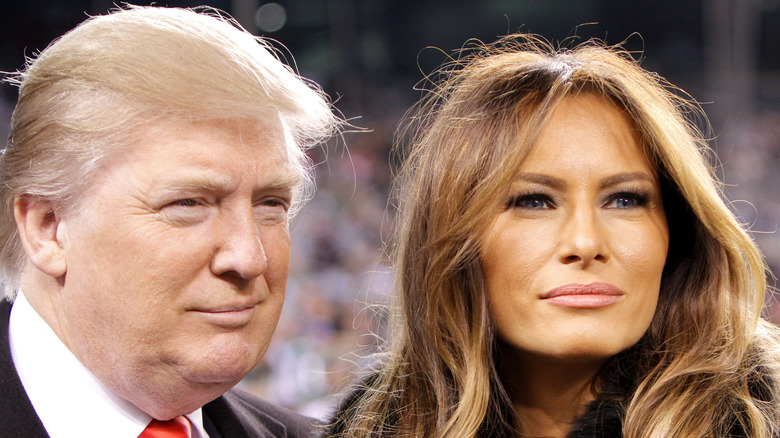 Debby Wong/Shutterstock
Recently, the biggest Trump-related news comes from the accusations made in the new book penned by the former White House chief of staff, Mark Meadows (via Business Insider). Meadows claims that Trump knew he had COVID-19 before debating Joe Biden, and not even a diagnosis like that would have stopped him from hitting that debate stage.
Meadows wrote, "I shuddered at the thought of having to tell President Trump, a man who does not like to shy away from a fight, that we were going to have to cancel the debate with Joe Biden all because of an illness." However, Trump did debate Biden anyway.
Now, the former first lady is being implicated in this scandal (per The Washington Post). The writer of the column, Greg Sargent, penned that the whole Trump family could go down with this accusation, writing, "It turns out that this revelation, which comes in a new book by former White House chief of staff Mark Meadows, also implicates members of Trump's family, including Melania Trump and Donald Trump Jr."
He continued, "That's because multiple people around Trump, including his wife, Melania Trump, and his kids Donald Jr. and Eric, all sat mask-less at the Sept. 29 debate, according to contemporaneous reports, despite the fact that debate attendees were required to wear masks."
Time will tell how the fallout of this scandal will materialize.