Here's The Hallmark Holiday Movie You Should Watch If You're A Leo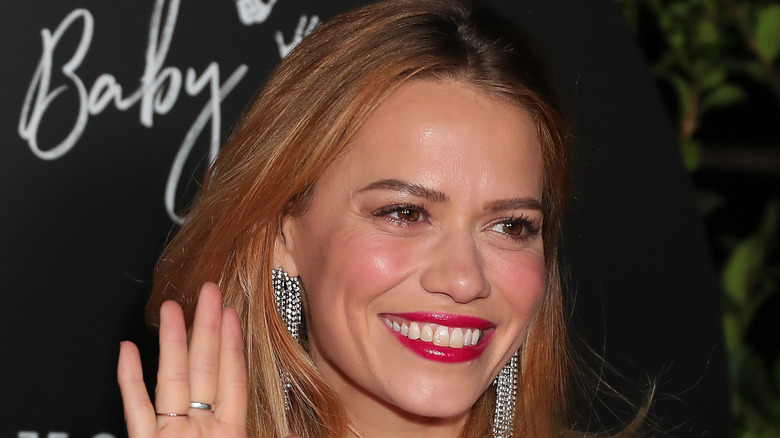 Leon Bennett/Getty Images
'Tis the season to watch cheesy wholesome Holiday movies. It's the time for comfy nights by a crackling fire, indulging in all of your comfort foods, and cuddling up with a blanket and hot chocolate to watch a corny, but always cute, Hallmark movie. Sure, the iconic classics like "Home Alone" and "Love, Actually" are a must, but to keep that holiday flame burning all month long there's nothing like a good Hallmark Holiday movie to keep the festivities going.
What could possibly beat sitting down for a movie that you know will be filled with Christmas cheer? They're easy to watch, cozy, and a fun opportunity to see what your fave teen or child star looks like today — because chances are, one of them is starring in a Hallmark movie, you're almost guaranteed to come across Lacey Chabert or Candace Cameron Bure. As Bure said to E! News in 2021, "You know what you're going to get in a Hallmark movie. And I think that's part of the attraction." There's really only one downside: there are too many to pick from! 
Being a Leo is all about being powerful, confident, and fiery. Sometimes, a cheesy Christmas movie can be a bit excessive. Well, if you happen to be a certain fire sign who was born in a summer month, you may be looking for something a little different. ScreenRant matched Hallmark movies to each of the star signs, and we couldn't agree more with their pick that's perfect for Leos.
Fiery Bethany Joy Lenz is just what every Leo needs
The makings of a Hallmark Holiday movie are simple. You're going to get endearing main characters, some sprinkling of nostalgic and comforting Christmas vibes,  with a conflict getting solved as quickly as it arose, and almost always a happy ending. 2020's "Five Star Christmas" follows the general rules, all while starring "One Tree Hill"s Bethany Joy Lenz (we told you there'd be a teen star). Lenz plays the role of Lucy, a fiery and passionate daughter that moves back to her hometown and rises to the challenge of helping her father's bed and breakfast secure a glowing review from a critic (per Parade). You've probably guessed by now... But yes, the critic played by Victor Webster is indeed the love interest. 
As ScreenRant noted, Leos are all about pride, passion, and persistence — and Lucy encapsulates all of the above. Settle down to this movie to watch Lenz' character unexpectedly fall in love with the very critic she's tirelessly working to impress (per Us Weekly). Viewers loved it and it landed an impressive 7.2 star rating on IMDb, with one reviewer sharing, "I was pleasantly surprised with "Five Star Christmas." As opposed to the usual pap of most of the stories so far this year, this quirky and romantic comedy was refreshing."