Radio Host Begs Donald Trump Not To Endorse This Controversial Candidate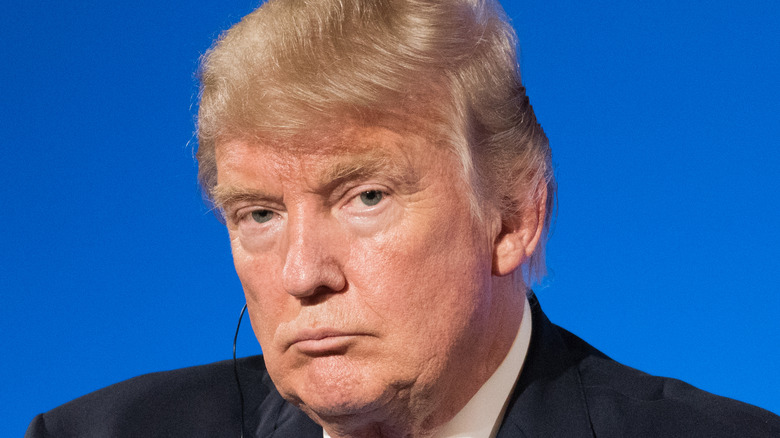 Frederic Legrand - COMEO/Shutterstock
In the past few months, former President Donald Trump and his team have been busy building their 2022 midterm election strategy — despite the fact that he's not running for any office. As one of Trump's advisors told CBS News, a large part of Trump's strategy involves righting those wrongs that he felt occurred during the 2020 election. 
"Some might call 2022 the revenge tour, but more accurately, President Trump is building the Republican Party through the interests of every MAGA voter for years to come," Trump's advisor, who wished to remain anonymous, told CBS News. "The president feels strongly that the outcome of the 2020 election was not honest and the elections weren't conducted in a way that upheld the process and the rule of law."
In order to right these supposed wrongs and strengthen his political support system, Trump is endorsing a number of candidates for the 2022 midterm elections that have proven to be faithful to him and his various causes.
According to CBS News, Trump has endorsed political candidates like former Georgia Senator David Perdue in his primary against incumbent Republican Governor Brian Kemp, former local TV news anchor Kari Lake in Arizona, and, as Business Insider reported, Eric Greitens in the Republican primary for U.S. Senate in Missouri.
A conservative radio host asked Donald Trump not to endorse a former Missouri governor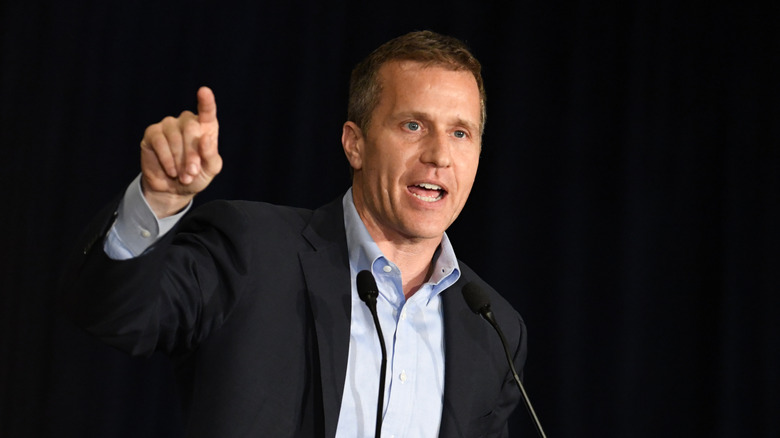 Gino Santa Maria/Shutterstock
During an interview with conservative radio host Hugh Hewitt on Dec. 8, 2021, former President Donald Trump discussed his endorsement of controversial former Governor Eric Greitens for the Republican primary for the U.S. Senate in Missouri, taking place in 2022. While Hewitt is seemingly a fan of Trump's, per Business Insider, he practically begged the former president to stop his endorsement of Greitens. 
"Please don't, please don't endorse Eric Greitens," Hewitt said. "That's a nightmare, Mr. President. We'll lose that seat. But that's Hugh Hewitt's opinion, not yours." Trump responded: "Well, that's an interesting opinion, that's true. He's right now leading by quite a bit."
Greitens announced that he was running for the Republican primary in March 2021. The former Missouri governor resigned in 2018 after he was accused of sexual misconduct and blackmail. According to ABC News, Greitens allegedly had an affair with a hairdresser and performed sexual activities without her consent. 
To make matters worse, his campaign was also investigated by the Missouri Ethics Committee after it was allegedly discovered that he had misused campaign funds and donor lists. Though Greitens was personally cleared, his campaign was fined $178,000, per ABC News. 
These issues around campaign funds still continue to plague Greitens, who has also been recently accused by the Campaign Legal Center of illegally using leftover funds from his former gubernatorial campaign for his Senate bid, per Business Insider.