How COVID Impacted 90 Day Fiancé Stars Memphis And Hamza's Relationship - Exclusive
To say that COVID-19 disrupted the world is a massive understatement. From dining options to travel to work stability to health concerns, the pandemic upended global life in a way that few of us could've predicted. Of course, one of the social casualties of the pandemic happened to be the bustling dating lives of the singling and mingling among us, because how on earth are you supposed to meet anyone of romantic interest when the biggest outing you do within the week is to go to the grocery store? Not that app and online dating weren't big and booming businesses before, but the impacts of COVID-19 made even the most staunch anti-dating app users among us download a couple options. And for some –- like "90 Day Fiancé: Before the 90 Days'" Memphis and Hamza –- things seemed to work out for the better.
After months of texting and video calling, Michigan native Memphis and Tunisia local Hamza decided to give their love a shot -– oh, and Memphis also decided to apply for the "90 Day Fiancé" spin-off show. After a couple of glasses of "liquid courage," the dazzling mom of two decided to send in an application just to see what would happen. As a fan of the show, it was a delight to find out that she'd be starring on the spin off that has made stars of its on-screen personalities. But the pandemic still had plans to impact Memphis' relationship with Hamza, and in an exclusive sit down with The List, Memphis shared how difficult the pandemic has been for she and Hamza, and what behind the scenes looked like during their filming. Here's everything she had to share about how COVID impacted her romance with Hamza.
COVID was 'a lot more difficult' for Memphis and Hamza than they expected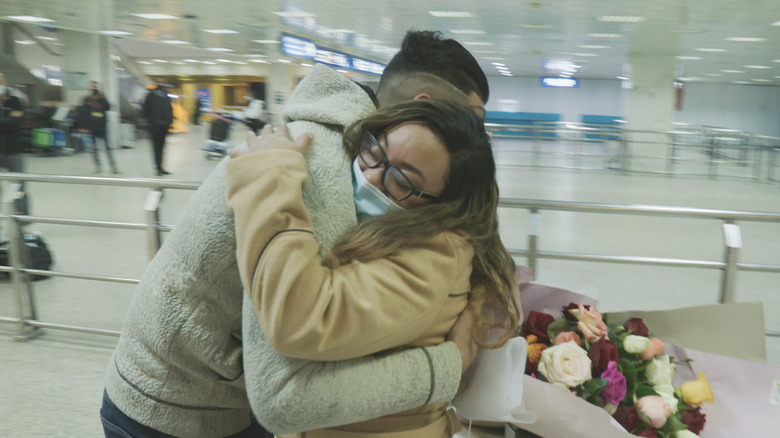 TLC
Maintaining a long-distance relationship is tough enough, but try throwing in a global pandemic, and things become next to impossible. And when we say long distance, we really mean long distance -– this isn't a Los Angeles situation, where long distance equates to one person living in West Hollywood while the other lives in the Marina -– but long long distance, we're talking countries and multiple time zones apart. During her sit down with The List, Memphis, from "90 Day Fiancé: Before the 90 Days," shared that maintaining her relationship with on-screen love Hamza during the pandemic was incredibly challenging, as it basically put everything on hold. 
"Oh my gosh. With COVID, it has been a lot more difficult. There's time restrictions and then there's curfews in certain places and that limits your availability to do this or to go places," Memphis shared. "It makes it more difficult because who wants to just sit in the house all the time? We want to get out and try to see how each other deals with mingling with other people. You know what I mean? Those are important things." Elaborating on seeing Hamza out in the real world, Memphis shared that interacting with friends, going out for dinner, and generally socializing with your significant other are very important aspects of a relationship to her –- the pandemic essentially put those desires on a less than ideal pause. "I think a lot of those, what we would more consider to be traditional periods of time where you learn about each other, has been completely rewritten," she said.
What was the filming process like for Memphis and Hamza?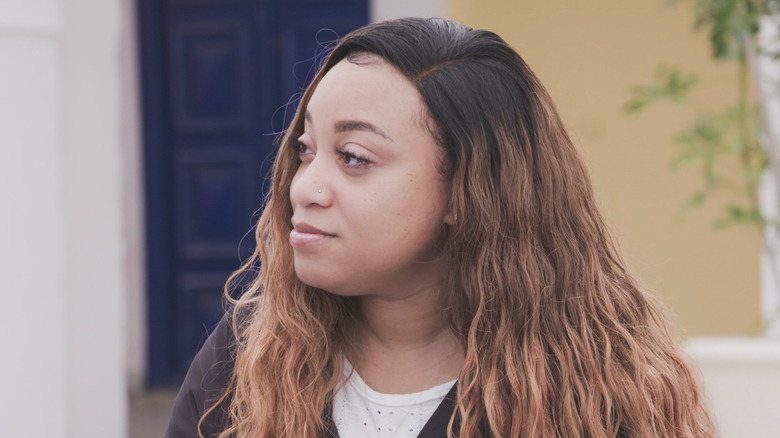 TLC
Elaborating further on the early dating stages, Memphis shared that her relationship with Hamza –- and dating in general -– fell a bit victim to the limitations that COVID-19 presented. Sharing that the standards of dating may have gone down a little since so many social activities are still shut down, Memphis said. "Not only internationally, but here in the states. I have girlfriends that are single and they're like, 'Oh, guys just want to do Netflix and chill.' So COVID is a good excuse for a guy to be like, 'Oh, come over to my house,' instead of, 'Let's go out for dinner.'" But did that logic apply to Hamza? It certainly doesn't seem so, because Memphis described him as "just a nice guy and very patient," which she said was a perfect balance to her "fiery" personality.
It wouldn't have been a true List interview if we hadn't asked Memphis what life on-screen was like, and the new "90 Day Fiancé" star shared that being a member of the cast was an entirely different experience than she anticipated. A fan of the show herself, Memphis shared that the ins and outs of filming were far more like "a job" than she envisioned -– it certainly wasn't just a camera following her around all the time. "It was way more extensive than I ever anticipated it to be," Memphis said. "Every day was quite different. There were no two days that were the same. So, it really depended on the weather and our moods and all of those things intertwined. You get a bunch of people together and you have to go with the flow pretty much."
The new season of "90 Day Fiancé: Before the 90 Days" premieres Sunday, December 12 at 8 p.m. ET/PT on TLC and discovery+.