Jessa Duggar And Ben Seewald Release A Bold Statement Following Josh Duggar's Verdict
The verdict in the case against Josh Duggar has stunned fans of "19 Kids & Counting." But as the world now knows, the Duggars' oldest son was just convicted of downloading and possessing child sexual abuse material (via People). Since then, members of the family have been coming forward with reaction statements. Parents Jim Bob and Michelle offered love and prayers for their son and his family, while many of the Duggar siblings are standing in solidarity against their brother's deeds.
Among them is Jessa Duggar Seewald, the 5th of the 19 children. Her husband, Ben Seewald, posted a statement to Twitter the day after Josh's verdict was handed down. "From the moment we learned about this case against Josh we have prayed that God would cause the truth to be known, no matter what it was, and that the facts would be followed no matter where they led," he wrote. "We are grieved beyond words over the children exploited and abused in child sexual abuse material, and we are thankful for our justice system in its punishment of such evils. Our hearts break for Josh's family, and we ask your continued prayers for them in the unfathomable grief and pain they are suffering."
Some fans applauded the couple when Without a Crystal Ball reposted Seewald's tweet. "This is a firm statement about the true victims here. I'm glad they made it clear!" said one. Others were disappointed that Seewald didn't specifically say that Josh was guilty.
Other members of the Duggar family are speaking out against Josh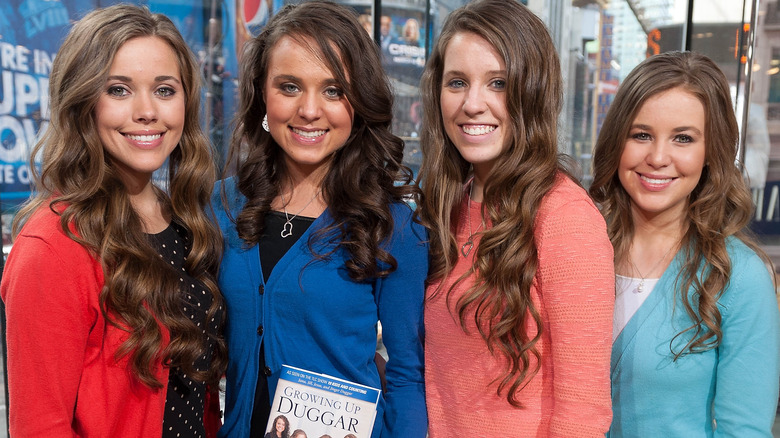 D Dipasupil/Getty Images
A more direct comment came from Amy Duggar King, a cousin of the Duggar children. Long a critic of her family's ultra-conservative beliefs and practices, she has staunchly stood on the side of "Thank you Jesus. Justice has been served," she tweeted immediately after the verdict. King also offered support to the family members who had been abused by Josh in the past, as well as to the jurors who had the difficult task of viewing graphic evidence and delivering the decision.
Also weighing in is sister Jinger Duggar Vuolo. She and her husband, Jeremy Vuolo, posted a lengthy statement on their Instagram stories (via Without a Crystal Ball) that was even more direct and condemning than the Seewalds' was. They expressed thanks to God "for exposing Josh's actions," along with their regrets that Josh had dishonored his family's faith. "For Josh, we fear for his soul," the Vuolos said. The couple concluded, "We are grateful for justice. We are praying for further justice, vindication, protection, and healing for all those who have been wronged."
Once again, fans weighed in on via Instagram comments: "Best statement from the family so far!!" cheered one. Another wrote, "I am so proud of these women (his sisters), the courage and bravery. Anyone else crying?" And a follower summed up: "The BEST ONE YET. Finally someone from the family calls Josh GUILTY."