Why Ted Cruz' Appearance At Bob Dole's Funeral Has Some People Seeing Red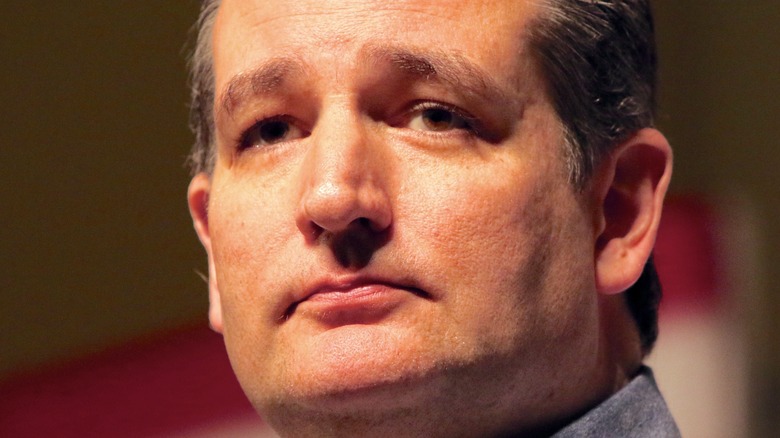 Rich Koele/Shutterstock
Political leaders from both parties mourned the death of former Senator Bob Dole on December 5. A beloved figure in American political history, numerous politicians who knew and worked with Dole expressed their sympathy for his family and looked back on their fond memories with him. It is no surprise that his funeral was well-attended. However, one attendee drew harsh criticism for opting out of wearing a mask: Ted Cruz (via HITC). Cruz was photographed at Bob Dole's funeral with his face uncovered and Twitter was fuming. 
Dole's family released a statement about his passing, sharing that, "Senator Robert Joseph Dole died early this morning in his sleep. At his death, at age 98, he had served the United States of America faithfully for 79 years" (via Twitter). Those who knew him were quick to issue statements of their own. In his statement, President Joe Biden described Dole as "an American statesman like few in our history" as well as "a war hero" and "friend whom [Biden] could look to for trusted guidance or a humorous line at just the right moment to settle frayed nerves." President Biden, Tom Hanks, and Bill Clinton were all among those in attendance at Dole's funeral, per USA Today. 
From the photos taken at the memorial service, it is clear that people came in droves to say goodbye to the former senator. However, despite the many faces in the crowd, the collective eye of the internet was drawn to just one: Ted Cruz. 
Ted Cruz attends Bob Dole's funeral with no mask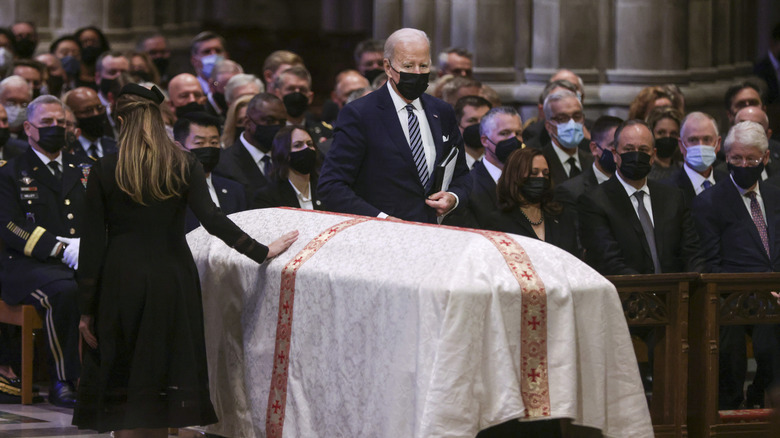 Alex Wong/Getty Images
Bob Dole's funeral was held on Friday at the National Cathedral, per CBS, and photos and video of the event were promptly shared. In them, you can see a sea of masked, mourning faces. And then there's Ted Cruz. Cruz opted to attend the funeral sans mask, and Twitter dragged him for it — hard. The onslaught of tweets ranged from accusing Cruz of being selfish to pointing out that he was seated next to Senator Amy Klobuchar, who announced in September that she had breast cancer earlier in the year, per HITC. Cruz's apparent disregard for her medical condition was not taken kindly by the internet. 
"Ted Cruz was the only 1 who refused to wear a mask at Bob Dole's funeral," one user tweeted. "He was surrounded by the elderly & sat NEXT TO Amy Klobuchar who had a cancer scare this year. He's also blocking all national security nominees amid global crises. Selfishness is his operating principle." "Hey Ted Cruz, It's not always about you. Have consideration of others and wear a mask!" tweeted another. 
Cruz announced in April that he would no longer be wearing a mask at the Capitol because he and others have been vaccinated, per CNN. It would appear that his anti-mask stance extends beyond the walls of the Capitol building as well.