Why This Photo Of Facts Of Life Star Lisa Whelchel Has Twitter Talking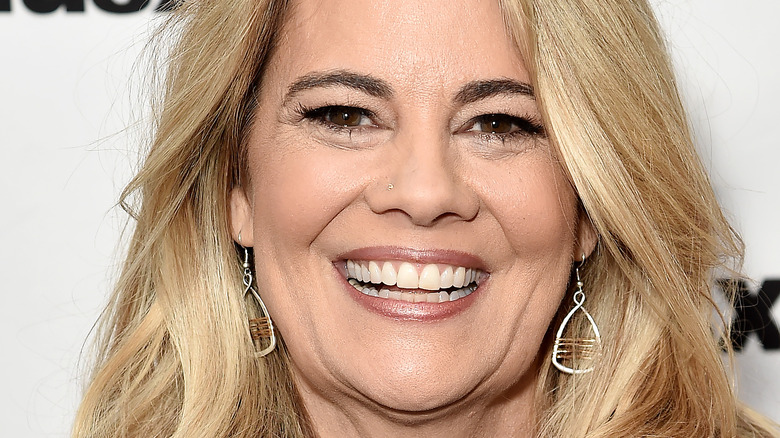 Steven Ferdman/Getty Images
It has been forty years since "The Facts of Life" started airing (via IMDb). Side note: How? Meanwhile, when the show became popular, Lisa Whelchel, who played Blair Warner, was only 16 years old. "The Facts of Life" wrapped in 1988, and Whelchel would go on to appear on various TV shows and movies (via IMDb). But there's no doubt she is best known from her stint playing Blair alongside her Eastland School pals (via LA Mag).
Perhaps the now 58-year-old's association with the famous role is why fans were so shocked to see the actress this week donning her school uniform like back in the day on "Live in Front of a Studio Audience: The Facts of Life/Diff'rent Strokes" (via Page Six). Because as viewers were soon opining on Twitter, Whelchel looks like she hasn't aged a day since 1988.
Indeed, Twitter soon exploded with compliments for the star, with one person tweeting, "So #LisaWhelchel is some sort of gorgeous, ageless vampire." Someone else joked, "Did someone store #LisaWhelchel is a vat of olive [oil] for the past 40 years? She looks great!"
Twitter has more kind words for Lisa Whelchel
Twitter simply could not get over Whelchel's youthful appearance, with one person enthusing, "omg...how is it that #LisaWhelchel hasn't aged in 40 yrs?! She looks EXACTLY the same!" "Why does #LisaWhelchel look exactly the same as she did 40 years ago!?" someone else wanted to know.
Another fan hilariously drew a comparison between Whelchel and another seemingly-ageless star, tweeting, "I think #LisaWhelchel has been drinking from #PaulRudd's fountain of youth." "Oh, so I see #LisaWhelchel decided against aging," yet another impressed fan tweeted.
For her part, Whelchel enjoyed stepping back into Blair's shoes, writing on Instagram, "Just now coming up for air after one of the most memorable experiences of my life." Commenting on her post, followers mostly enthused about her ageless appearance. "You look like it was last week. Bottle it ! Lol," one commenter said, while someone else noted, "Beautiful. You look the same as you did years ago. You never age!" Finally, someone else complimented Whelchel, "When I saw you come out on stage with the old uniform on, it was like time stood still for you."
Um, we'd like her secret too, P.S.