Why 90 Day Fiancé's Gino Narrowly Missed Out On Meeting Jasmine - Exclusive
If you're anything like us, you know exactly what it's like to download/delete, download/delete, oh, and download/delete dating apps like it's a game. All it takes is one slightly cringe worthy or unwarranted message to turn a seemingly good connection into a nightmare, and follow through on dating apps and sites just seems impossible. What if we told you, though, that playing the download/delete game could actually be keeping you from finding that one special someone you've been looking for this entire time? What if you're narrowly missing out on the person who just happens to be the one for you? While we're not entirely sure what your romantic future holds, it's safe to say that Gino and Jasmine of "90 Day Fiancé: Before the 90 Days" struck gold. Gino –- a self-described fan of the franchise who "lives, eats, and sleeps" all things "90 Days" –- lucked out on finding the woman for him, and it was all thanks to speedy timing and an averted download/delete plan on Jasmine's part.
Of course, we don't exactly know what the future for Gino and Jasmine holds, either. The two connected via an international dating site -– and after a move on Jasmine's part -– they found themselves on the "90 Day Fiancé" spin-off show. Gino, an automotive engineer from Michigan, and Jasmine, a literature teacher from Panama, navigate their relationship in front of the cameras and from the trailer of the season alone, it looks like things get pretty fiery between the two. Are they meant to be? Or are they just two ships passing each other in the night? While Gino couldn't spill all the beans with us during an exclusive sit-down interview, he did share what it was like to meet Jasmine via a dating site, and how they almost missed one another. This is how it all went down.
Gino and Jasmine met online, but it was a close call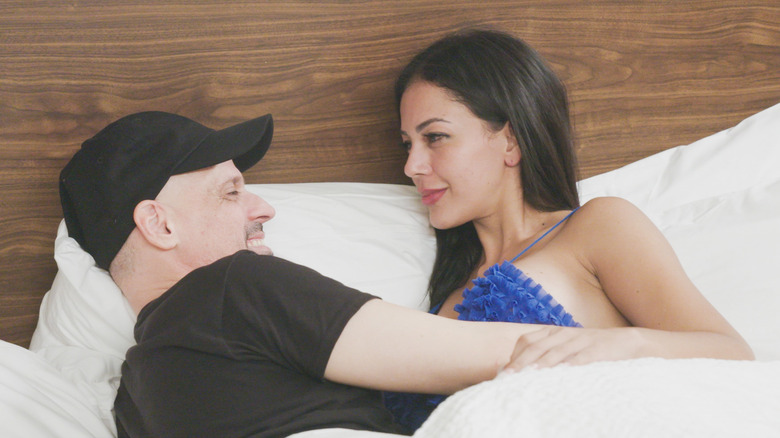 TLC
Gino is no stranger to online dating, but it was by the skin of his teeth that he met Jasmine. During his sit down with The List, Gino of "90 Day Fiancé: Before the 90 Days" told us that Jasmine wasn't even the person who created her dating profile, but the masterwork of a skilled friend of hers. By the time Gino came across her page, Jasmine was just hours from deleting it –- we know the drill, Jasmine, it's a tough dating world out there. We've all had that one friend who is determined to set us up, and it appears as though things worked out –- at least for the show's purposes, since Gino wouldn't give us any hint about the current status of his relationship. 
"To be honest, we kind of met by a miracle. Because her ad that she had on the dating site, she did not even put it up there," Gino told us. "Her friend put her ad up and she was like a few days away from deleting [it]." Clearly it was fate that the two met, because something kept Jasmine front deleting her profile and the two connected from there. Gino told us that he and Jasmine went on to chat and message one another for about nine months before they even went on the show, and bonded initially during that time period. "We just got to know each other really [well], and we didn't really have any big, huge drama and fights or anything in those nine months," Gino shared. "There wasn't anything major."
Are Gino's friends and families supportive of his relationship?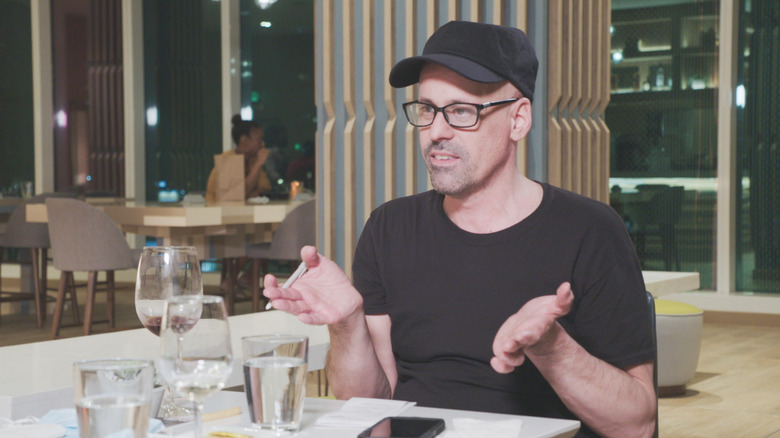 TLC
Finding that one special someone is hard enough, but getting your friends and family on board? Sometimes that feels like a losing battle, and for Gino of "90 Day Fiancé: Before the 90 Days," he had some romantic history in his past that didn't exactly work in his favor. Gino told us during his exclusive interview that his first wife was Brazilian, and that he had brought her to the United States on a fiancé visa, so he was already attuned to the process that the TLC show is so well known for. The marriage between the two didn't work out, so when Gino met Jasmine and went through the very similar process again, his family and friends had some doubts. 
"They were kind of really questioning, 'Are you really going to do this?' And, 'Are you going to go meet someone? You just met them online, you're going to go meet them in a different country? You don't even really know them,'" Gino told us. He also expressed how concerned his family and friends were for his safety, asking him questions like, "Is this person setting you up?" and "Is this person real?" Describing his close clan as "really cautious" and predominantly concerned for his safety, Gino said that despite the hesitations, he likes to take risks in life. "High risk, high reward" was what he said when he explained the life-altering stakes that come with dating, let alone dating internationally. Will things work out between Gino and Jasmine? Only time will tell.
"90 Day Fiancé: Before the 90 Days" airs Sundays at 8 p.m. ET/PT on TLC and discovery+.