Donald Trump Has Strong Words For Jussie Smollet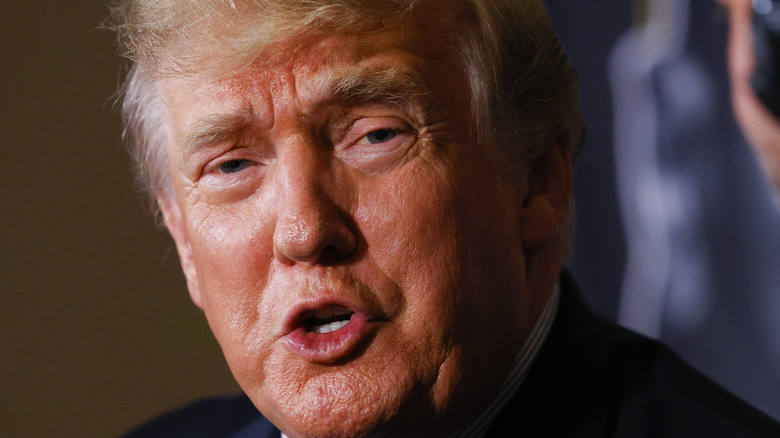 Douglas P. Defelice/Getty Images
Actor Jussie Smollett has received a seemingly endless stream of criticism following his sentencing. One critic has made his stance on the entire situation very clear. Former president Donald Trump has called Smollett a "con man" and accused him of staging a "hate crime in reverse." Smollett was charged with disorderly conduct in the fallout from his accusations and Trump wasn't going to let that slide. 
The timeline of Smollet's alleged attack is a long one, so buckle in. In January 2019, he reported receiving a racist and homophobic letter in the mail following the filming of his series "Empire," per ABC News. Police later determined that he likely wrote the letter himself. Less than a month later, Smollett told police that he was attacked around 2 a.m. by two men in downtown Chicago who were using racial and homophobic slurs similar to this in the letter. He also claimed that they wrapped a noose around his neck and covered him in an unknown substance while screaming that he was in "MAGA country." 
After hundred of hours surveillance tapes, police stated on January 30, 2019 that they found no evidence of the alleged attack. Throughout the month of February, police continued their investigation and Smollett continued perpetuating his story. Later in the month, police determined that Smollett actually paid his attackers in a calculated publicity stunt. Evidence continued to support the theory that it was faked, and Smollett went to court in 2019. 
Donald Trump reacts to Jussie Smollett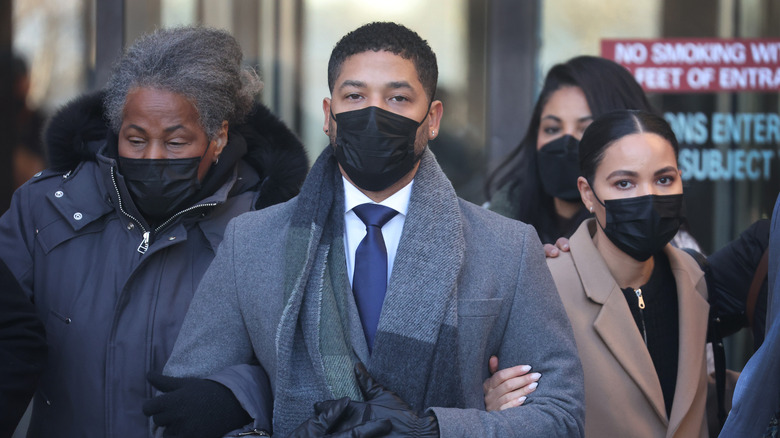 Scott Olson/Getty Images
Following the trial, Jussie Smollet was charged with five counts of disorderly conduct, per the New York Times, and now faces up to 15 years in prison. Given Smollett's inclusion of the "MAGA country" comments in his fabricated attack, it is little surprise that Donald Trump had something to say about it. Speaking with Fox News' Laura Ingraham on her show, "The Ingraham Angle," on Friday, Trump expressed his disdain for Smollett after watching clips from news networks linking Smollett with Trump. 
"Mr. President, you just heard the left blame you back in 2019 for Jussie Smollett's phony race attack" (via Newsweek) Ingraham said. "Of course, he was found guilty on five of the six accounts, lying to police," she said, and asked Trump for his opinion. "It's a disgrace what happened," Trump said. "He said MAGA country tried to hang him, that MAGA country was bad. And if somebody, if he were a Republican, if he were on the other side, he'd be in jail for 25 years for hate crimes." Trump described the incident as "so crazy" and seemed pleased with the jury's verdict. "But the jury got it and they got it strong, and he was convicted almost all of the counts."
Smollett's time in court may be over, but more criticism and comments from Hollywood and beyond are sure to follow.