Here's What Gwyneth Paltrow Looks Like In Real Life Vs. Instagram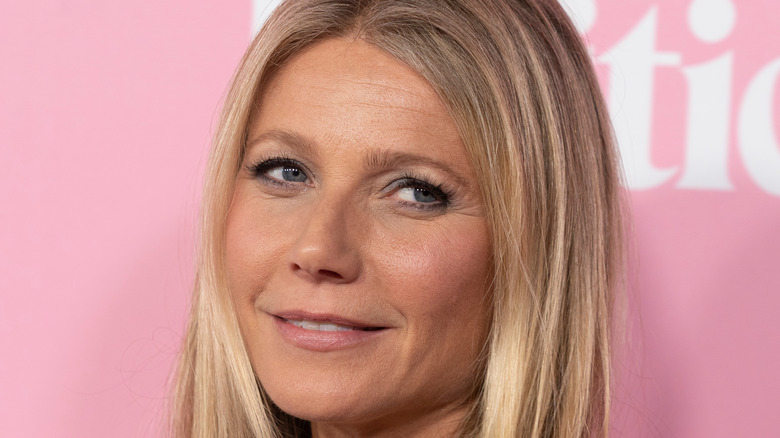 lev radin/Shutterstock
Oscar winner and Goop founder Gwyneth Paltrow is known (among many other things) for her unique approach to health and wellness. As Grazia Daily details, Paltrow has made several controversial claims over the years about how she stays fit and healthy, from indulging in bee sting facials to embarking on an 8-day goat milk cleanse. And despite the fact that some people roll their eyes at the "Shakespeare in Love" star's advice, she's the one making millions off her goopy business, as The Guardian points out.
Regardless of any personal feelings on Paltrow, there's no denying she looks fantastic — even decades after breaking out as an ingénue in "Emma," via IMDb. But in March 2021, the Goop founder raised eyebrows with her morning routine, after a video for Vogue went viral for all the wrong reasons. Per Refinery29, fans and beauty experts were horrified by Paltrow's casual approach to sunscreen, though her team ultimately clarified that she had used enough product. According to a statement, the Emmy-winning actor had applied "sunscreen to her entire face, though the video is edited down for timing's sake and does not show the full application." Clearly, whatever Paltrow is doing is working, so when she's spotted going au naturel, she doesn't sweat it. 
Gwyneth Paltrow's dedication to wellness shines through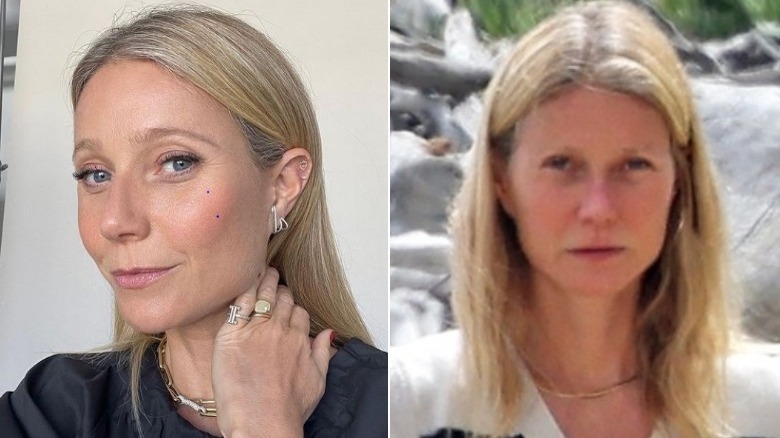 Instagram/Backgrid
In a 2021 interview with Harper's Bazaar, actor turned-wellness-expert Gwyneth Paltrow hilariously revealed she gets injectables in order to "look less pissed off." According to the Marvel star, a small drop of Xeomin is all it takes to keep her wrinkles at bay. But while Xeomin works wonders for her now, she was initially hesitant about getting injections, due to a bad experience she had shortly after turning 40. "It was a disaster. I didn't do anything else for a long, long time," Paltrow shared with Harper's Bazaar, adding that she was "bruised, my forehead was completely frozen, and I didn't look like myself at all." 
Nowadays, Paltrow knows what works for her and sticks with it. "I think aging is hard," she admitted in a 2020 interview with Popsugar. "It's definitely a process, and I think when you see your face start to change, you don't necessarily feel your most beautiful externally. But the irony is it's that time in your life when you actually really like yourself and love yourself. So you sort of internally feel really beautiful." As Paltrow admitted in the Vogue video, she came to skincare later on in life, after growing up as a tomboy. Consequently, her beauty routine is relatively laidback by design, and it starts with her health and well-being. "I believe that beauty and wellness are inextricably linked," the busy working mother added, via Vogue.