Meet Sandy Mahl, Garth Brooks' Ex-Wife
Ron Wolfson/Getty Images
Garth Brooks and Trisha Yearwood may be one of country music's ultimate love stories, but it wasn't always this way for the couple. Prior to meeting each other and falling in love, both musicians had gone through a divorce. A pretty hefty divorce in Brooks' case, which ended up being "one of the most expensive settlements in the country music industry," according to Country Thang Daily.
This came as a result of his marriage to Sandy Mahl and the subsequent breakdown of their relationship. The former couple, who share three daughters together, first met at a bar close to Oklahoma State University, where Brooks was working as a bouncer at the time. According to The Sun, the pair eventually started dating and were married by 1986. 
Their marriage would last for 15 years before they divorced in 2001, which came as a result of Brooks' intense touring schedule. "He'd be gone eight to 10 weeks at a time," Mahl told Wide Open Country (via The Sun). "We both grew apart really, really quickly," she added. 
Brooks would eventually find love again with Yearwood, but what happened to his first wife Mahl?
Sandy Mahl has since opened her own wildlife sanctuary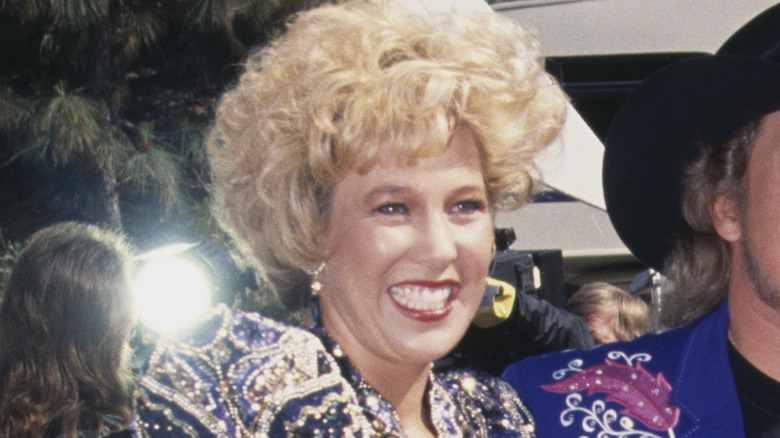 Michael Ochs Archives/Getty Images
Born on January 16, 1965 (via Star Studds), not much is known about what Sandy Mahl did prior to meeting Garth Brooks. As Country Thang Daily notes, Mahl is a "very private person." However, she was an instrumental part of Brooks' career at the beginning and is also credited as a songwriter. Mahl was actually behind the tracks "I've Got A Good Thing Going" in addition to "That Summer." 
Following their divorce in 2001, Mahl decided not to remarry. Instead, she dedicates her time to her love of wildlife. After moving home from Nashville, Mahl became the co-founder of Wild Heart Ranch in Rogers County, Oklahoma. As the official site for the ranch writes, Mahl is "passionate about wildlife rehabilitation" and has assisted "with the work of raising hundreds of infant wild animals" as well as "founding and funding the non-profit so it could expand and grow and be a full time, all species, all situation facility."
Despite a breast cancer scare in 2006, which she has since fully recovered from (via Country Thang Daily), Mahl has dedicated the majority of her time to the wildlife facility which has since grown in size to a 40-acre plot of land acquired in 2012.