The Real Reason Rihanna Kept Her Relationship With Travis Scott A Secret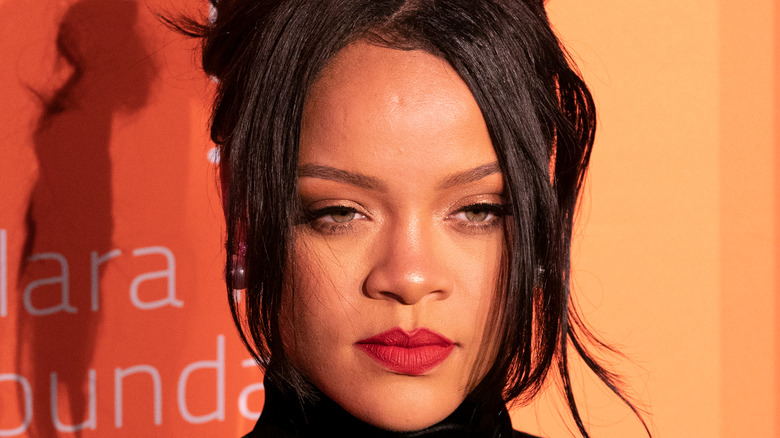 lev radin/Shutterstock
Rihanna's dating life may not be as epic as her music discography, but even at that, the list of her past lovers is as fascinating as it gets. Before hooking up with current beau, A$AP Rocky, the singer has had flings and romantic relationships of varying levels of commitment, according to US Magazine, with fellow star names like Chris Brown, Drake, Matt Kemp, and Lewis Hamilton, among many others.
But while some of these "relationships" were well-known and well-documented even up to the point of breakup, like her ill-fated dalliance with Chris Brown (per E! Online), and her topsy-turvy relationship with Drake (per US Magazine), some were barely even acknowledged by the singer and the person she was involved with.
Her short-lived relationship with Travis Scott falls squarely under this category. It's actually OK if you are learning of that relationship for the very first time now, as the two quietly dated in 2015 but neither acknowledged it during the said relationship, neither have they ever been drawn into speaking about it on the record since they split up.
Apparently, Rihanna had a particularly sneaky reason for not going public with this romance.
Travis Scott was not exactly up to Rihanna's taste, it seems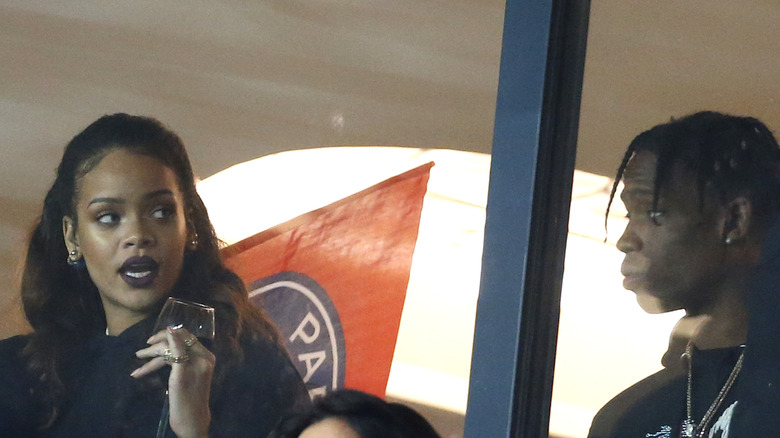 Jean Catuffe/Getty Images
Speaking about the lowkey relationship at the time, an E! News source told the tabloid that: "Travis and Rihanna are dating, officially. It's already very serious. He's very into her," adding fuel to the spreading story in September of 2015.
But the intense affection might have been a bit one-sided, as some believe that Rihanna wasn't so keen on letting people know that she was getting down with the rapper. According to Lawrence Schlossman of Throwing Fits Podcast, the rapper was pissed for a long time after an interview with Schlossman, published as a cover story on Complex in 2015, touched on his relationship with the "Love on The Brain" singer, when they had agreed that the relationship would be completely left out of the editorial.
But interestingly, Scott's anger was majorly out of embarrassment, because Rihanna had hated being linked with him publicly the way the story did.
Schlossman said Scott's annoyance was not because "[Travis is] like, 'Don't tell anyone I'm smashing Rihanna.' It's because Rihanna's like, 'Don't tell anyone that I'm smashing Travis Scott, please.' [It's] obviously embarrassing as f***,'" per Insider.
No one can be certain if this contributed to the fading off of their romance, but the supposed secret couple soon went their separate ways, with Travis ending up with Kylie Jenner shortly after, and Rihanna moving on to Hassan Jameel, a Saudi billionaire.