Humberly González Reveals How She Filmed Maps And Mistletoe In 14 Days - Exclusive
You may know Humberly González from her time on the Netflix hit "Ginny & Georgia." Or, you may recognize her from Hulu's teen sci-fi series "Utopia Falls." Currently, González is starring in the Lifetime holiday movie "Maps and Mistletoe."
During her exclusive interview with The List, González shared how excited she was to tackle her first Christmas movie. Although she filmed the project in March, they worked in Ottawa and Almonte, Ontario, Canada, where it was still cold. "We had incredible snowfalls that were actually part of the movie, and it was so magical," she said. González also talked about how beautiful the Christmas set was and how much fun it was sledding in the movie.
But making "Maps and Mistletoe" was also challenging. Along with the cold weather, they were also in a rush because the entire project was filmed in just 14 days. González shared how the cast and crew all pulled together to make a " great movie" in that short amount of time.
González was on set all day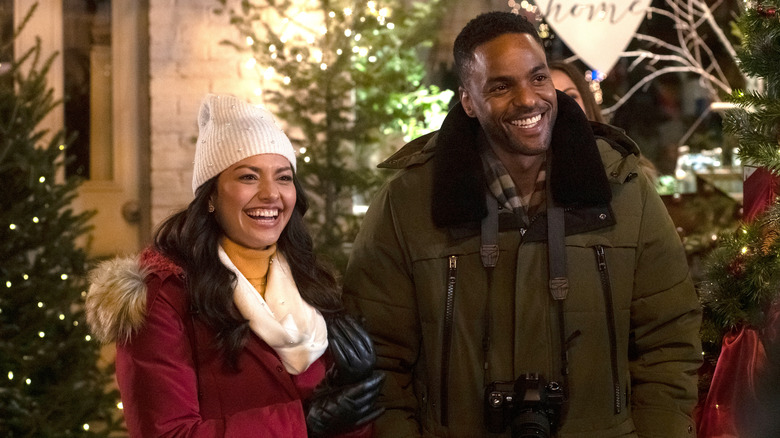 Lifetime
Making a movie in 14 days is sure to be a lot of work for everyone involved, and since González was the lead, it was an especially demanding schedule. While filming "Maps and Mistletoe," she was on set from the beginning of the day until they wrapped.
"On the day-to-day, essentially, you wake up really early, you're in full glam by 7 or 8 a.m," González said. "That was always very odd. Just having your omelet, and you're just looking like you're going to a gala." Then after spending the weekdays working long hours on set, she spent the weekend learning lines for the next week.
But despite the long days, González still enjoyed her time on set and with the cast and crew. "It was great," she said. "Honestly, it doesn't always feel like work when you're doing something you love."
The crew was professional and supportive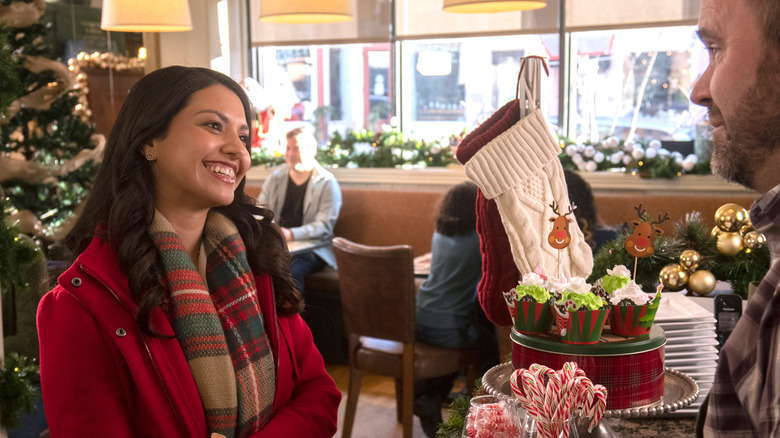 Lifetime
It takes more than one hard-working actor to make a movie that quickly, and González said that she was lucky to be working with a wonderful crew on "Maps and Mistletoe." They were open to any ideas she had from the beginning, even making her character, Emilia, Venezuelan, to incorporate elements of González's culture into the movie. They also made the experience as comfortable as they could. "Even though I was there every single day, the producers were so kind, always bringing us coffee and snacks, taking us out for lunch," she said.
Along with their supportive attitude, they were all very professional, which helped them work under a tight deadline. González explained that most people on the crew had worked together in the past. "They had all filmed many movies before, so they knew how to make a movie in 14 days," she said. "It was a fast pace. Everybody trusts their work. Everybody is so willing to help each other out. So I just felt very accepted, honestly, right from the get-go."
González learned this trick for long days from her co-star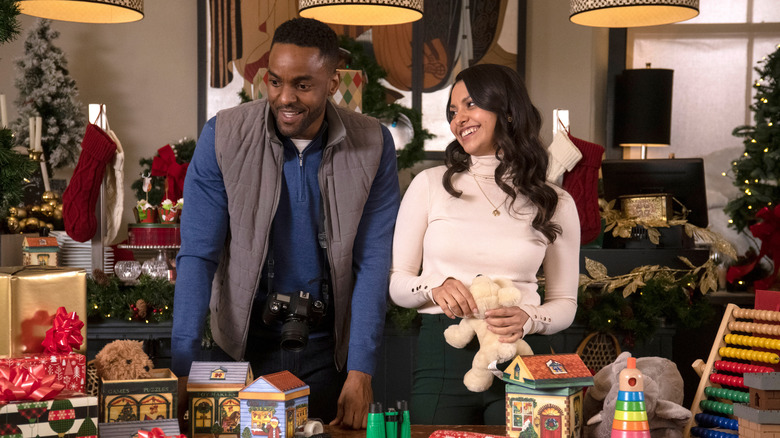 Lifetime
According to Humberly González, this movie focused on the two leads. "In a lot of Christmas movies, you see a family, you see the best friend, you see all of these relationships. But in our movie, it's very much about these two people that are just getting to know each other," she said. Because of this, her co-star, Ronnie Rowe, was also working long and tiring days throughout the two-week shoot.
The two of them were often on set late, but would still have to be up early to film the next day. González told us that Rowe shared his trick for staying refreshed and on top of your game. "This is what you do," she said of his advice. "You get home, you eat, you take a nap, and then you wake up and practice lines." Following his guidance even after late workdays, González would take a quick nap and then meet up with Rowe later in the night to run lines together for their early morning. "You kind of have to find your groove on how to learn the material while also making sure that you're rested and that you're fed and all of these things," she said.
"Maps and Mistletoe" is airing on Lifetime throughout the holiday season.