Inside Alan Jackson's Friendship With George Jones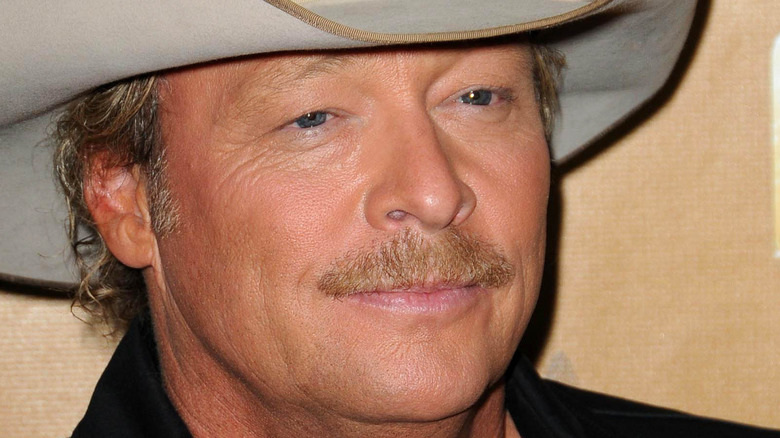 s_bukley/Shutterstock
There's something special about not only meeting your idol, but also befriending them. This happens oftentimes in Hollywood when actors and musicians find themselves walking the red carpet alongside the very people who inspired them to follow their dreams. One such relationship that has a touching backstory is that of Alan Jackson (above) and George Jones. Jackson has spoken candidly about the role that Jones played in helping him find his way in country music, and every comment is bathed in admiration and pride. Fortunately for Jackson, it would appear that the feeling is mutual. Not only did Jackson get to meet his hero, but the two went on to become rather close friends until the time of Jones's death.
Around the time that Jackson landed his first record deal in 1989, Jones was sitting pretty with well over 50 albums and numerous hit singles, per Wide Open Country. But that didn't stop the two from finding the kind of common ground that resulted in Jackson singing a heartfelt rendition of Jones' song "He Stopped Loving Her Today" at the country music legend's funeral in 2013 before a massive crowd at the Grand Ole Opry. 
Despite coming from different eras, Jones and Jackson forged a friendship that lasted beyond the former's death. Jackson grew up listening to Jones' music, looking up to him as many young country fans did. The two would go on to record songs together and communicate often, per Outsider.
The lasting friendship of Alan Jackson and George Jones
Beth Gwinn/Getty Images
Speaking with Wide Open Country, Alan Jackson said that George Jones' song "He Stopped Loving Her Today" was possibly one of the most influential songs of his own career, calling it "as near a perfect country song as you could ever imagine." Shortly before his death in 2013, Jones wrote a letter to Jackson that Jackson later shared with "Taste of Country." In the letter, Jones thanked Jackson for the bond that they shared. "You have been a true friend and I love you for that. All these years of you and Denise spending time with Nancy and I is so much appreciated," he wrote. "Thanks for always being there for me." Along with his appreciation, Jones also extended an invitation to Jackson to perform with him in a show slated for November of 2013. And while Jackson would have surely accepted, Jones tragically died before the opportunity arose. 
In 2018, Jackson shared a sweet photo of the two together on Facebook to celebrate his late friend's birthday. "'He stopped loving her today' but we'll never stop loving him," he captioned the touching tribute. Jackson has continued to mourn the loss of his dear friend in the years following Jones' death, often taking the opportunity to post on Jones' birthday. While they may not have gotten as much time together as they would have liked, the time they shared sure was sweet.