Gossip Girl's Johnathan Fernandez Shares What It's Like Playing Whitney Peak's Dad - Exclusive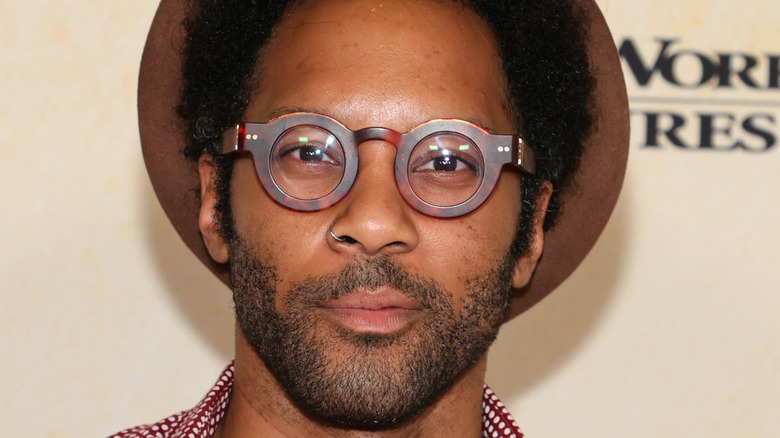 Theo Wargo/Getty Images
HBO Max's "Gossip Girl" reboot has already been renewed for a second season, and the show is proving to be a hit with old and new fans alike. Johnathan Fernandez, who's appeared in everything from "Lethal Weapon" to "Girls" to "Younger," plays Nick Lott, the father of Zoya (Whitney Peak), on the streaming series. And, by all accounts, joining "Gossip Girl" has been an exceedingly positive experience for the actor. 
Fernandez talked to The List about his role in the new series. "What's super interesting is that this was the second reboot I've been a part of because I had come off of 'Lethal Weapon,'" he said. "Now, my friends and I jokingly say I'm Mr. Reboot. You got a reboot planned? Please. You don't even have to ask me. I'm the guy. I'm going to make it work."
The List sat down with Fernandez to find out what it's like playing Whitney Peak's father on HBO Max's "Gossip Girl."
Whitney Peak and Johnathan Fernandez hit it off right away
For Johnathan Fernandez, working with Whitney Peak, who plays his character's daughter, is "a dream in every direction," he told The List. 
"I haven't really told this story publicly, actually, but it was really interesting because, when I first met [Whitney], [it] was at the studio test at Warner Bros. We instantly connected in a way that was like, 'Wow, we could be very good friends.'" Fernandez noted that he even met Peak's mom — and was "hyper-intimidated" by her.
He recalled acting a bit more mature than usual when they met so he could assume the father role on the show. 
"Anybody who knows me would've been really laughing at my demeanor because I wasn't saying, 'Cool.' I wasn't saying any slang or any of that stuff — just to have a little older air," he recalled. "It ended up working out because I wanted to at least come off to people who were watching Whitney and I as parental or, at worst, a guardian — but not a big brother." 
During the studio test, he and Peak improvised some scenes and could tell that they immediately had a rapport, which was great for their on-screen portrayal of father and daughter.
"Because a parental relationship is not always castigating and always yelling," Fernandez explained. "Even though, on this show, she deserves it. The kids are always doing outrageous things. But, even with that, you still find room to be fun and have plenty of situations where things aren't always heavy because that's not what life is like."
Over time, the Gossip Girl actors developed a real-life bond
As it turns out, Johnathan Fernandez and Whitney Peak hit it off so well that their father-daughter bond has carried over into real life. 
"It was really easy right away. I think we instantly bought into each other," the actor explained. "It was funny because, since then, [they have] hung out a ton. A lot of it has been between me and her and her mom and my wife. The four of us went out a bunch when they first moved to New York. It really felt like I was taking on this actual parental situation."
Even when they're not filming, Fernandez makes sure that Peak knows he's there for her no matter what. "Because she had been to New York but never alone — never working on this massive show — it was nice to be like, 'Anything you need, come to me. I'm from here,'" he said.
For example, he has picked up and built furniture for Peak and even picked up products from the Apple store for the actress when she wasn't able to go herself. 
"All this straight-up actual parent stuff," he said. "My wife and I, we don't have any children, and our running gag has been, 'Whitney's enough. That's totally enough.' It plays into our working relationship, and it's really nice to have that with someone that you really actually love and care for."
"Gossip Girl" is exclusively available to stream on HBO Max.