Mark Meadows' Old Texts Are Landing Him In Hot Water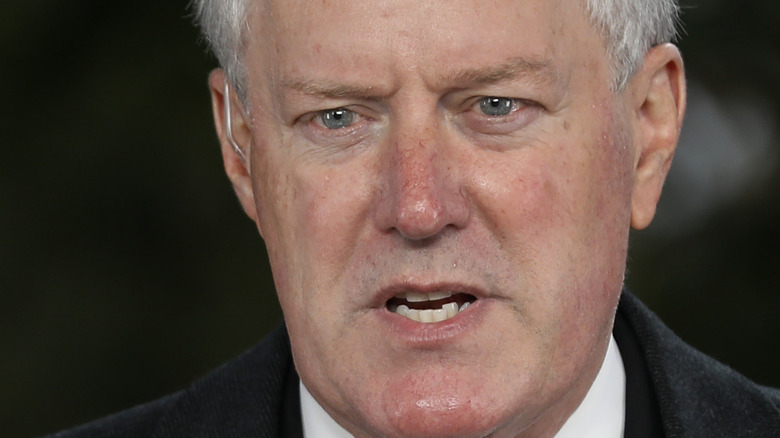 Bloomberg/Getty Images
Being the chief of staff to former President Donald Trump couldn't have been an easy job. In fact, Trump went through more than one chief of staff during his time in the White House. The first staffer was John Kelly, who left the gig in less than two years because he disliked the job so much (via Time Magazine).
At a talk Kelly did at Duke University, he shared, "[Being chief of staff] was an incredibly hard job; it was the least enjoyable job I've ever had" (via CBS News). Though it was difficult, he had no regrets. He even added, "But it was the most important thing I've ever done in my life."
At the end of Kelly's term, Trump hired Mark Meadows as his chief of staff. Once he lost re-election, Meadows decided to write a tell-all book (via The Guardian). If Meadows thought he was going to be able to sit back and enjoy his book release, he was mistaken. Now, texts from his old phone are coming out that have put the chief of staff turned author in hot water.
Meadows' personal phone messages have landed him in hot water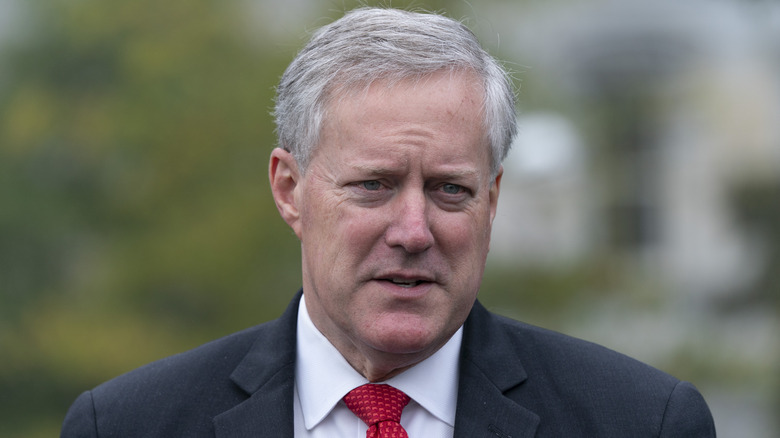 Bloomberg/Getty Images
After the January 6th riots at the Capitol, a House committee has been put in place to do a formal investigation of what transpired (via CNN). Most recently, the committee got their hands on the former chief of staff's old phone, and what they found was shocking.
Meadows' old phone contained text messages from various Trump allies and administration members, including the former president's son, Donald Trump Jr. While the riots were happening, Trump Jr. sent Meadows, "He's got to condemn this s*** ASAP. The Capitol Police tweet is not enough" (per The Daily Beast).
It is not just these text messages that are putting Meadows in hot water (via The Daily Beast). "Mark Meadows' texts and emails reveal deep involvement in setting the stage for the January 6 attack," Maryland Representative Jamie Raskin tweeted.
The issue comes from Meadows using his personal phone during this time and not archiving the messages. "Mr. Meadows' production of documents shows that he used the Gmail accounts and his personal cellular phone for official business related to his service as White House chief of staff," the latest committee report states. "Given that fact, we would ask Mr. Meadows about his efforts to preserve those documents and provide them to the National Archives."