Mary Trump Shares Harsh Words About Donald Trump Jr.'s Texts On January 6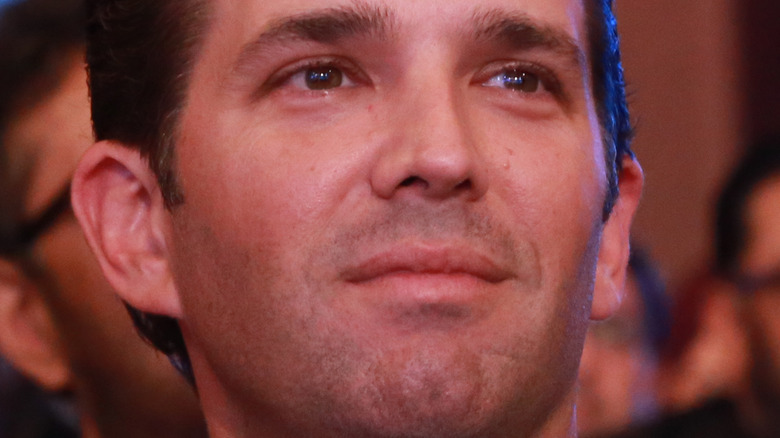 Madhuram Paliwal/Shutterstock
It is no secret how Mary Trump feels about her relatives. Former President Donald Trump's niece, who is the daughter of the past commander-in-chief's brother, has been vocal about her family members for years (via Forbes). Not only does she feel like Trump treated her father poorly, she believed he was a dangerous man who shouldn't have been elected as president.
Trump's niece published a tell-all book about her feelings (via the BBC). Mary, who is a psychologist, wrote in her book, "This is far beyond garden-variety narcissism," adding, "Donald is not simply weak, his ego is a fragile thing that must be bolstered every moment because he knows deep down that he is nothing of what he claims to be."
Her book does more than touch on his narcissism. She talked about family tax documents, accusations that her uncle paid someone to take the SAT for him, and touched on his less than savory relationships with women. She is not afraid to hold back, and that is why she has some harsh words for the former president's son, Donald Trump Jr.
Mary Trump did not hold back
Mary Trump made headlines discussing tests sent by Donald Trump Jr. to President Trump's former chief of staff, Marj Meadows. The texts were released during a meeting of the committee investigating the riots at the Capitol on January 6th. In one text, Trump Jr. wrote about his father, "He's got to condemn this s*** ASAP. The Capitol Police tweet is not enough" (via CNN).
During an interview on MSNBC's "Last Word" with host Lawrence O'Donnell, Mary Trump did not hold back when asked this question, "Why was your cousin Don Jr. texting Mark Meadows on Jan. 6 instead of calling his dad?" Her response followed, "...in this particular instance, it's simply cowardice because Donnie knew the message he was sending was a message his father did not want to hear" (via People).
Mary agreed with her cousin, believing former President Trump could have put the violence to rest with one statement. "What they also knew though was that even though a horrific situation had gotten out of hand, they were directly responsible for creating it, as was Donald, and he was reveling in it," she said. "The only thing that disappointed him was that it didn't work that day."