Here's The Hallmark Holiday Movie You Should Watch If You're A Sagittarius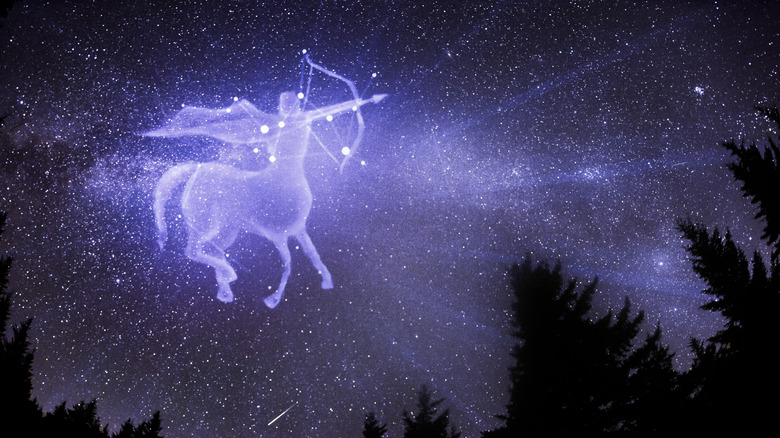 Elena11/Shutterstock
If your birthday is between November 22 and December 21, you're a Sagittarius. Typically, the Sagittarius person likes being outdoors and will always work hard to follow their dreams — no matter how wild they might be. Additionally, given the fact that they are inherently curious and passionate about learning new things, Sagittariuses enjoy traveling. As passionate, intellectual, and creative individuals, Sagittariuses are more inclined to become influencers, entertainers, and artists, according to Allure.
When it comes to ringing in the holiday season, Sagittariuses, who adore knowledge and sharing experiences of meaningful learning with others, are most likely to hold a potluck of some kind in celebration of the holidays. According to Reader's Digest, a Sagittarius will benefit from holding a holiday potluck in which the guests share a recipe that represents their heritage or a special memory from their life in some way. This way, the Sagittarius will be able to increase their knowledge of their friends and other cultures. Holiday celebrations aside, Sagittariuses simply love the fact that the holiday season requires them to travel more than usual, as Horoscope.com reported.
Though they tend to dislike traditions of any kind (Sagittariuses like to try new things), there are a few holiday movies that should be on rotation for a Sagittarius during the holiday season.
Sagittariuses should be watching the Hallmark Channel's Christmas in Vienna
When it comes to Hallmark Channel holiday movies, ScreenRant reports that adventure-hungry Sagittariuses will appreciate the message behind "Christmas in Vienna." According to ScreenRant, "Christmas in Vienna" follows Jess, a concert pianist who travels to Vienna, Austria, to unearth more purpose in her life. While in Vienna, Jess finds the new inspiration she needs to follow her dreams as a musician — and even falls in love with a man along the way. According to the Hallmark Channel, "Christmas in Vienna" is not set to play on the channel leading up to Christmas Day, but, according to TV Guide, the movie can be purchased and watched on Google Play, Vudu, Amazon Instant Video, and iTunes.
Before the holiday season comes to a close, Sagittariuses should indulge in at least a few classic holiday movies. For the Sagittarius, who is brave enough to go on any far-flung journey, Teen Vogue suggests that "Elf," starring Will Ferrell, will surely be a good fit. If you're unfamiliar with the movie, it follows an incredibly goofy elf, portrayed by Ferrell, who leaves the North Pole to find his father in New York City. For the Sagittarius who needs a laugh during the holiday season, "Bad Santa," which stars Billy Bob Thornton as a conman who works as a department store Santa Claus, is a good pick, according to StyleCaster.