Try Out This Makeup Trend If You're A Libra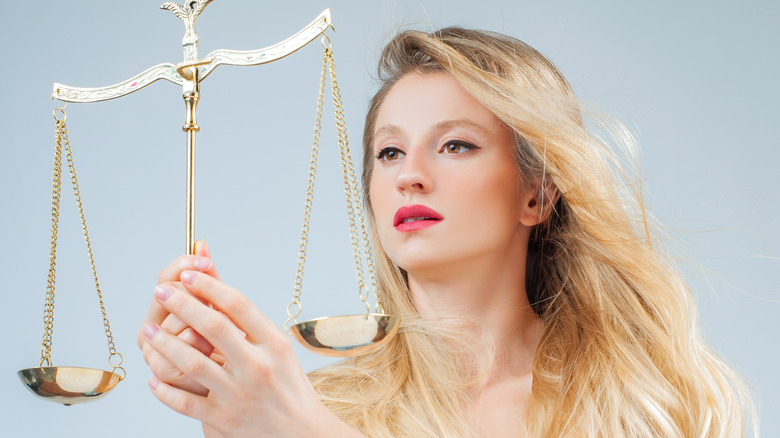 Dmytro Flisak/Shutterstock
Libras know how to turn on the charm. With a reputation as one of the most artistic and romantic signs, Libras pour their creativity into all aspects of their lives — be it relationships, work, beauty, or fashion (via Allure). This air sign is all about balance and comfort, and this symmetry translates into their makeup looks. 
According to Star Sign Style, Libras value peace and sincerity, and the colors they gravitate toward prove this. Makeup palettes in lighter colors such as pastel blues and pinks match their amiable personality. Monochromatic beauty looks are also on brand. To match their need for balance, Brit + Co recommends going for a berry makeup aesthetic by lining their eyes with MAC Cosmetics Eye Shadow in Haux and applying NARS Cosmetics Blush in Mata Hati on their cheeks. For symmetry, rock a complementary berry lip color.
Makeup is about self-expression and painting a story, and no one is more equipped than artistic Libra.
Channel Libra energy with earthy tones and a minimalist makeup look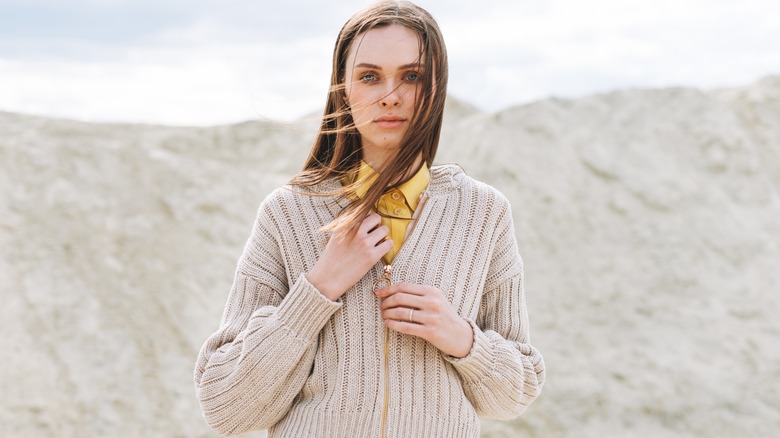 Galina Zhigalova/Shutterstock
Libras are hopelessly romantic by nature, so it's only fitting that their makeup channels that dreamy quality. Lifestyle blog Miss Malani recommends appealing to this zodiac sign's need for romance and connection with eyeshadows, blush, and lipsticks in a rosy hue. Choose makeup that playfully draws attention without making too big of a statement. A minimalist vibe is peak Libra.
The Things suggests incorporating earth tones to play up natural features without going overboard. Instead of the traditional dark, smoky eye, opt for greens and browns to show off that Libran creativity. According to the outlet, Libras can look to Old Hollywood starlets for timeless makeup ideas. InStyle pointed out that Hollywood legend and activist Audrey Hepburn's iconic cat eye really brought out her gorgeous eye shape and color, and gave her look a more feminine edge. In November 2018, beauty vlogger Shannon Harris filmed a Libra-inspired YouTube makeup tutorial as part of her zodiac sign series. She ramped up the earth tone makeup trend by adding in a little glitter, and NYX's Vivid Brights eye liner in vivid petal. The bold pink liner gives Harris' makeup a sweet look and feel.
Libras should feel empowered to experiment with different makeup trends that bring out their personality, while also pushing them out of their comfort zone. So go forth and create!