Inside Jason Sudeikis' Relationship With Jennifer Aniston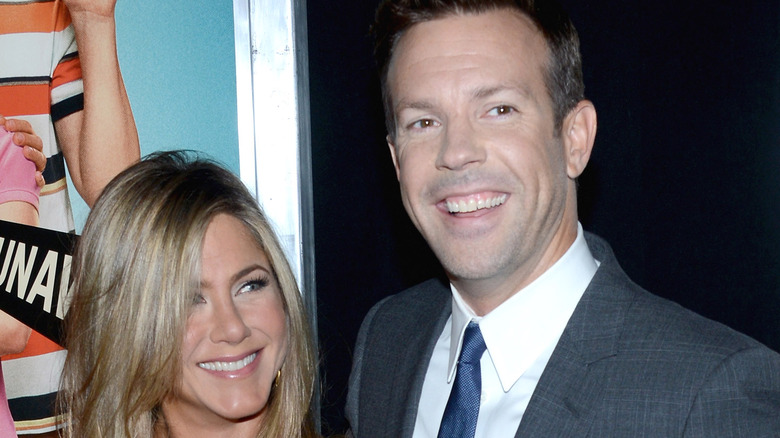 Larry Busacca/Shutterstock
Let's face it, celebrity dating has and always will be the talk of the town. As all celebrities in today's culture know, your personal life is anything but personal when you're a star. While some A-list actors do their best to keep their love lives on the down low, in most cases, details eventually come to light in the form of leaked photos and on-set rumors. One duo that has faced their fair share of gossip and speculation is Jason Sudeikis and Jennifer Aniston. 
The "Friends" actress and "SNL" star have appeared in several movies together, including "The Bounty Hunter," which was the first film the pair starred in together. According to The Los Angeles Times, Sudeikis opened up about his relationship with Aniston in the DVD extras for the "The Bounty Hunter," and admitted having a longtime crush on his co-star. 
"They said, 'OK, your character has to have a crush on Jennifer's character," Sudeikis says in a behind-the-scenes feature, adding, "I've been sort of working on that for the past 15 years. So that'll be easy to accomplish now."
The "Ted Lasso" star is well-known for his sense of humor, which has in the past fuelled speculation that there is something more serious going on between himself and Aniston. 
Jason Sudeikis has joked about his relationship with Jennifer Aniston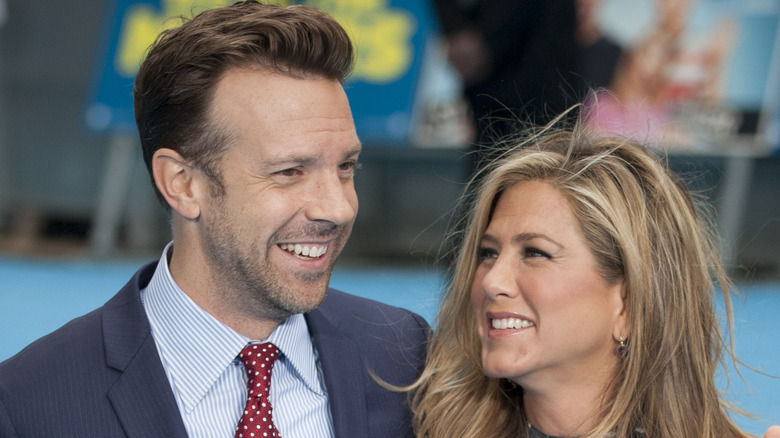 John Phillips/Getty
During a 2010 interview with Vanity Fair, Jason Sudeikis was asked "why did you break Jennifer Aniston's heart?," which prompted him to jokingly response, "I don't know, I don't know. Bad manners maybe?" The actor continued, "Even joking about it gets taken out of context. It's such a weird thing to even speak about. I make what I think is clearly a joke ... I guess it just proves that not everybody has the same sense of humor as I do."
Speaking to GQ, the "Horrible Bosses" star again had to clarify that he was joking about having a thing for Aniston. "Obviously I'm f****** joking, you know?," the actor told the publication. 
Since then, Aniston and Sudeikis have gone on to co-star in a whopping five films together (via ABC News). While the duo have never admitted to being in a romantic relationship with one another, devoted fans have continued to ship the couple, particularly after Sudeikis's split from Olivia Wilde. Speaking to Heat magazine, an insider shared that Aniston was a major support system for Sudeikis during his "nightmare" separation from Wilde. "They talk and text every day," the source revealed (via The Sun).