Was Donald Trump's Infamous Photo Op Really Ivanka's Idea?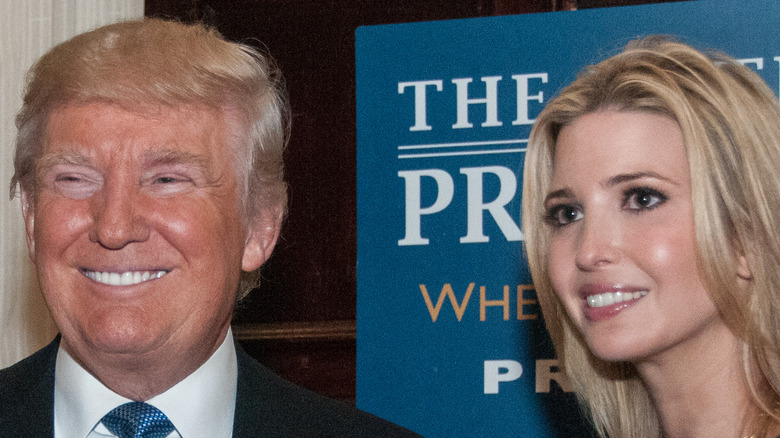 Al Teich/Shutterstock
It isn't that common for a president to have their children as official employees in their administration (via Time). In United States history, there have only been 16 children who have had roles in their presidential father's administrations. This dates back to Franklin Delano Roosevelt, whose children provided physical support for their paraplegic father when he would speak at World War II conferences.
However, the impact of the Trump children during his time in the White House was more significant than any former president's family members had (via GQ). Many believed that when Trump hired his daughter Ivanka and her husband Jared Kushner as advisors, he was breaking anti-nepotism laws. However, the Department of Justice found it fine, and they were allowed to stick around.
Ivanka was heavily involved in her father's presidency, and now it seems she was the mastermind behind one of Trump's most infamous photo ops.
Trump's infamous bible photo op may have been Ivanka's idea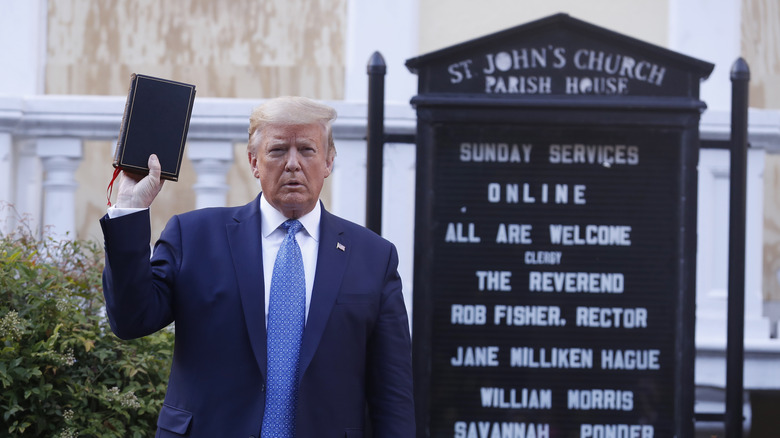 Bloomberg/Getty Images
During the protests in honor of the killing of George Floyd in 2020, former President Trump performed a tone-deaf photo ops (via the New York Times). Protestors were sprayed with tear gas to get them away from the area so the then-president could pose with a bible on the steps of the St. John's Church.
A reporter asked Trump, "Is that your Bible?" Trump responded, "It's a Bible." It was a strange incident. Now, it seems his daughter may have been behind the ordeal.
According to the former chief of staff under Trump, Mark Meadows, Ivanka was the one who came up with the idea (per She Knows). In his new book, "The Chiefs Chief," Meadows states that Ivanka came up with a plan that Trump would "give his address in the Rose Garden as planned, and then lead a group of his closest aides and advisors over to St. John's Church, where he would deliver a short message to the American people."
Of course, this photo received more backlash than it did praise. What she thought would show "law and order would prevail" instead was met with criticism.