Ivanka Trump And Jared Kushner Just Returned To High Society Life. Here's How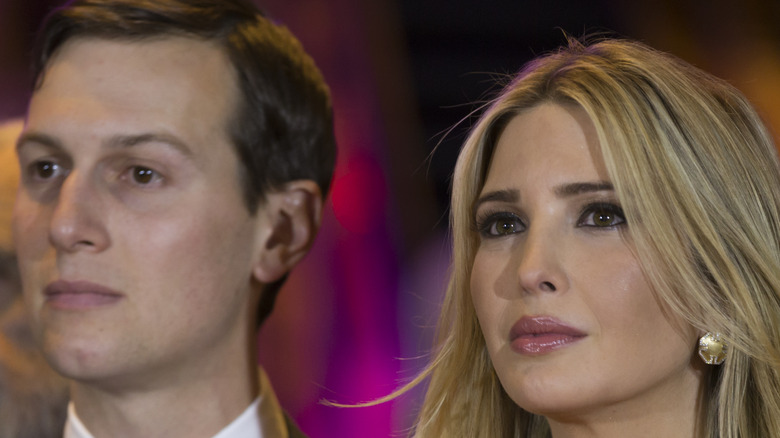 lev radin/Shutterstock
When Donald Trump's time in the Oval Office came to an end, the former first daughter and first son-in-law found themselves demoted from White House A-Listers to ... well, not exactly just plain folks, since Ivanka Trump and Jared Kushner still have a sizeable fortune in the bank. Still, they found themselves living a somewhat lower-profile lifestyle, for sure. As The New York Times predicted last year, the Manhattan elite weren't exactly ready to welcome the power couple back to the Park Avenue fold, so Trump and Kushner moved their family down to Florida instead.
It's not like the Sunshine State is one big alligator-infested swamp, though. Miami, in particular, can almost rival the Big Apple when it comes to hosting red carpet events. One such event was a recent Louis Vuitton fashion show that The Hollywood Reporter says went by the name of "Virgil Was Here," in honor of the late designer Virgil Abloh. Trump and Kushner were at the gala, the first high-profile event they've attended since they left Washington, D.C.
Trump and Kushner weren't the only high-profile couple in attendance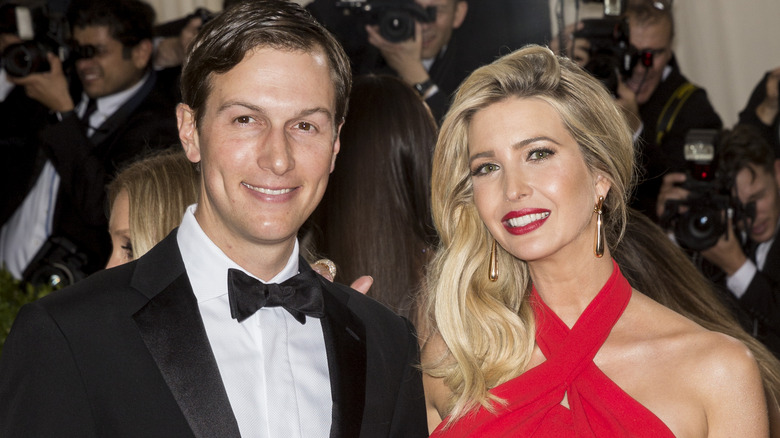 Ovidiu Hrubaru/Shutterstock
Last November, up-and-coming designer Batsheva Hay spoke with a New York Times reporter about Ivanka Trump. "The fashion world is pretty ready to shun her," Hay said. "No one is going to lend Ivanka clothing — she'll have to buy it covertly at retail." Quelle horreur! Well, whether she bought or borrowed her designer duds for the Vuitton show, Trump and the Mr. probably picked a good time to come out from under cover. After all, they were probably not the highest-profile — nor even the most controversial — couple in attendance.
Per People, the paparazzi had bigger fish to fry. Sitting front row were Kim Kardashian, her daughter North, and her ex, Kanye (or rather, just plain Ye) West. Pete Davidson's invite must have gotten lost in the mail, but by all accounts the ex-spouses were on their best behavior. Both, after all, were close friends of Abloh, so they wouldn't have wanted to do anything to dishonor his memory. Still, it's possible that Trump and Kushner were just grateful that the press were too busy keeping up with one Kardashian to bother them on their big night out.